Someone had posted about cats in the garden. Why did we ever let them domesticate us? Anyway, my son had that problem and came up with a cheap solution. He put some cheap fencing around his box upside down, by stapling it into the box, and then bent out the pokey parts that go in the ground. He has cats on either side of his home, plus many neighborhood cats. He had one breach after that but no more, and that was early april.
Here are the pics: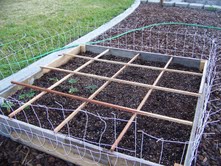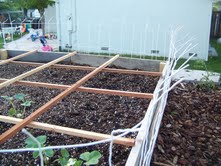 Posts

: 2467


Join date

: 2010-05-05


Age

: 61


Location

: Warner Springs, CA USDA Zone 8a, Sunset Zone 7 (I think)



hey Chopper.. that's kind of like "kitty-proof barbed wire"
Great idea!



Posts

: 530


Join date

: 2010-03-21


Age

: 65


Location

: Colorado Springs, CO Zone 5b



I love it!

You can also lay a piece of fencing down on the bed and leave it there. It doesn't hurt anything and plants will grow up throught it, but cats don't like the feel of the fencing on their paws and will avoid the area. Dogs, too. We have four cats and four dogs, and it's the one sure way I've found to keep them out of whichever garden area I don't want them messing about in!



Posts

: 319


Join date

: 2010-03-22


Location

: Columbia, SC (Zone 8)



Nice! Kitty cyclone wire. Love it!


Forum Moderator Certified SFG Teacher




Posts

: 14111


Join date

: 2010-03-06


Age

: 54


Location

: Keene, NH, USA ~ Zone 5a



I use my GIANT can of Cayenne Pepper....liberally applied...



Posts

: 383


Join date

: 2010-04-08


Location

: Florida Panhandle



I don't have cats so this is not the voice of experience but I read that to teach your cat to not get on kitchen counters to place plastic carpet protector runners on them upside down (pokey side up) and it should only take 1 or two times and they won't jump up there again and you can remove it---------I don't remember exactly what they are called but you know...clear plastic runners with pokey things on the bottom to grip the carpet to put down when it is muddy or something. I have no idea how much those runners are but i wonder if it would work to place them ...pokey side up.... around your boxes...might keep a multitude of critters away from the boxes.




Posts

: 84


Join date

: 2010-03-08


Age

: 63


Location

: Amarillo TX



A good feline deterrent is plastic picnic forks, perhaps 9 per square, tine-side up. I can't imagine a cat wanting to do his/her business under such conditions.

Also, my cats tend to leave my beds alone once the plants become established.

Certified SFG Instructor




Posts

: 2067


Join date

: 2010-03-02


Age

: 69


Location

: Bend, OR (Zone 5-6)



---
Permissions in this forum:
You
cannot
reply to topics in this forum