Put up the trellis – it looks easy.
So Isabelle, Curly and Moe built and erected the trellis yesterday. Now, I've read all about everyone's trellises and looked at all the fabulous pictures. I've read Mel's book and saw the pictures in there too. Most posts on the forums say something like, "well, we put up the trellis today."But few posts tell what it entailed.
So here I will describe the process as experienced by two old folks with no aptitude and a cat. The players are as follows:
· Isabelle: the cat (she left the scene before the play began)
· Curly: DH (has a great sense of humor and more patience than Job)
· Moe: Me (I just want to get it done)
The scene: Two old folks staring at the conduit. Measure twice, cut once and go out and buy more conduit. Originally we thought a six-foot trellis would be fine but reconsidered when we held it up to the box. Back to HD for more conduit cut to a 7' length.
Pound the 4' rebar down two feet. Slide on conduit #1. All is well (We're using three seven-foot poles for our 2x6.) Repeat for #2. All is well. Repeat for #3 – oops!
Rebar #3 ran into stone/root ??? and took a bit of pounding with the sledge hammer to get through it. Hmmm. Top looks a little bent. File. Try again to slide the conduit over the rebar. Repeat/repeat/repeat… Get the silicone! Spray/try/file/repeat! Finally -- Voila! The frame is up. Get the ladders. The corners are tightened.
Time to unfold the netting – all across the grass. You take one end, I'll take the other. Hmmm. How do we do this. Ok, I know… Go get the ties. You pull, I'll tie.
It really was easy but not quick. We laughed a lot at our awkwardness and ineptitude. But we really have a nice trellis. Now if the veggies will grow we won't look like the neighborhood idiots! So for those of you who may be as inept as DH and I – trust me, there is hope!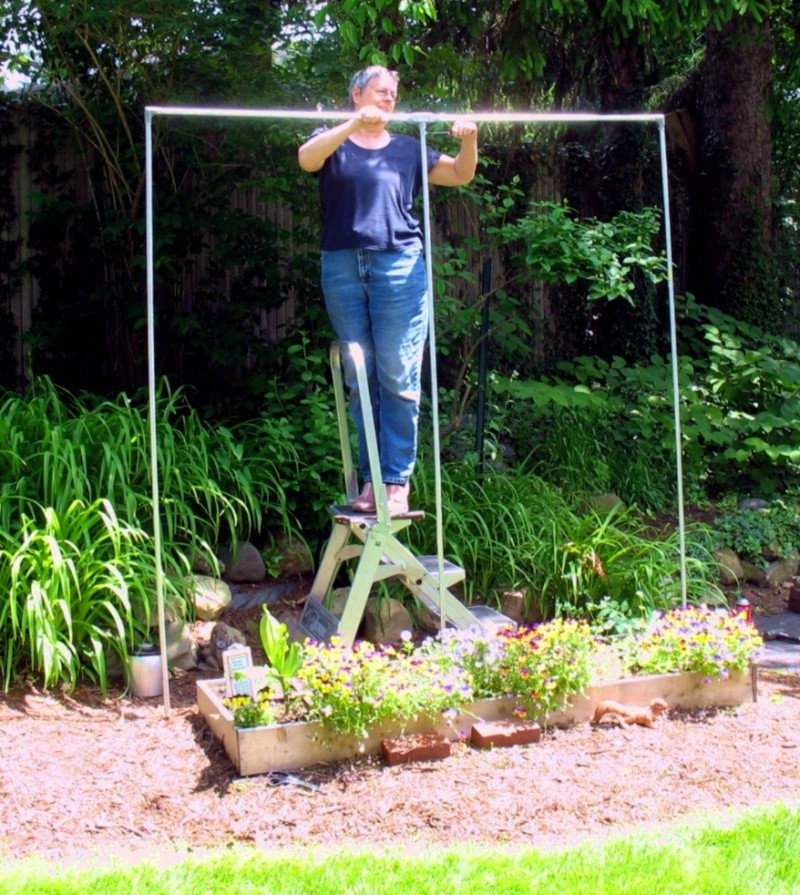 The veggies are in the back row; peas, cucumber, green beans, tomatoes.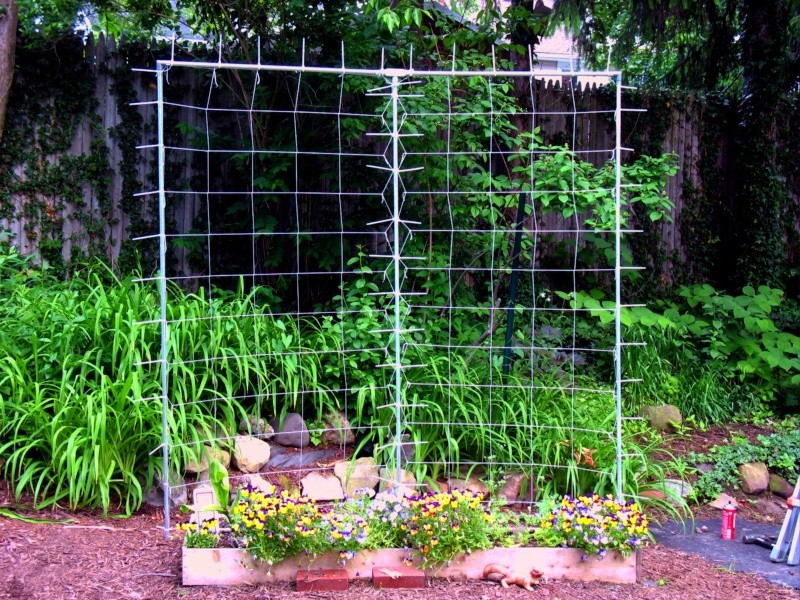 Claire


Certified SFG Instructor




Posts

: 765


Join date

: 2010-03-05


Age

: 77


Location

: Cleveland Heights, Ohio (5b)



I just cheat and use a tomato cage that can be unfolded so I use it vertically down the length of the box. Works really well for peppers and tomatos and the cucumbers I leave it in a square.

Yours does look nicer.



Posts

: 125


Join date

: 2010-04-29


Location

: sterling colorado



Woo-hoo Claire and DH!
It looks fantastic!! THe reason Isabelle left was that she knew mom and dad could handle things this time without her!



Posts

: 95


Join date

: 2010-03-11


Age

: 53


Location

: North Carolina



Claire,
Trellis looks great! Can't wait to see the vining crops on it.
Here is a picture of my ONLY trellising plants - the cucumbers. There are 4 plants which are doing just fine planted in a window box.



Posts

: 48


Join date

: 2010-03-26


Age

: 65


Location

: Zone 8



You give me hope. I have 4 melons/squash in a northern row and do not have my trellis up yet. One is a pumpkin and it is growing way faster than I anticipated. Since I have never managed to actually have a pumpkin plant survive this long I think I counted it out before it began. I guess I had better get hopping.



Posts

: 2467


Join date

: 2010-05-05


Age

: 62


Location

: Warner Springs, CA USDA Zone 8a, Sunset Zone 7 (I think)



Congratulations Claire! Now you're much more knowledgeable and can answer all the trellis 'how to' questions that come up. Ain't experience great!


Certified SFG Instructor




Posts

: 778


Join date

: 2010-03-02


Location

: Frisco, Texas



Great Job! My weekend project is to putting up our Trellis. I hope ours turn out as nice as yours.



Posts

: 134


Join date

: 2010-04-02


Location

: Lake County IL. Zone 5A



Very nice indeed. Mine are all wonky, but I figure the plants don't care and since the neighbours know they'll benefit from the garden, they aren't saying anything either.



Posts

: 904


Join date

: 2010-03-03


Location

: USA



Very nice... isn't trellis raising fun?!




Posts

: 123


Join date

: 2010-03-02


Age

: 38


Location

: KY (6a)



@cherriesjubilee

wrote:Claire,

Trellis looks great! Can't wait to see the vining crops on it.
Me too, Cherries!!!

My peas are up but not yet vining. I just put in the tomatoes this week. Beans and cukes aren't showing yet. Can't wait till they like like yours!
Thanks everyone for the nice feedback. Every moment in the garden brings pleasure.
Claire.


Certified SFG Instructor




Posts

: 765


Join date

: 2010-03-05


Age

: 77


Location

: Cleveland Heights, Ohio (5b)



---
Permissions in this forum:
You
cannot
reply to topics in this forum