My hubby just built me a strawberry "tree" (I found the link to the plans in another thread on this forum). I'm in a Zone 6, and normally I would bring my strawberry pots into the garage in fall to overwinter, but the strawberry tree is too heavy to move with the dirt and plants in it. If I cover it with something would they be able to overwinter outside??? I know I'm asking a bit early lol, but I thought I should ask now while I'm thinking of it instead of waiting till the last minute as usual!

TIA!
Danielle
I didn't even think to cover my strawberry plant and the berry plants last year and they are doing well in the sfg.

My neighbor has her blueberries in just a side of her yard and they are getting green leaves already.

My berries are thriving but no leaves, the strawberry is happily growing with big green leaves already. I'm in northeastern CO if that helps.



Posts

: 125


Join date

: 2010-04-29


Location

: sterling colorado



OK thanks! What zone are you in?
Hi, Naemsmommy

I'm in Colorado, too.. Zone 5B - I think Aspie is in 5A - and my strawberries (in the ground - with a SFG box in their future) survived just fine and are flowering now. If you'd like to give them a little protection, you might want to just cover them with straw mulch for the winter.



Posts

: 530


Join date

: 2010-03-21


Age

: 65


Location

: Colorado Springs, CO Zone 5b



Oh that's really interesting, hopefully mine will be ok too then. Thanks!
I am zone 6 and I never cover my strawberries. I have also gardened in Alaska and did not cover them there. However, with a Strawberry tree you may need to. I wouldn't mind having one but if I did I would probably put some bales of straw around it and maybe drape some Reemay over the top.
For now I grow them in two 4 x 4 boxes.

Certified SFG Instructor




Posts

: 150


Join date

: 2010-03-04


Age

: 58


Location

: Bountiful, Utah Zone 6



I mulched mine in straw last year. I bought two ever-bearing plants that the farmer from whom I bought them told me they would probably not over-winter. They were in a SFG box, so they weren't buried into the ground, and they are bearing fruit!!! Okay, only one that was red enough to eat so far, but boy was it yummy!



Posts

: 2188


Join date

: 2010-03-03


Age

: 60


Location

: Acton, Massachusetts Zone 5b/6a



I planted mine in the ground last year and didn't do anything special to them except pull a bit of dried grasses over the plants before winter. They are full of growing berries right now in Maine, Zone 5a.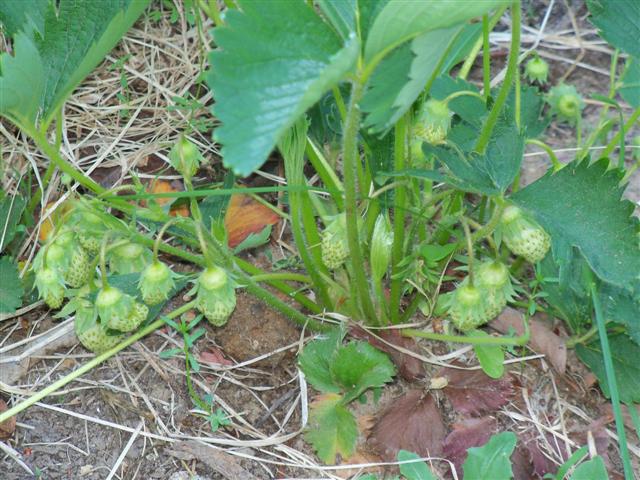 I'm sure tho, with strawberries in a pot the needs are different. They might require some extra cover, but I don't know what would be best. Containers don't have the aid of the deep ground beneath them so soil in the pots will freeze a lot more completely than ground berries, probably killing the plants. Can you get a couple of bales of hay and pull the loose hay over the container???? Or maybe cover it with burlap tied around the container????
Maybe someone with more experience can help you.



Posts

: 4646


Join date

: 2010-03-21


Age

: 75


Location

: Southwestern Maine Zone 5A



---
Permissions in this forum:
You
cannot
reply to topics in this forum