Last year was our first year with a SFG (first year with any sort of garden in over 20 years) The experience was a joy, a balm to the soul, a treat for the table! We had many 'out of the garden' meals.
Now we are starting again with fresh seed and transplants. We have one 4x8' bed, two narrow beds with trellises, a smaller 2x4' bed put to strawberries this year, along with the three old concrete/ceramic laundry sinks with last year's strawberries already in flower. Lastly, an oak half-barrel with onions and cilantro. All the beds are raised 12" to 18" tall, easier to reach over.
Over the winter we enjoyed broccoli, cabbage, carrots, bunching onions, varieties of lettuce, along with the sweetest sugar snap peas ever!
This year we're trying Biker Billy's (hot hot) and False Alarm (mild) jalapenos, 3 kinds of tomatoes, more cucumbers, bell peppers, yard long beans, pole beans, and multiple varieties of carrots. Were hoping for additional crops of sugar snap peas, leaf lettuce, and broccoli before the heat starts here in California. Who knows what else we'll talk ourselves into before it's all said and done!
Our grandsons are helping with the prep work.
Here are a few pics from last year's garden.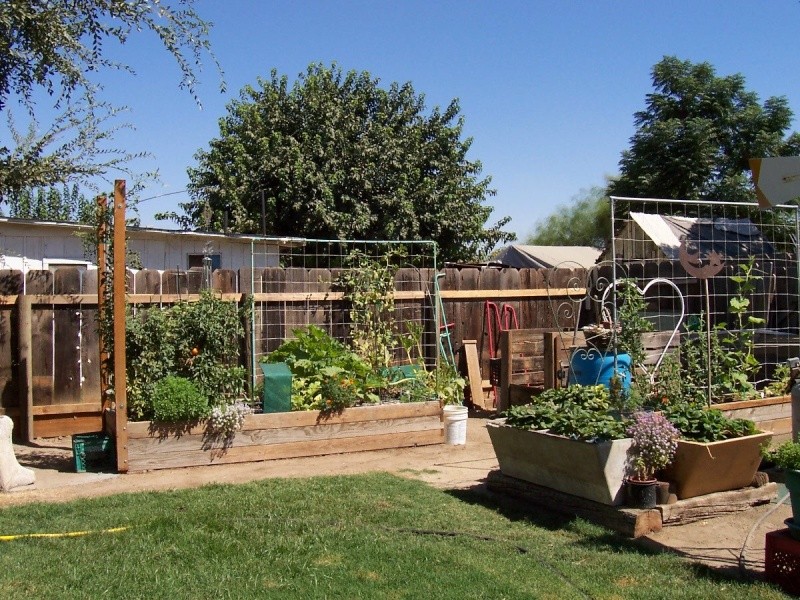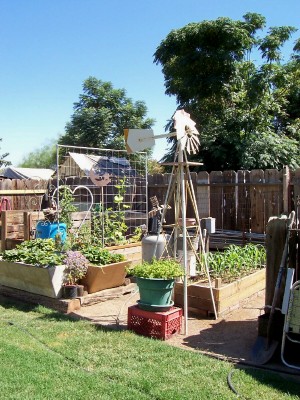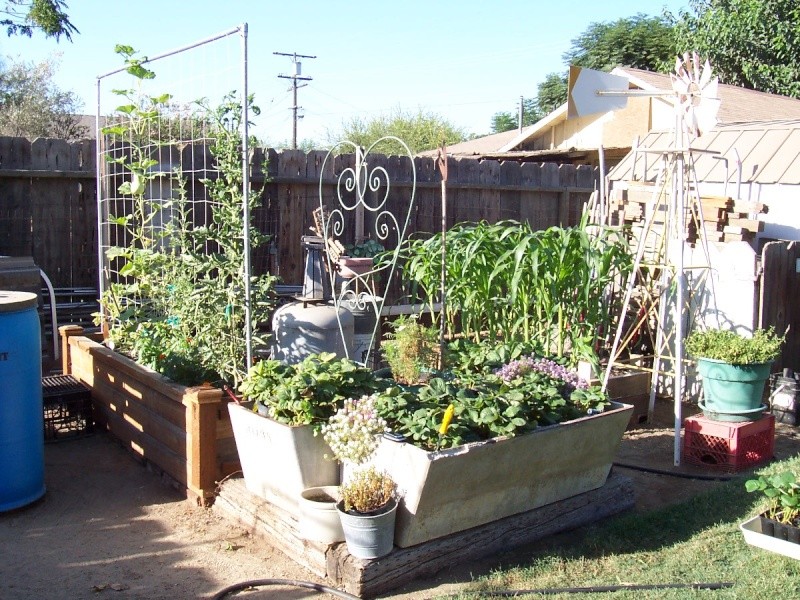 Our corn (Indian Corn)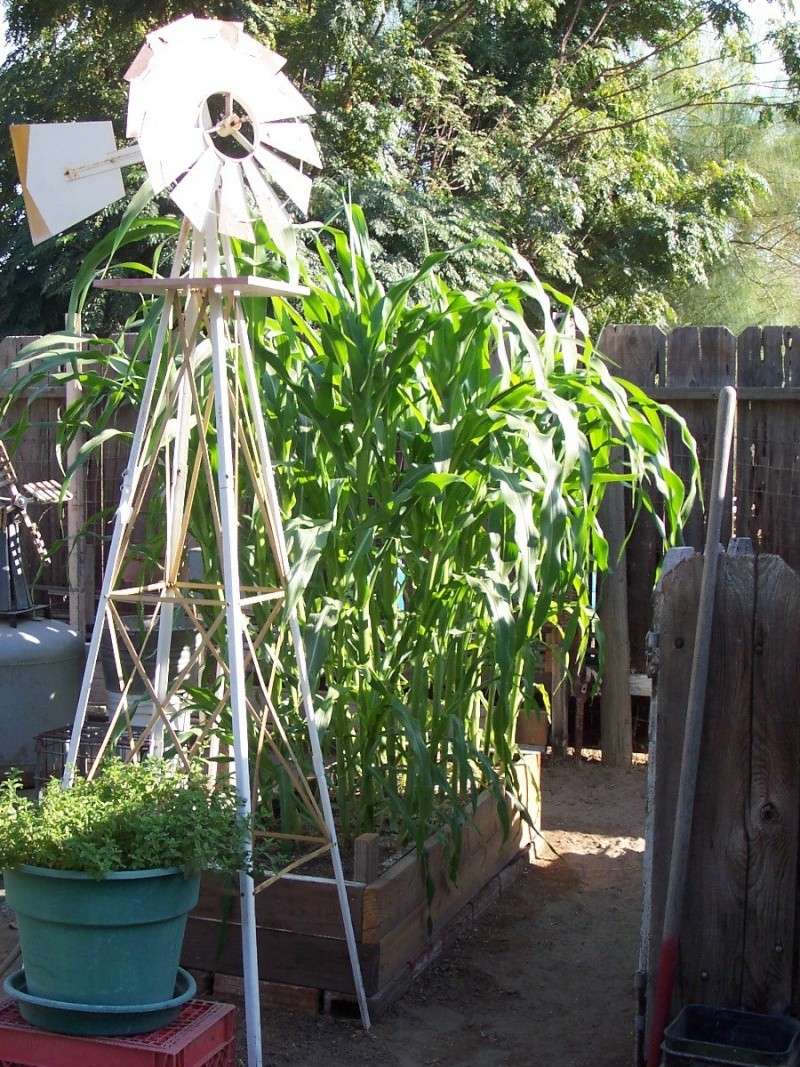 First Sugar Baby watermelon: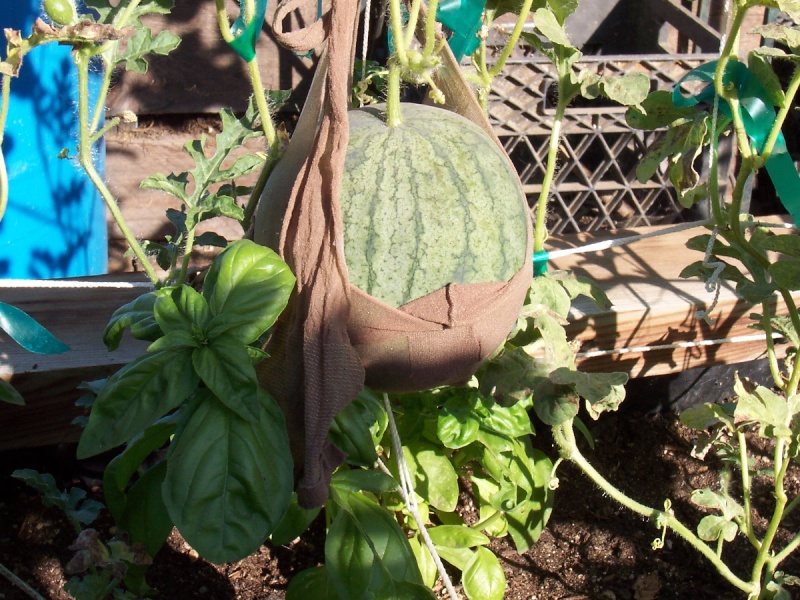 Our first compost! We have a double bin built of scrap to make compost in, and this is the result from the first bin we started.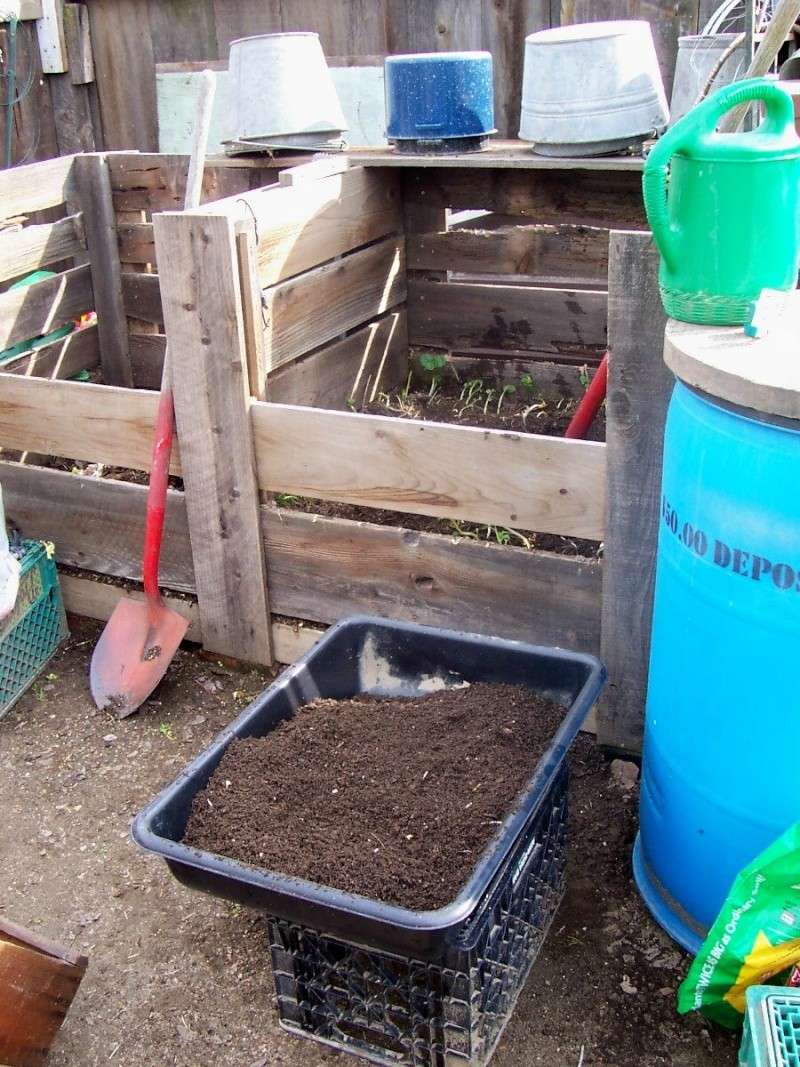 Our 'moose' of a grandson adding the fresh compost to the largest bed (how fast they grow!):
This is the 'screen box' we made to screen the compost in. It's an old fruit box that didn't have a bottom anymore, so we added half inch hardware cloth with a redwood frame to hold it on and ta-da! no lumps in the compost added to the beds!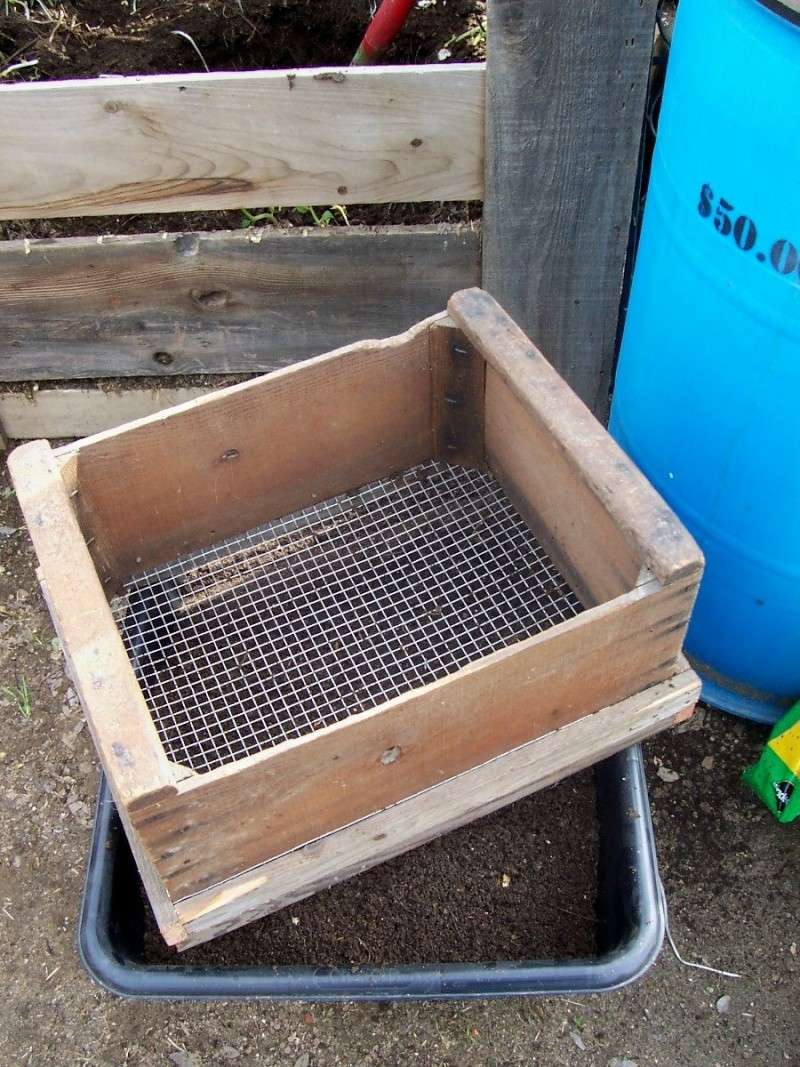 This started as a home school project for the 'moose', but has been fun for all of us! Perhaps we can share more pictures as the garden grows again.
Kind regards to all, Jollo.
Thank you for the pictorial. I'm fascinated how we are all using the same SFG system, yet no two gardens look the same!

Your laundry tub sure brings back memories. I was the typical little boy out playing in the dirt all day-getting filthy and lovin' it. My mom would take me by the ear and drag me to the basement to give me a bath in the laundry tub! No way was she going to let me walk through her clean house to the bathtub.

I hope you guessed right the first time, as to where you wanted the tubs placed. Those things are heavy.

I look forward to seeing more pictures.



Posts

: 7392


Join date

: 2010-02-26


Age

: 64


Location

: yelm, wa, usa



Nice looking garden. Thanks for posting the pics.

Certified SFG Instructor




Posts

: 778


Join date

: 2010-03-02


Location

: Frisco, Texas



Beautiful! I'm jealous! You have given me faith for growing corn, it looks like you have a 2 x 4 bed there just like im planning. Just curious, how many did you put in per square foot?



Posts

: 210


Join date

: 2010-03-03


Age

: 41


Location

: Burlington County, NJ - Zone 6b



jerzyjen wrote:Just curious, how many did you put in per square foot?
As to the corn we grew, they were planted 4 across the 2 foot width of the bed. The spacing was 4 inches in from the edge, then 8 inches apart for the middle stalks, and 8 inches between each row. From what I've read since, that may be a little close. They did really well, with only a few spindly ones. And it pollinated just fine.
Corn gets really tall when it starts 18 inches off the ground to begin with! We dried the ears to keep for decoration. I may try to plant some of the kernels as an experiment. This year we're putting in sweet corn in my old horse pasture (not raised beds, those will come as we find materials) and we have pop corn seed to try for the fun of it. The grandsons thought it would be 'cool'.
I recommend growing corn at least once, and any thing else that interests you. This square foot gardening is a learning experience. Not only will we ourselves benefit from it, but we get to share that experience with others as they share their experiences with us. Everybody wins, even if the crop fails!



Posts

: 99


Join date

: 2010-03-02


Age

: 44


Location

: Northern Davis County, UT



Thank you for sharing! Love the heart shaped trellis. Did your baby melons do well?



Posts

: 84


Join date

: 2010-03-08


Age

: 63


Location

: Amarillo TX



The melon picture gives new meaning to 'support hose"




Posts

: 7392


Join date

: 2010-02-26


Age

: 64


Location

: yelm, wa, usa



carolintexas wrote:Thank you for sharing! Love the heart shaped trellis. Did your baby melons do well?
The melons (and everything else) were put in late last year as we didn't start gardening until May/June. We had two of the Sugar Baby vines trellised, and 2 nice melons from them, along with two others that didn't develop well.
This year we start earlier, and with more area. The watermelon and cantaloupe seed are setting on my dining room table. They'll go in within the next three weeks, I'm thinking.
My Mom just called and said there is supposed to be a frost tonight (Noooooo!) We've only had 2 or 3 the entire winter, and next Monday is the 'official' last frost date. My husband works in the frost protection business, so guess who I enlisted to help me cover the raised beds?
Last edited by jollo on 3/11/2010, 12:14 am; edited 1 time in total (Reason for editing : misspelled word)
---
Permissions in this forum:
You
cannot
reply to topics in this forum