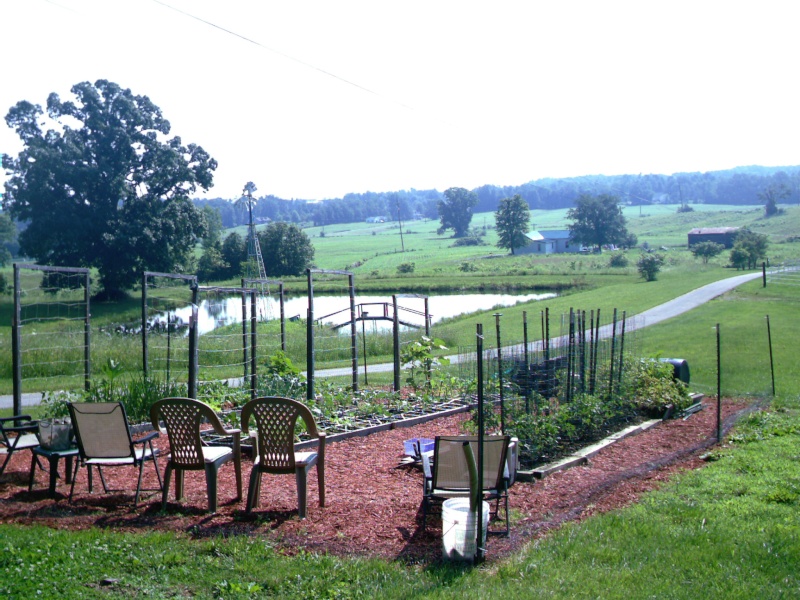 This is my 2nd year doing SF gardening. I am having a lot of fun with it.
When I first started, I bought lumber from a local mill. I got 2x2 white oak for the trellis frames and 2x6 for the boxes. It was a lot cheaper than the metal frames in the book. I cut some stakes from cedar and used those to keep the boards from moving around.
The trellis frames are zip tied to t-posts. By putting one every other 4' section, you can reach around to plant, pick and pull weeds.
This year I added 75' soaker hoses. They are buried about 4" down and go the length of my 4' x 24' boxes. It starts at 1' and then comes up at 2' and back down at the three foot mark (if that makes sense). I can turn on the water and do all three boxes at once.
Lots of tomatoes (Hillbilly, cherry and Jet Star), several kinds of lettuce, broccoli, corn, potatoes, and several herbs.



Posts

: 440


Join date

: 2010-05-25


Location

: Beaver Dam, Kentucky, zone 6a



Looks beautiful!

I like the idea of the soaker hoses. That must free up a ton of your time.



Posts

: 77


Join date

: 2010-05-08


Location

: Chicago area, (zone 5a)



Your SFGs look great! I can't think of a better sitting area than right at the garden! GREAT job!

FOUNDER SFG forum 2009

certified SFG instructor




Posts

: 211


Join date

: 2010-02-26


Age

: 63


Location

: Illinois Z6






Posts

: 134


Join date

: 2010-04-02


Location

: Lake County IL. Zone 5A



I like the soaker hose idea !!! Thats excellent. I love the chairs at the end of the garden and the view you have, just beautiful !! The garden is the best place for me to sit and think. I like that you have more than one chair, it means you get visitors

I need more chairs.
Ha-v-v



Posts

: 1123


Join date

: 2010-03-12


Age

: 57


Location

: Southwest Ms. Zone 8A (I like to think I get a little bit of Zone 9 too )



Gorgeous. And what a wonderful view.



Posts

: 2467


Join date

: 2010-05-05


Age

: 62


Location

: Warner Springs, CA USDA Zone 8a, Sunset Zone 7 (I think)



Thanks all for the compliments. All I did to deserve this view was draw a breath... this piece of land has been in my family since a Revolutionary War officer got a land grant in 1786.
Thanks to Mel for showing me how to garden and enjoy it. Before that it was just a lot of work and sweat.
Here is actually a better picture of my first two beds and the trellis frames.



Posts

: 440


Join date

: 2010-05-25


Location

: Beaver Dam, Kentucky, zone 6a






Posts

: 249


Join date

: 2010-03-03


Location

: Salt Lake City, UT






Posts

: 146


Join date

: 2010-05-17


Location

: Decatur, GA, Zone 7B



---
Permissions in this forum:
You
cannot
reply to topics in this forum