Hello Everyone!
I am new to the forum - just joined today! This is my 2nd year having an SFG garden, or any garden at all, actually.
Last year, we had 1 garden - a 2'x8' with a 4' trellis. We used paving bricks instead of wood for the border. It didn't work out too well. The Sugar Snap Peas and Basil were excellent, everything else was so-so.
This year, we have scrapped the old garden (saving the Mel's Mix), and built new cedar SFG boxes! We have: two 2'x4', one 2'x2', and three 4'x4' L-shaped boxes (same size as a 4'x4', but with a 2'x2' chunk missing out of a corner). We currently have the boxes built. One box (a 2'x4') is in the garden, filled with soil, and planted, yay! The others are awaiting installation later this week.
Here are a few pictures of last year's garden: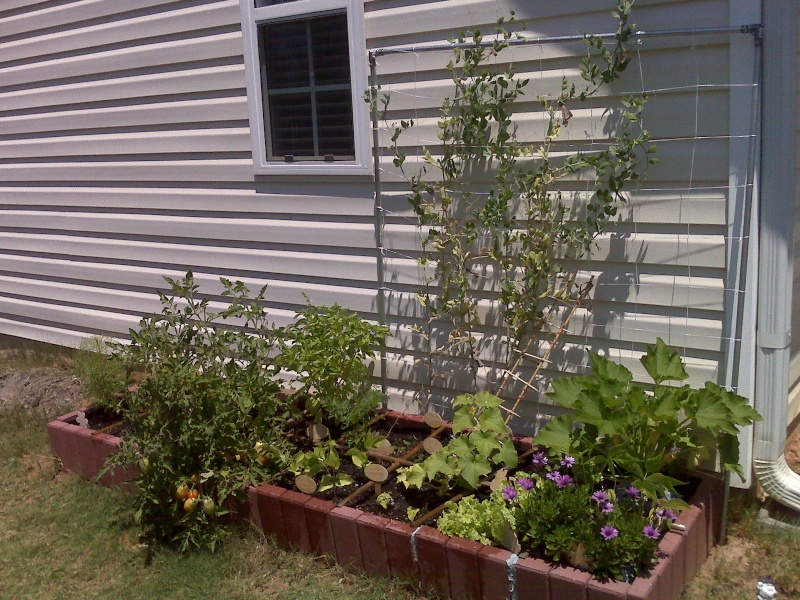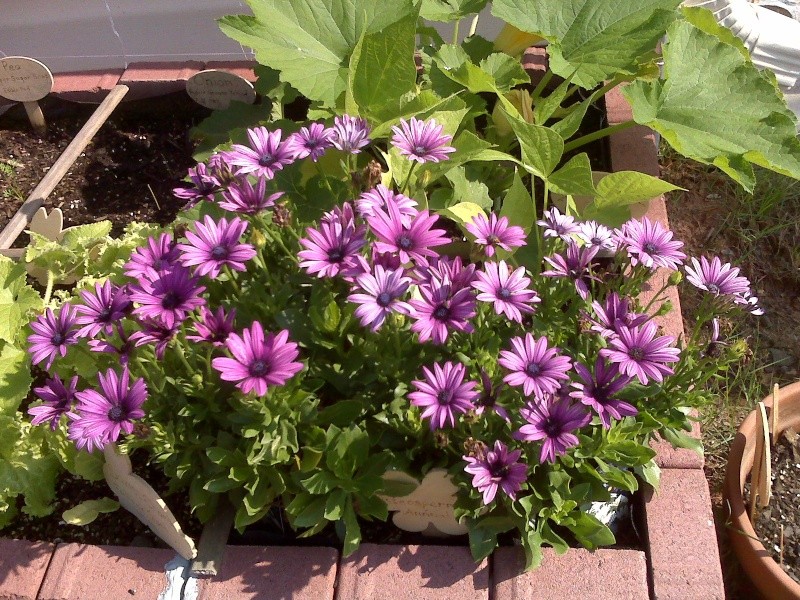 And here is one picture of this year's garden, so far (just finished making the boxes):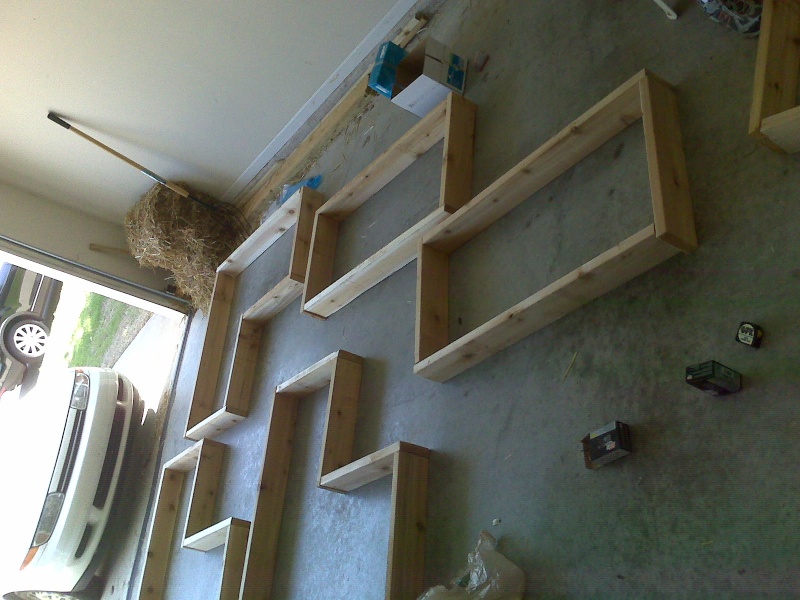 Well I can't wait to see the rest of them in a month or so. I am looking forward to everyone's pictures as the gardens progress. Are you able to do a year round garden where you are or too far north?

Nice pictures!



Posts

: 2467


Join date

: 2010-05-05


Age

: 62


Location

: Warner Springs, CA USDA Zone 8a, Sunset Zone 7 (I think)



Nice pics Weed'em! Looking forward to seeing those new boxes filled with plants.
Just as an FYI... If you ever need to check in with other SFG'ers that share your climate you'll find them in the Lower South regional forum.

Certified SFG Instructor




Posts

: 778


Join date

: 2010-03-02


Location

: Frisco, Texas



I really like those L shaped boxes!


Forum Moderator Certified SFG Teacher




Posts

: 14165


Join date

: 2010-03-06


Age

: 54


Location

: Keene, NH, USA ~ Zone 5a



Thanks for reading my post, everyone!

Chopper: I, personally, have not done a year-round garden because of several reasons: when fall arrives, I have more responsibilities at work and cannot spend as much time in the garden. Also, as the weather gets cooler, I do not want to spend much time in the cold air outdoors anymore, and may not visit the garden for days (or weeks)! One day, maybe, I'll try to do some fall or winter crops... we'll see. It does get below freezing here. It snowed here a couple times last winter, but some years it doesn't snow at all.

Tim: I have already visited the Lower South forum - it's great! Thanks for the personal invite, though. :-)

Camprn: Thanks! I got the idea for the L-shaped boxes while looking at various websites that had pre-made raised-bed garden kits for sale. One site had a similar shape that seemed to be almost perfect for the space that I have. (I ended up making them myself, though, with DH.) The L-shaped boxes allow for a 3' path in the garden - it'll make more sense when I can put it all together and post a picture of it. Hopefully, by the end of the week I'll have more pictures to share! PS - I really like your Carrot picture. Did you grow those and take the picture yourself?
I love your L-shaped boxes! I can't wait to see what they look like midsummer

I hope to make our garden more visually appealing as we add to it each year. We started out with a very utilitarian design.



Posts

: 778


Join date

: 2010-04-29


Age

: 48


Location

: Central Virginia, 7A as far as I can tell



That was our plan, too - to add a couple boxes to our existing ones each year...
But we had to start all over this year because of a couple different reasons:
1 - We used brick pavers for the border of the box. I did not realize, at the time, how much that material wicked away all the moisture! Just like a terra-cotta pot, it needed to be watered every single day. Sometimes, that wasn't even enough in this hot Georgia sun. I think that was the main reason that some of our plants didn't do very well - the ones that suffered the most were the ones that needed a lot of water to begin with.
2 - We put the weed cloth directly over our existing grass, then the garden box and Mel's Mix. This would've been fine, if we didn't have BERMUDA grass. Bermuda grass grows through weed cloth. By the end of the season, we were seeing more and more grass in the garden, and it was really hard to get rid of, as the roots went down, down, down, below the weed cloth. This year, we are digging up the grass first.
Here are some more pictures of this year's garden, so far...
I know it's quite late in the season to plant some of those things (like lettuce), but I just couldn't help myself. I'm calling it an experiment.
The bricks are just there temporarily, until we can get something nice to replace it with.
Here is our "Juliet" Tomato, awaiting transplanting into the SFG. Already blooming! (A tiny Jalapeno and a tiny Fairytale Eggplant are in the background.)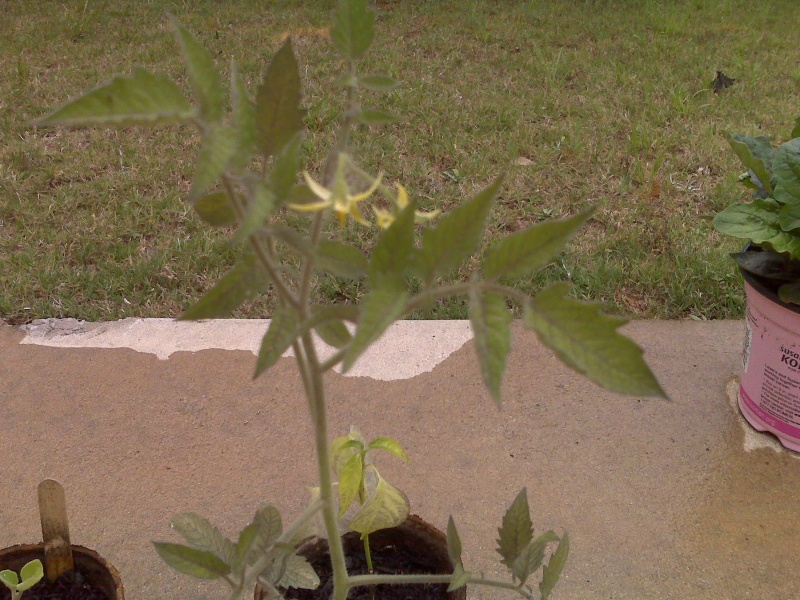 ---
Permissions in this forum:
You
cannot
reply to topics in this forum