Hello All,

I was recenlty exposed to the concept of SFG at a recent Earth Day Event in Fairfield. They were selling the books, I fingered through, and thought it was worth purchasing.

Well here I am a month later. I have some experience gardening the traditional row style. I have been doing so on and off since I was a little kid. So up to this point, I have made four 4'x8' raised garden beds, and am in the process of creating trellises. After that, I am going to make a large simple enclosure to fend off the garden beast (hopefully successfully.)

I will be posting pictures soon, but in the meanwhile, question about the conduits:

EMT - are these galvanized? I have not found anything clearly stating yes or no.

Connectors - I found on the forum yesterday that there were a specific terminology of connectors that may be available, but most guys at the big box stores (Lowe's. HD) are not aware of. I have found the overpriced elbow connectors, and have seen the other ideas (using rebar, plastic elbows, etc) but was trying to find this other connector type which was much cheaper, yet served the same purpose. Any help is appreciated. Thanks.



Posts

: 37


Join date

: 2010-06-02


Location

: Westport, CT - Zone 6



Welcome to SFG!
I just bought whichever kind of electrical conduit and connectors that were for sale at Home Depot. It has worked out great!



Posts

: 29


Join date

: 2010-05-31


Location

: Central Georgia - zone 7B



I ended up using the $2.50 "90 degree pulling elbow connector" -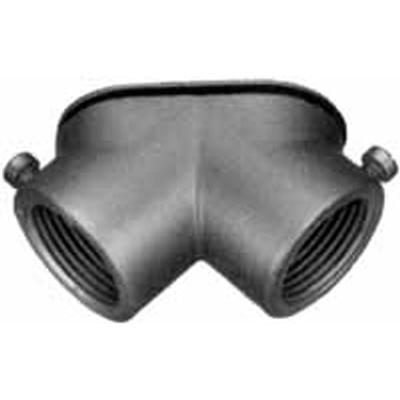 Megan had indicated that these would need a separate piece to insert so the set-screw would work, but I did fine with just these pieces. They have a set-screw that runs through the threaded portion. I asked the person in the electrical hardware aisle, and he said that it should hold just fine as long as I tighten the set-screw.
EMT is not galvanized - according to Wikipedia: Electrical metallic tubing (EMT), sometimes called thin-wall, is commonly used instead of galvanized rigid conduit (GRC), as it is less costly and lighter than GRC. EMT cannot be threaded. Lengths of conduit are connected to each other and to equipment with clamp-type fittings. Like GRC, EMT is more common in commercial and industrial buildings than in residential applications. EMT is generally made of coated steel, though it may be aluminum.



Posts

: 530


Join date

: 2010-03-21


Age

: 66


Location

: Colorado Springs, CO Zone 5b



Hi and welcome to the forums and SFG gardening.
I saw somewhere on here that someone was using the inexpensive electrical connection boxes (like for switches) instead of the pricey connectors. They said it worked fine.
We used the pricey stuff and the inserts that Wyldflower was talking about. I just went ahead and spent the money because I was feeling too insecure and didn't want to do it over if other ways didn't work. But I bet the set screws without the inserts would have worked just fine! So would the boxes, however I didn't see that until $$$ spent!
You can see a pictureof the trellis
here
. We put a pole in the center of the netting too because it is 6' wide rather than 4' and I'm not sure if later I will want to grow heavier stuff.
Give us feedback on your decision and the outcome. Pictures too.
Have fun.
Claire


Certified SFG Instructor




Posts

: 765


Join date

: 2010-03-05


Age

: 77


Location

: Cleveland Heights, Ohio (5b)



---
Permissions in this forum:
You
cannot
reply to topics in this forum