Brand new to gardening and wondering what's going on with my pepper plants. I have green, red, and orange bell peppers which all seem to have the same thing going on to some degree. My jalapeno plant which is right next door to the others seems to have the least affect happening. Is this a bug? A disease? Too little or too much watering? Is this normal? What should I do? Any ideas? Thanks!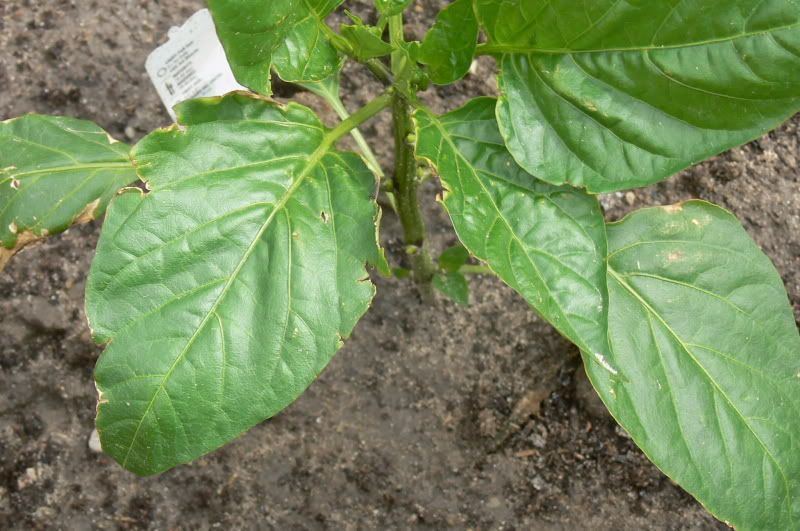 There is some mottling of the leaves, discoloration and curling at the edges...and certain places looking like it's a bug that is chewing holes or chewing in from the outside edge....?
Ooh, this is what is happening to my beans! I was just getting ready to upload a pic when I saw your post. I sprayed some Neem this morning, but I still would love to have some answers. Bugs? Disease? Should I snip off the damaged leaves?



Posts

: 146


Join date

: 2010-05-17


Location

: Decatur, GA, Zone 7B



Ah! It's getting worse! It looks like a couple of my green bell peppers may be losing the battle to whatever is destroying my plants!

I am so sad! I haven't gotten a response yet and am not sure what to do...I guess I'll go to the nursery tomorrow and see if they have some advice.

I really hope I don't lose those plants...I'll cry...lol.
I'm not sure, but the leaves look a bit burned to me. Could you possibly have used a hot manure in your soil mix? Do you have other plants in the same box and how are they doing? I just noticed you are in the north -- are the night temps too cool for peppers? If so, a bit of protection at night might help.



Posts

: 904


Join date

: 2010-03-03


Location

: USA



Thanks for the reply! I did not use any manure in my bed and all other plants seem to be doing well. I had originally thought that it probably had to do with the temps because we have definitely had lower than average temperatures up here. However, they've actually been doing pretty well up until recently when we've actually had some warmer temps. So, that's what got me really confused. So I will definitely try some nightly protection and see if that helps. Are these salvageable and can they bounce back or is death imminent? Lol.
I don't know but all my beautiful pepper plants seem to be mostly just stalks now with hardly any leaves.

2 baby tomatos are the same.

Its been hot so I'm wondering if they got burnt



Posts

: 125


Join date

: 2010-04-29


Location

: sterling colorado



So do you think you can salvage them by giving them some protection? Or are they pretty much toast?
we got lots of rain last night and I gave them epsom salt so we'll see. The peppers weren't terribly expensive neither were the baby tomatos, but at this point all stores are sold out.



Posts

: 125


Join date

: 2010-04-29


Location

: sterling colorado



---
Permissions in this forum:
You
cannot
reply to topics in this forum