Latest topics
»
What won't you grow next year or are still trying to grow??
by
countrynaturals
Today at 1:15 am
»
Gardening in Central Pennsylvania, 3rd year SFG
by
BeetlesPerSqFt
Yesterday at 9:27 pm
»
CANADIAN REGION: What are you doing in JUNE 2017
by
Mimi2
Yesterday at 9:17 pm
»
Baby Food
by
yolos
Yesterday at 9:04 pm
»
What to Grow through Very Hot Summers
by
yolos
Yesterday at 8:59 pm
»
Terrace Garden in Ontario, Canada
by
Fiz
Yesterday at 7:49 pm
»
who has chickens
by
llama momma
Yesterday at 6:59 pm
»
N & C Midwest--It is JUNE!!!! Garden Time!
by
llama momma
Yesterday at 6:43 pm
»
TrolleyDriver's Compost Thermometer
by
trolleydriver
Yesterday at 6:25 pm
»
Pepper argument who's right
by
Yardslave
Yesterday at 4:21 pm
»
Watering
by
GloriaG
Yesterday at 2:30 pm
»
Today's Harvest
by
countrynaturals
Yesterday at 12:22 pm
»
Questions on vegetable plants that require vertical support
by
countrynaturals
Yesterday at 12:08 pm
»
New England June 2017
by
hammock gal
Yesterday at 9:12 am
»
Question About Strawberries
by
AtlantaMarie
Yesterday at 7:37 am
»
2017: First full year of SFGing in ND
by
countrynaturals
6/24/2017, 10:15 pm
»
A First Time SFG in Canada
by
Kelejan
6/24/2017, 9:34 pm
»
What are you eating from your garden today?
by
Fiz
6/24/2017, 9:04 pm
»
Third Year SFG in Canada
by
trolleydriver
6/24/2017, 7:37 pm
»
Love My Dust Buster
by
sanderson
6/24/2017, 3:51 pm
»
Mary Mary quite contrary, how does your garlic grow?
by
countrynaturals
6/24/2017, 3:48 pm
»
Butterfly Junction
by
countrynaturals
6/24/2017, 3:45 pm
»
2017 corn pictures
by
sanderson
6/24/2017, 3:03 pm
»
Kombucha
by
CapeCoddess
6/24/2017, 2:36 pm
»
has55's R & D Journey
by
has55
6/24/2017, 1:40 pm
»
Does the SFG concept work for perennials?
by
AtlantaMarie
6/24/2017, 6:25 am
»
Texas Dream garden 2017
by
Kelejan
6/24/2017, 12:50 am
»
How's the Weather Where You're At?
by
RC3291
6/24/2017, 12:06 am
»
A really, really Frugal Gardener
by
countrynaturals
6/23/2017, 11:59 pm
»
Cinnamon, Fungus, and Gnats
by
Turan
6/23/2017, 11:28 pm
For the last few days, I have been doing battle with what I had initially thought were birds or rabbits as my rosemary plants were eaten and practically plucked from the dirt, AND the tops of my oregano plant were lying on the dirt next to the plant.
SO, I shored up the fencing (which is about two feet high and stapled to the entire box) AND I added that strawberry netting stuff on top and stapled that all the way around. I proclaimed loudly to whatever it was, "I will not be bested by herb-eating pests!"
This morning when I checked my gardens, the rosemary was pulled out again, and the tops of the oregano plants were, once again, lying in the dirt next to the plant.
WHAT COULD POSSIBLY BE GETTING IN THERE!!!? Could it be a mouse or something that is already in the dirt? There's no way anything else could be getting in there and pulling out the rosemary (granted, it was only a single stalk) and nipping off the tops of my oregano! I am completely STUMPED.
Apparently, I should not make proclamations when I know nothing about gardening or the critters that are bent on thieving from it.
Please help!!
:scratch:

Hm... That is strange! Maybe a picture would help see what is going on. Do you think something might be pushing up from under the soil? But you say the plant is still there just pulled up and laying on the dirt. Well you could try this, if it is a mouse. Put out a mousetrap in the square with peanut butter on it. If it is a small rodent you will catch it. Do you find the plant pulled out in the morning or in the day or evening? Really strange, but we will find out what it is. Good Luck and keep us posted.

Little Thumb
Whatever is doing this, it's doing it throughout the day and during the evening. I am a stay-at-home mom, so I'm out there checking on the garden several times during the day. I have replanted that rosemary three times now. The oregano tops have also been left there several times during the day. I will have to get a couple of traps this weekend.

Why would they choose those two herbs? Those are probably the most potent-smelling of everything in my box. I have thyme in there, sage, tomatoes and a lemon mint. I don't understand the choice. Maybe it lives close to the rosemary, and since the oregano is the next box over and the rosemary is basically toast now, it is going box to box??
Another thing you could try is, if you have children old enough and willing to sit out there for an hour or two watching, and promise a reward if they find what is doing the damage. I know what a friend of mine would do, set up his video camera and then replay it back in fast motion. He did that with the rising moon, it worked great. It could be a chipmunk or something small. How big is your chicken wire? 1", 2"? We just have to be detectives but we will figure it out, with patience.

Little Thumb
My kids are 18 and 22 so there's no way they will want to sit out there and watch. And of course, it's the box that I can't see from the house 'cuz there's a shed in the way. The plastic fencing I have around the entire box has squares about 1/2 inch. Pretty small. I tried to figure out how to include a picture, but I failed miserably. I did however, see a gap in the bird netting and am wondering if a squirrel could be getting in there. The fence would be easy to climb and with any small gap, he could get in and out just fine.
Could they be burrowing into the box from below?



Posts

: 86


Join date

: 2010-04-27


Age

: 47


Location

: Hunterdon County, NJ



Rosemary
Oregano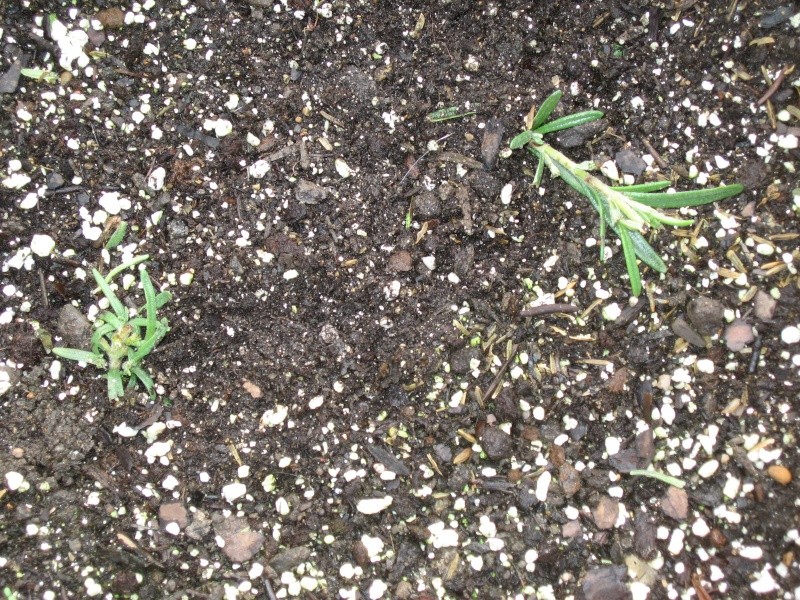 My SFG Box with 1 foot fence, posts and strawberry netting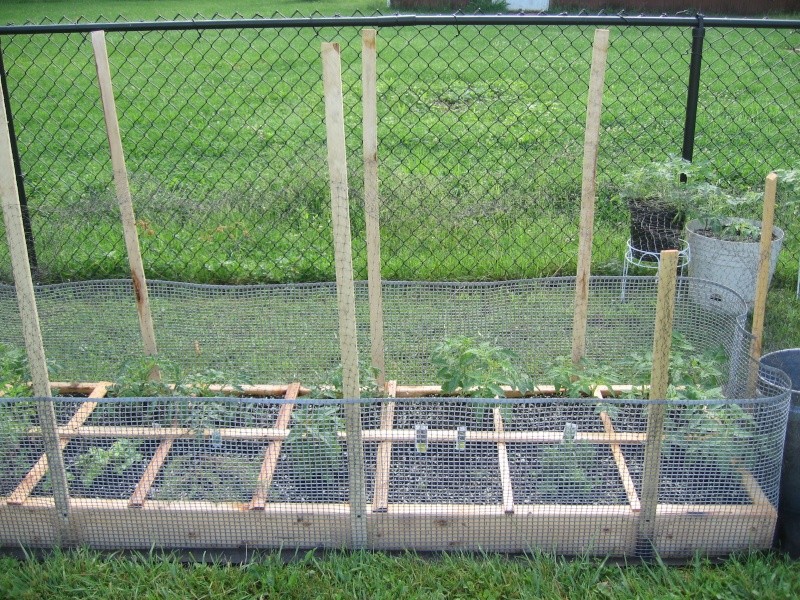 It's entirely possible that something came from underneath the box. I don't see any holes in the dirt though. I spent an hour tying the netting tightly to the fencing (just in case a squirrel is climbing into it). Now, to wait.
I wonder if it really is something from under the box. But the rosemary looks like part of the plant is on the ground and the other part is still in the ground. If the plant is already history you can dig the dirt out of the square and see if there is a hole at the bottom. :scratch: Very strange.

Maybe someone else can give some ideas. Could it be a cut worm? This is my first year in the garden. I have not had problems with cut worms yet, knock on wood! I thought they cut the plant at the base and your rosemary looks like it was chopped in half. Just a thought. But since it happened to the same plant several times after it was replanted it makes me think there is something in the garden under the soil.

Keep us posted,

Little THumb
Well, since I stapled the netting in such a way that nothing could get up inside it, there have been no more problems. I must say that just today I saw several birds hanging out in the area of that particular garden--flying back and forth over it, sitting on the fence near it, etc. I'm betting it was the birds. PLUS, the hubby got me another rosemary plant, and I planted it in the very last square of another SFG. That one has not been touched. The SFG it is planted in is closer to the house, and my cats hang out on my deck. Perhaps that's a little too close for comfort for the birds??

Yeah! I hope the mystery is solved. Keep us posted.

Little Thumb
---
Permissions in this forum:
You
cannot
reply to topics in this forum