Howdy folks,
This morning I noticed small mushrooms popping up in my mel's mix soil. Should I be concerned? I just pulled them up and put back into soil - they pretty much disintegrated upon touching them. I've added a photo for reference. It seems as if it was somehow inherent of the mel's mix (compost). I don't know.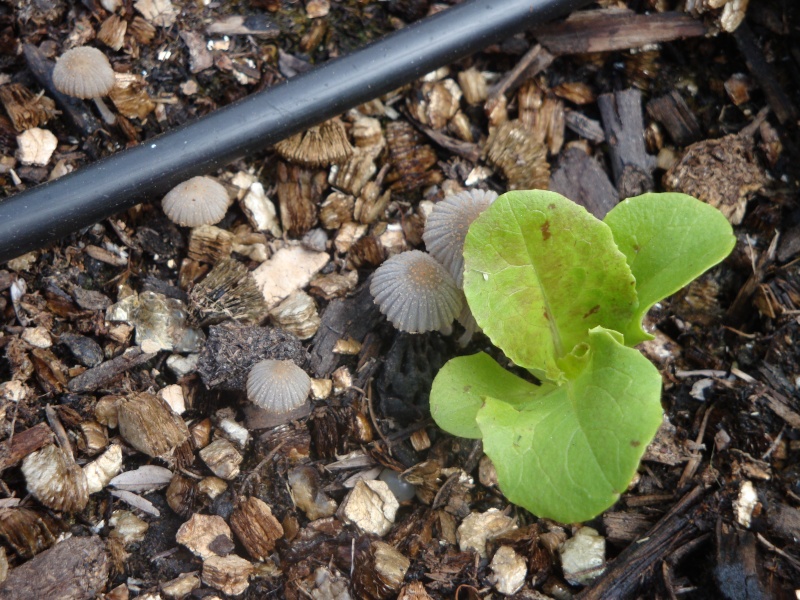 Any thoughts?
Maya Papaya
Yep, it is harmless. I used mushroom compost in my soil mix so I got them too. I read somewhere in this forum that it is normal especially if you have some kind of mushroom in your mix. Now if your plants are growing mushrooms off of them then I would be concerned.

Little Thumb



Posts

: 126


Join date

: 2010-04-13


Location

: Pottawatomie County Kansas 5b



Yeah, I just figure that it is really fertile soil. All the critters and organisms want to be in there now.

Thanks Little Thumb for the confirmation
My SFG boxes started out with just one or two mushrooms a day...now i'm pulling out at least 20-30 a day. Any idea what I can do to reduce the mushroom explosion? Should I worry about the nutrients that they're taking from the soil? Is there anything useful I can do with them instead of just throwing them out?



Posts

: 4


Join date

: 2010-05-21


Location

: Northern Virginia



I just leave em - they just topple over after being hit with the day's Sun. Whatever you do, don't eat them -

I think it is more common in soil using mushroom compost. If they persists, I usuallycut down on watering because to me it means it is too wet.



Posts

: 2467


Join date

: 2010-05-05


Age

: 62


Location

: Warner Springs, CA USDA Zone 8a, Sunset Zone 7 (I think)



I have the exact same mushrooms in my SFG! Glad to know they are harmless.



Posts

: 69


Join date

: 2010-03-13


Location

: Maynard, MA Zone 6a



Thanks for posting about this and including a pic. I have the same mushrooms in my new SFG and was worried. I don't want to spend 10 minutes every day picking them out. So... just leave them, huh?



Posts

: 3


Join date

: 2011-04-09


Location

: southern california



A Mead
Glad to have you join us. Great that you were able to find an answer to your question by looking through some of our older threads. Several of us have had mushrooms show up in our Mel's Mix and it does not create a problem, just untidy looking. If they do not wilt in the sun, I would pull them out just so they don't release more spores. Because your Mel's Mix is so friable and loose, it won't take long to do. Once the weather warms and dries up, the mushrooms do too. Make sure no on tries to eat them!
Here is another thread about
MUSHROOMS EVERYWHERE
Is this your first year as a SFG'r?
Keep us updated on your progress and post pictures because we

them.
Again, Welcome!



Posts

: 3141


Join date

: 2010-06-10


Age

: 70


Location

: Coastal Oregon, Zone 9a, Heat Zone 2 :(



If I'm not mistaken, it does indicate that one of your composts may have had some finishing up to do. Like a compost that contains composted forest litter, may have some wood chips in it that hadn't completely composted. So the mushrooms are finishing it up for you. I do agree you would want to pull them up before they release spores; other than that, they're probably doing you a small favor.




Posts

: 343


Join date

: 2011-03-08


Location

: Zone 8b, Coastal & Tropical South



---
Permissions in this forum:
You
cannot
reply to topics in this forum