Page 2 of 2 •

1, 2
Trying for the ahem 4th time - said b-4 I was a bit incompetent.
Pic is of my rain barrel system - roof feeds to the first white barrel. The one with the flowers. It started out black like the second, but thanks to 2 cans of spray paint and some docorating it turned out white. Water then overflows to the black barrel #2, which then overflows to #3.
Black is now empty as it was used first, then dumped to clean out the past two years gunk. Suggest that you clean out your barrel at least once a year. White on the left is about 1/2 full after watering this evening. Top white is about 2/3 full but since the highest gets the most pressure. Garden is about a foot below the bottom of barrel #3 so we get a nice flow.
Total capacity is about 150 gallons. Lasts about 2 to 3 weeks with normal watering. Hopefully we get rain sometimes in between which fills them up.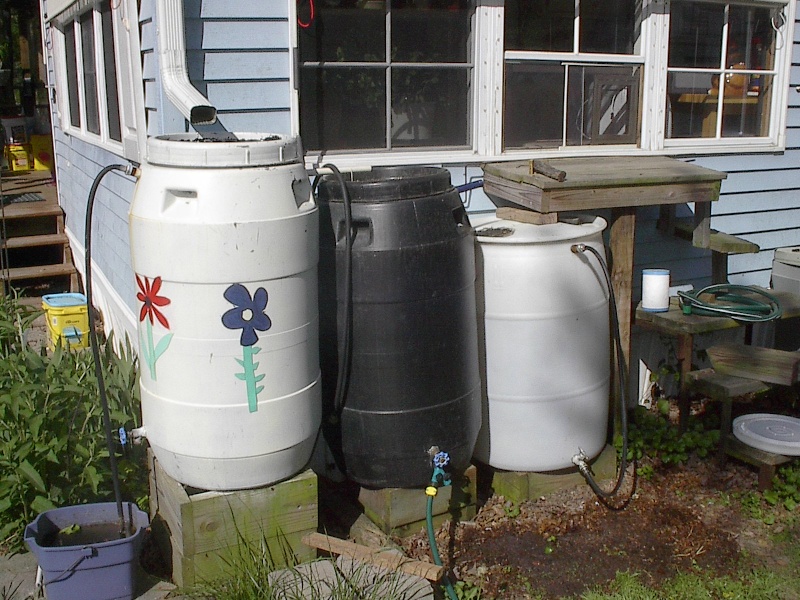 Posts

: 8


Join date

: 2010-04-12


Age

: 81


Location

: Lower, Slower Delaware



Hey Patti - it looks real nice. Be sure that you have a nice screen in that top opening. Some nylon window screen works for me. This weekend have the DH put it up on some risers. I've had some good success with concrete blocks maybe 2 wide, 2 high - that'll give you 16 inches off the ground. Remember the water is gravity feed, like it don't flow up hill. Your garden must be lower than your barrel.
Suggestion for DH is to cut your downspout at the top, rather than trying to fit that little "L" shaped thingy back on after you've chewed up the bottom of the downspout with your saber saw. I've found it easier the first way.



Posts

: 8


Join date

: 2010-04-12


Age

: 81


Location

: Lower, Slower Delaware



Page 2 of 2 •

1, 2
---
Permissions in this forum:
You
cannot
reply to topics in this forum