I'll admit that when it comes to veggies I tend to stick with the "usual suspects". I don't try unusual varieties (yet...give me a couple more years, though) so please understand that I am not faking it...I really am a newbie...especially when it comes to garlic.

I had never even thought about growing my own garlic. But halfway through last season my hubby's nephew gave us a bag of garlic to plant. Our garden was full so hubby planted them under a tree. And we forgot about them. Until they sprouted up this spring (much to our happy surprise). Quickly we transplanted them into our newly expanded garden.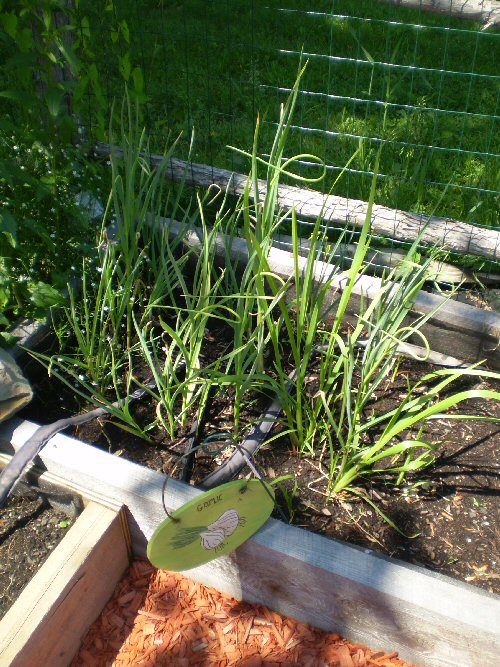 I have scoured all my books, and have spent way too much time on the internet trying to find a good "how to" for growing garlic. The only real info I've found says, "Wait for leaves to yellow before lifting garlic. Braid and dry."
Is that really all they need?
Then...Why are mine curling around? Does that mean they're going to flower? Do I let them flower (if they do won't their energy go into producing seeds and not into growing larger bulbs?) Do I cut the flowers off? If so, When? Really, if Garlic is so simple why do I feel so confused!?!

All help and advice Greatly Appreciated!



Posts

: 51


Join date

: 2010-04-08


Location

: Northern NY, Zone 5A



I am also growing garlic for the first time. I have a friend who grows it every year. I don't think folks usually harvest it until fall but then I am a newbie to this too. I do know that my friend uses the green tops in cooking. They are supposed to have a mild garlic taste and can be used instead of garlic cloves. Has anyone else tried this?



Posts

: 439


Join date

: 2010-03-19



I've yanked and used garlic at "abnormal" stages, but I do prefer to let it bulb up quite a bit. It's actually easier to peel if left to mature and dry. If you hit the wrong stage, it can be a cluster of such tiny bulbs, that it's more frustrating than it's worth. I've pulled it when it was just getting started (garlic emergency, no time to go to the store

) and it was a single, great big clove. Then pulled some later and it was a small cluster of teeny little cloves (soooo not worth it). If you at least poke a finger down and feel if the bulb is getting big, you at least know if it's worth pulling up.



Posts

: 327


Join date

: 2010-03-08


Age

: 54


Location

: DFW, TX, Zone 7b/8a



The curl is the scape -- cut off before it straightens if you want to use it in recipes. If you will search "scapes" on this forum, there is quite a lengthy thread about garlic. Also I posted a "tutorial" last week.
http://squarefoot.creatingforum.com/general-sfg-talk-f5/raised-bed-garlic-vs-in-ground-t2523.htm
There is a lot of info on this forum already--all you have to do is do a search.
A good website for southern garlic is here:
http://www.gourmetgarlicgardens.com/growing.htm
There is a video somewhere on this website which shows the owner harvesting, cleaning, and hanging garlic.
The information will apply to Northern garlic, but yours will be several months later. I just finished pulling my garlic and it is now hanging to dry in the storage shed.



Posts

: 904


Join date

: 2010-03-03


Location

: USA



Belfry~
For the link to your garlic thread. That answered a lot of my questions! The scape has got to go! I have several.
Now, what recipe should I try?



Posts

: 51


Join date

: 2010-04-08


Location

: Northern NY, Zone 5A



Just chop them into inch long pieces and stir-fry with a bit of butter or olive oil. Delicious.



Posts

: 904


Join date

: 2010-03-03


Location

: USA



---
Permissions in this forum:
You
cannot
reply to topics in this forum