Latest topics
»
Hi Everyone
by
BeetlesPerSqFt
Today at 10:23 pm
»
Northern California & Coastal Valleys - What are you doing this month?
by
sanderson
Today at 9:41 pm
»
Path Width
by
sanderson
Today at 9:39 pm
»
parsnips in square foot garden?
by
Turan
Today at 8:38 pm
»
Horsetail weed
by
Kate888
Today at 8:32 pm
»
N&C Midwest: When are your starting seeds?
by
aliceingardenland
Today at 7:35 pm
»
How's the Weather Where You're At?
by
donnainzone5
Today at 7:05 pm
»
A new SFG fan from Texas
by
sanderson
Today at 6:02 pm
»
Your favorite blackberries or raspberries?
by
Mikesgardn
Today at 5:51 pm
»
SUGA 2018
by
SQWIB
Today at 2:02 pm
»
MD Home & Garden Ticket Drawing (until 2/24/18)
by
sfg4uKim
Today at 8:41 am
»
Happy Birthday!!
by
AtlantaMarie
Today at 4:16 am
»
Mid-Atl - Feb 2018 - Anyone starting seed indoors yet?
by
BeetlesPerSqFt
Today at 12:22 am
»
Hello from Northern Ontario Eh!
by
skidmoca
Yesterday at 9:04 pm
»
Eggplant - (Japanese) Millionaire
by
Scorpio Rising
Yesterday at 8:57 pm
»
Floating Away and New Seeds!
by
Scorpio Rising
Yesterday at 8:55 pm
»
ahoy mateys from Arkansas
by
Scorpio Rising
Yesterday at 8:45 pm
»
N&C Midwest: February 2018 !
by
Scorpio Rising
Yesterday at 8:37 pm
»
Sowing Experiment! Anyone Tried This?
by
Scorpio Rising
2/21/2018, 8:49 pm
»
Fourth Year SFG in Canada
by
trolleydriver
2/21/2018, 5:13 pm
»
Aerogrow by Miracle Grow
by
AtlantaMarie
2/21/2018, 7:05 am
»
Seed Organizing Ideas
by
AtlantaMarie
2/21/2018, 7:04 am
»
Areogardening
by
BeetlesPerSqFt
2/20/2018, 9:54 pm
»
2018 SFG in Brooks, GA
by
Scorpio Rising
2/20/2018, 9:39 pm
»
has55's R & D Journey
by
sanderson
2/20/2018, 1:55 am
»
WANTED: Pictures of Compost Bins
by
bigdogrock
2/19/2018, 10:28 pm
»
The New Square Foot Gardening Foundation page is now online!
by
sanderson
2/19/2018, 6:40 pm
»
February: What to plant in Northern California and Central Valley areas
by
sanderson
2/19/2018, 6:31 pm
»
Invasive Tree Roots - Very important topic for newbies.
by
sanderson
2/19/2018, 6:23 pm
»
excited to be here!
by
Kate888
2/19/2018, 2:57 pm

Been a while since I was here so to sum up: before spring hit I went on a hunt to get items for free to build boxes. I ended up with some bricks but had no luck working with brick mortar and gave up after a few tries. I just couldn't get the mortar mixed to a good consistency using partial bags and doing the whole bag at once was to much to work with since I was slow... so I gave up. (Now going to use my free bricks to extend our patio.)
I then found some free shipping crates and real estate signs and I have finally got something to show....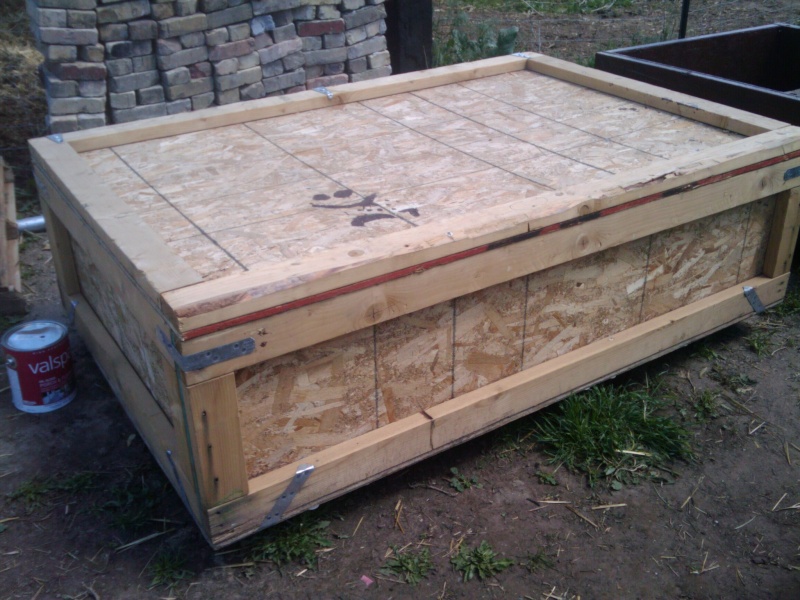 This is a shot of one of the shipping crates.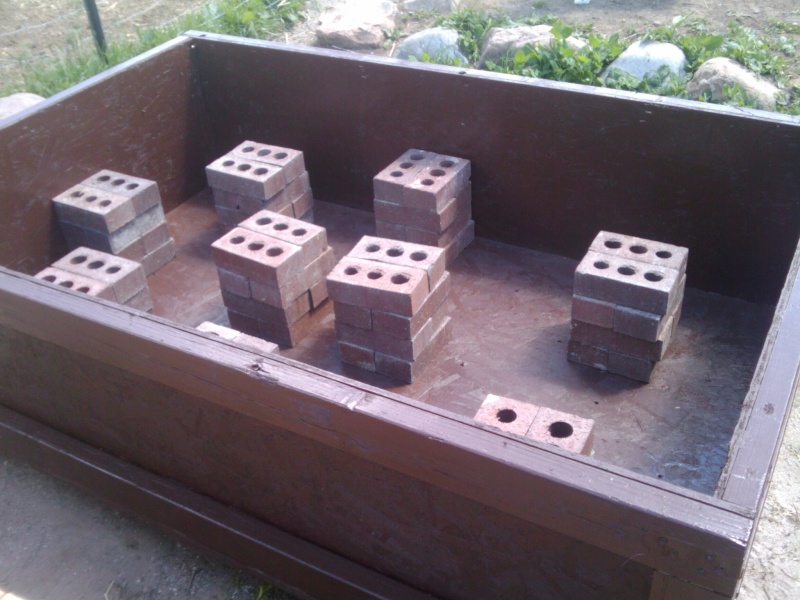 This is the crate after we painted it and put bricks in the bottom to fill in some of the extra depth.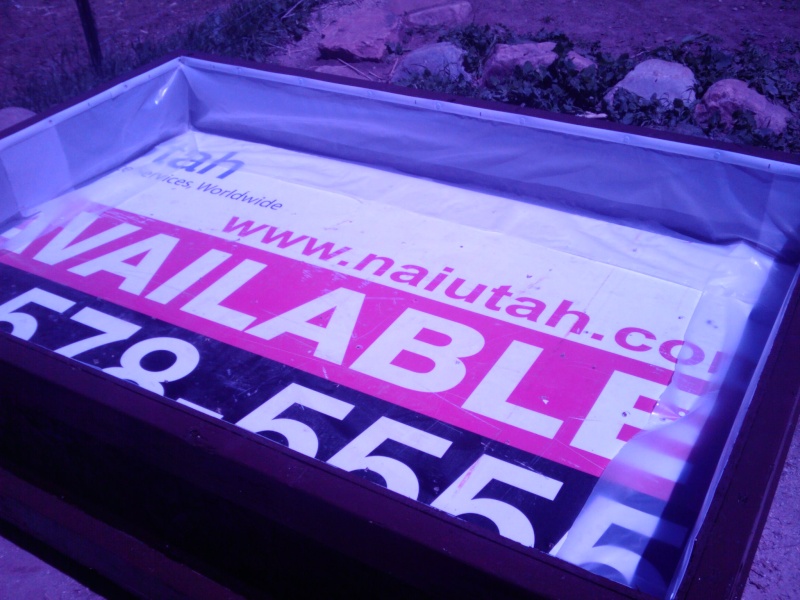 This is after we put the real estate sign in on top of the bricks and lined the painted box with plastic. We have drilled drain holes in the sign.
This is after we have filled the box with Mel's mix soil and planted our salsa plants. We used a neighbors old mini blinds stapled together and thumb tacked to the box sides for our grid.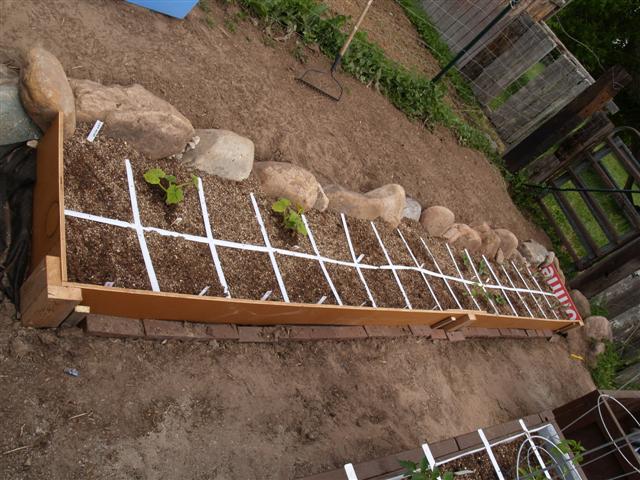 This is a box I built on the ground with a real estate sign for our cucumbers, pumpkin, zucchini and other squash. Our garden area had a slight slop so the boulders are a small retaining wall we put in to level it out. The retaining wall is acting as one side of the garden box. I hope there is plenty of room above the retaining wall for the vines to grow.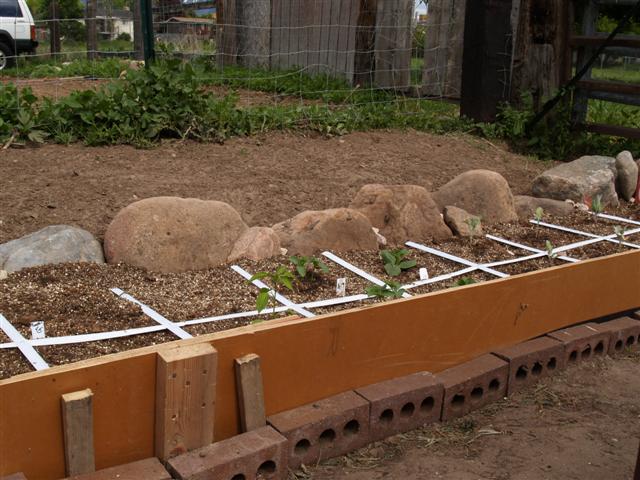 Here is a shot near ground level to get a better perspective of the retaining wall. Now that our plants are all in I can spend some time on finishing touches on the isle ways and making the garden pretty.
I have 1 more shipping crate painted and ready to fill and two others to expand next year. This is my first year gardening and I am so glad I found SFG because it has made it easy to understand. The step by step directions have really been helpful.
Thanks Mel!!
Jinx (Jennie)
Hi,
I've been wondering how your brick work was going. That's too bad it didn't work out for you after all the effort to get them home. But it looks like Plan B is a winner!
The shipping crates look great, and it's clever how you let the 'retaining' wall be a side of a bed.



Posts

: 7392


Join date

: 2010-02-26


Age

: 64


Location

: yelm, wa, usa



Nice to know someone was thinking about me. I was a little disappointed with myself and the mortar. Your wife's work was so good it inspired me. I think the cold had a lot to do with it to. My first attempt seemed to go fine until the next day, then it just kind of crumbled. But I'll find purpose for my bricks, I still love them so they won't go to waste. Now that I have stuff planted I started my photo album in the gallery so I'll be on more often now with updated pictures.
Wonderful summary and the pictures are superb! Thanks for sharing!

How did you come to find the source for the free shipping boxes and real estate signs. (Can you tell I want to copy what you've done!?) I'd love to be able to access some of those shipping boxes if there were a source in Michigan.

Looking forward to future updates of progress through the season!



Posts

: 37


Join date

: 2010-05-23


Age

: 59


Location

: West MI - 5b



Your garden is a real inspiration! I love the recycling aspect of it.
That's a pretty horse in the background too.




Posts

: 151


Join date

: 2010-04-24


Location

: SuNnY SoutH CaRoLiNa



Morning all!
Nurse Grams,
We have a really good classifieds website here in Utah (
www.ksl.com)
that has a 'free' section. I've just been haunting it and picking stuff up here and there as things come available.
The shipping crates came from an independent film maker who built the crates in order for a helicopter to be able to drop equipment on a mountain top where they were shooting. Once they were done with their mountain shooting they didn't need them any more so listed them. I also found our neighbor with the free mini blinds there. Also bricks, landscaping rocks (small ones, but bigger then gravel).
The real estate signs came on a flatbed trailer my husband bought a few years back. We had them stored in the barn and had forgotten about them until I went looking for something to put in the shipping crates to take up some of the extra depth. He was going to use them to re-floor the hay loft since they are made with high marine grade wood. But I convenscated them.
1chichi,
Recycling things to build my boxes started out of necessity since I had a very small budget that was pretty much only enough for the supplies to make Mel's soil mix. Meeting some of my neighbors in the hunt as well as helping keep some reusable stuff out of the landfills was just a bonus side effect.
Thanks for your comment on my Pete. He is a rescue horse and is coming along great. When we rescued him you could see all his ribs, hip bones and back bone to the point of scary. He has filled out nicely, we are now just working with a farrier trying to get his hooves healthy. Since he was so malnurished the hoof growth during that time is weak and splitting. But the new hoof growth since we've had him is strong so he should be prefect in a few more months. He is my gentle giant at 17 hands.
Happy gardening!

Jinx (Jenn)

---
Permissions in this forum:
You
cannot
reply to topics in this forum