Once we got all the taller weeds out of our garden plot we found a small stump that was smack dab in the middle of one of my boxes in the plans I had drawn up. So I started redrawing my plans but my son was determined to get it out for me and today he did it!!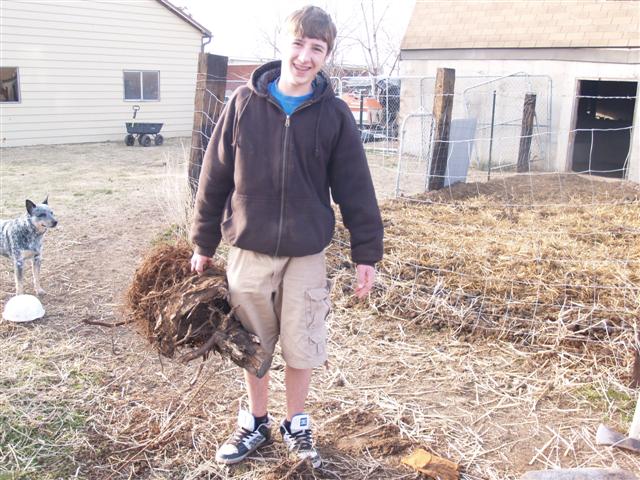 Once he dug down and around it far enough we found that it was only really hanging on with 5-6 good sized roots that he used the axe to cut, the rest were root bound. I'm sure this is the only reason he was able to dig it out but he did a great job!!!
Victory stance with the stump!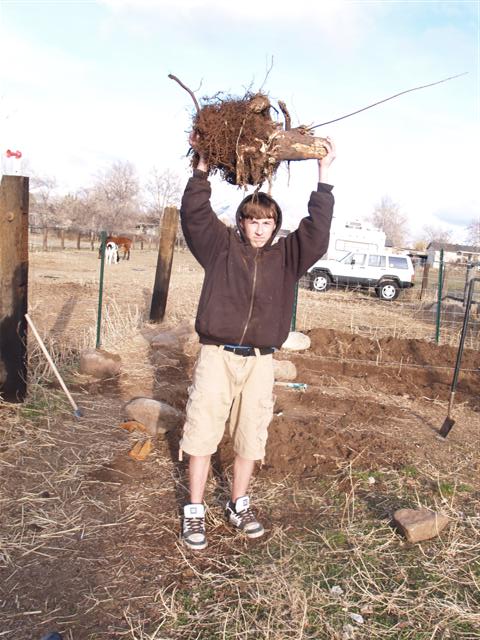 Wooohooo! Good bye stump.



Posts

: 65


Join date

: 2010-03-10


Age

: 35


Location

: Rhinelander, WI



WOW! Aren't teenage boys just miracles in themselves?

I had a solidly rooted compost bin last year that I worked and worked to get out of it's very neglected corner. My grandson came by and, with determination, dug that thing right out of there. CELEBRATION!

Happy gardening

Certified SFG Instructor




Posts

: 765


Join date

: 2010-03-05


Age

: 77


Location

: Cleveland Heights, Ohio (5b)



My son has been a really big help! We also had to dig a bunch of boulders out. I'm reusing some of them as a retaining wall to level out the plot for our boxes. Because of a past back injury I wouldn't have been able to do it all with out his help. 3 cheers for teen boys with a little muscle!!
We had bad weather yesterday so I didn't get anything done on garden prep. Today we finally got the brick unloaded and I have my beds marked off where I'm going to lay bricks for my boxes... slowly but surely.
Bricks are very sun faded, but look at all the colors!
First pile:
Second pile: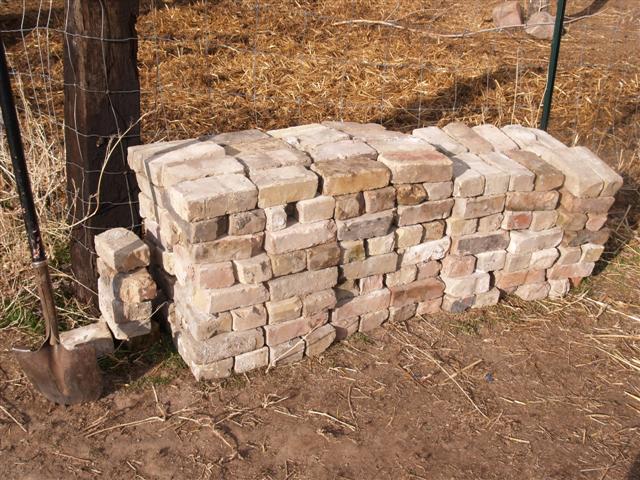 These are some rocks we dug out of the city strip at a neighbors house, they were trying to get rid of them so we helped our self and helped them at the same time. I'm planning to use these in my isle ways.
I picked up my mortar today and looked for vermiculite, still no luck there. Only finding fine or medium course... will keep hunting.
Those bricks are beautiful! Thanks for the pictures. I would make a watercolor painting of those stacks if I wasn't so busy on the Forum and planning my gardens and....


Certified SFG Instructor




Posts

: 765


Join date

: 2010-03-05


Age

: 77


Location

: Cleveland Heights, Ohio (5b)



---
Permissions in this forum:
You
cannot
reply to topics in this forum