So I got a little crafty the last time I was at my local big box store and
purchased a length of vinyl fence post. It's 5" square and I thought I could use a length about 12" stood on end in a square or 3 for plants that want more depth (like carrots). It'll save me some of my precious MM since I won't need to build up the whole square and I thought I might terrace my carrots.
That's the plan anyhow, but I'm wondering if anyone's done this and if so, do carrots get bushy?....also, is the habit bunching?...if so that might put a damper on my idea since 5 sq inches isn't a lot of room.
What do you all think?....What else can I use this fence post for?...er, besides fencing.




Posts

: 36


Join date

: 2010-05-31


Location

: Long Island NY



I suppose it would work just fine-if you only wanted 3 or 4 carrots!
If you follow Mel's seed planting guideline, it takes the same amount of MM to grow X amount of carrots, even if you're talking about less than one square. Carrots can be grown in 6 inches or less of soil. Why not try it once. If your grid is string, you could even cheat: sow your seeds in a line under the string so as not to use up a square for carrots.
Bushy carrots? I guess so!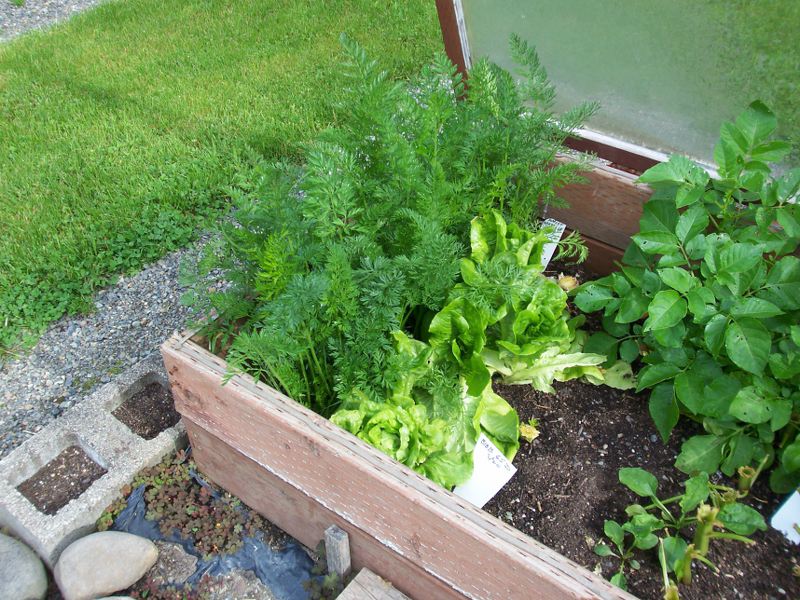 You could lay the fence post on its side, cut holes in the top side, and grow lettuce, spinach, and strawberries.



Posts

: 7392


Join date

: 2010-02-26


Age

: 64


Location

: yelm, wa, usa



Thanks for your response...it only occurred to me as I was writing that the yield might be smaller. Clever idea though to use the fence post for lettuces instead.

thanks again,
Nette



Posts

: 36


Join date

: 2010-05-31


Location

: Long Island NY



It would make a nice worm tube.
I did notice the date on this, but it deserves a bump, I'm thinkin'. The cap for the fencing would make a nice cover.
j



Posts

: 242


Join date

: 2011-09-21


Age

: 110


Location

: Away



---
Permissions in this forum:
You
cannot
reply to topics in this forum