Stupid question, not stupid beans, well, at least not yet... don't know if my beans are stupid yet...

anyhoo.... I have 8 beans per square but they are all bunched around the bases of my bamboo tee-pee... basically, 4 plants at the base of each pole... do I need to thin them out (to 2 at the base of each pole), is this too crowded, or can I just leave them be? Here's a pic for reference....
a couple of my squared only have 7 plants cuz the stupid birds thought the beans looked yummy when they first sprouted...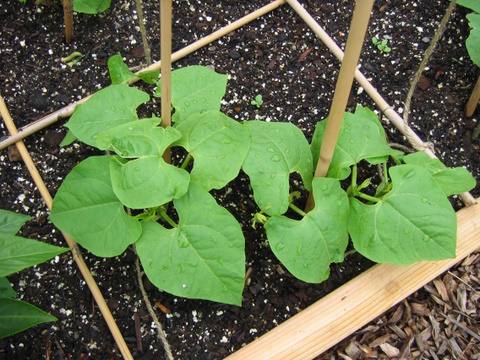 Posts

: 69


Join date

: 2010-05-10


Location

: Twin Cities, Minnesota (zone 4)



Hi,

Should be just fine the way they are. I plant my beans a little more spread out, but not much.

Patty from Yorktown



Posts

: 350


Join date

: 2010-03-05


Location

: Yorktown, Virginia



Have any of you tried succession planting with pole beans in the same square?

I have two squares of pole beans... one with 4 plants, one with 3. They are both growing very well. Would it work to plant a few more beans in the same squares to increase and stagger the harvest??



Posts

: 3350


Join date

: 2010-04-27


Age

: 51


Location

: Manassas, VA - Zone 7a



Hi,
Last year was the year I figured out pole beans. Pole beans will produce a small harvest at a time (per plant) however they produce over the whole season. (I hope I said that correctly.) So if you have a bunch of plants you should easily get a meals worth of fresh beans at many different times over the summer. Bush beans produce two crops and they do it all at once. I do not think that you really need to plant staggered pole beans. Hope this helps.

Patty in Yorktown who had fresh beans for dinner



Posts

: 350


Join date

: 2010-03-05


Location

: Yorktown, Virginia






Posts

: 3350


Join date

: 2010-04-27


Age

: 51


Location

: Manassas, VA - Zone 7a




---
Permissions in this forum:
You
cannot
reply to topics in this forum