Okay, this is the nifty little bamboo trellis I built for my cucumbers.... I plan to have three plants in this pot... I will let 2 trail, and 1 I will train up the trellis... is this trellis sufficient for cuke vines? I've never grown cukes before and don't know how heavy their vines get... I figured, if worse came to worse, I will just let the 3rd plant trail as well, but wanted to attempt the trellis for a bit of variety.... do you think it will work?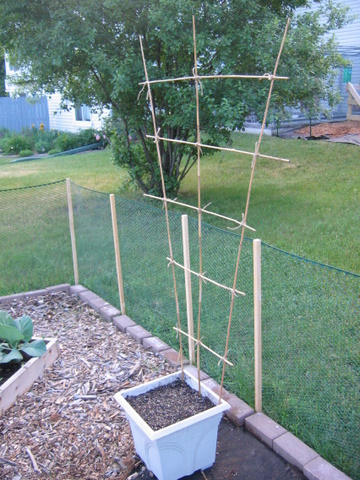 My cute little garden pixies who needed to pose with the trellis....




Posts

: 69


Join date

: 2010-05-10


Location

: Twin Cities, Minnesota (zone 4)



Nice looking trellis. There's really not any good answer to your question as different varieties of cukes send up different size vines. One of my cuke vines would demolish your trellis in no time flat, but the other 4 would work just fine. I think you should try it, and if necessary, use a piece of rebar pounded into the ground to help stabilize the trellis. My question is the feasibility of three vines in what looks like a small pot. Is it 12" square? If so, it would handle 2 vines per the New SFG book.



Posts

: 904


Join date

: 2010-03-03


Location

: USA



While it's a cute trellis, I would say it's probably not strong enough. Maybe you could reinforce it with some sturdier vertical supports?



Posts

: 77


Join date

: 2010-05-08


Location

: Chicago area, (zone 5a)



But your pixies are cute as they can be.



Posts

: 1023


Join date

: 2010-03-03


Location

: West Central Florida



Thanks, I think the pixies are cute too! hehe!

Well, my trellis is a bit of a moot point now, anyway... the dang birds leveled my little cuke seedlings!

So, I'm restarting some seeds in pots on my deck to plant out when there is no longer a tasty little seed attached to the plant to tempt the birds. I'll only do 2 plants in the pot and I'll let them both trail, I think.... we'll see.... lol... I'm so indecisive!




Posts

: 69


Join date

: 2010-05-10


Location

: Twin Cities, Minnesota (zone 4)



---
Permissions in this forum:
You
cannot
reply to topics in this forum