I'm wondering what people are using for paths around the square foot beds? I've been using mulch with weed cloth under and it's working out ok. I'm expanding my garden this year and am considering changing the mulch out but not sure what else to use. I want something that looks nice and is easy to maintain. Any ideas?



Posts

: 37


Join date

: 2010-03-07


Age

: 50


Location

: Green Bay, W



from
Theresa's gallery
made from sacked concrete mix and a mold available at big box stores



Posts

: 7392


Join date

: 2010-02-26


Age

: 64


Location

: yelm, wa, usa



My beds are in my former row garden so as of now they are soil and some weeds. I have dreams of something grand but not anytime soon. They get walked on a lot by the kids so I think I am going to roundup, and then put preen down to keep anything else from growing and leave it at that. I can't do pavers since it is a slope and more work and money than I can do. I am NOT using mulch because we already have a vole issue and they love love love mulch to hide under. I love seeing what everyone else is doing.



Posts

: 420


Join date

: 2010-03-18


Location

: MN Zone 4



Since our soil is MUD, I just put some sand down on top of it so our shoes wouldn't get coated with goo every time it rains. We will eventually do something else.

I love the look of the concrete paths. I didn't realize they were made from a form. That is cool.



Posts

: 439


Join date

: 2010-03-19



I have a friend who uses old carpet around her beds.

She just sweeps it to keep it clean.



Posts

: 62


Join date

: 2010-06-15


Age

: 38


Location

: Queensland, Australia. (US zone 10 borderline11)



I'm planning to put down pea gravel, but right now it's just grass.
I have read that deer do not like pea gravel, and it seems it will be less attractive than mulch or sawdust to pests and carpenter ants.
Here's an image I found on the interwebs showing pea gravel paths in a raised bed veggie garden.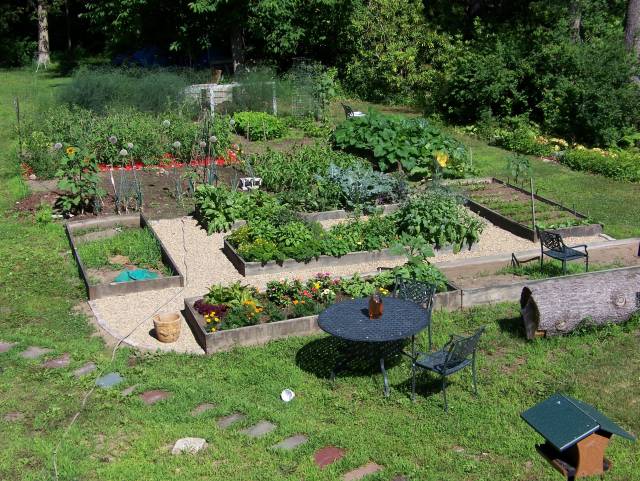 Posts

: 69


Join date

: 2010-03-13


Location

: Maynard, MA Zone 6a



Thanks for the great ideas. Love the stamped concrete and it looks beautiful! Not sure I want to spend the time or money on that. Also love the pea gravel. Nice clean look.
I think I'll look into that.



Posts

: 37


Join date

: 2010-03-07


Age

: 50


Location

: Green Bay, W



pea gravel is cheap if you find a company that delivers it. You can also paint it in nice vibrant colors LOL.

I am doing concrete butterflys all around the boxes in a random design. It's bag concrete in a mold I bought and the tops will be painted pretty colors.

Under the fruit trees I did ground cherries and ground cranberry like a ground cover.

There are many fake carpets that don't mold, look like grass and are cheap you could cut and put around the boxes.

The cut glass is also very very beautiful but very expensive.



Posts

: 125


Join date

: 2010-04-29


Location

: sterling colorado



---
Permissions in this forum:
You
cannot
reply to topics in this forum