Does anyone know how to get rid of wet rot? I have the purple pincushion mold all on my squash.



Posts

: 13


Join date

: 2010-04-14


Age

: 30


Location

: College Station, Tx



Hi,
Wet rot is simply decay of wood due to excess moisture. Wet rot occurs when timber decays naturally in the high moisture areas. There are two type of wet rot, first is cellar fungus, which attacks the timber when there has been serious or consistent water intake such as through leaking roof tiles or leaking pipes and the other one is mine fungus which grows at temperature of 36 c and usually found in properties with very damp conditions. Wet rot is not able to sustain itself on the timber that is below 20% moisture, it requires a moisture content of 50 to 60%. To control wet rot to spread, we have to identify the source of moisture responsible for the outbreak and rectify it. In well ventilated conditions promote rapid drying. Identify the area or areas of risk using surface moisture to record the moisture content of timbers and to plot the distribution of moisture in masonry. We have to visually inspect the area of risk, by touching and examining the infected timber with a sharp instrument. Cut out structurally weakened rotted wood. on the cutting edge of the rotted wood apply the fungicidal gel and to any newly exposed cut ends of timber. Heating, ventilation and good building maintenance will prevent fungal decay forming and will form the basis on which it can be controlled. Wet rot is very serious problem and need to be treated as soon as possible.



Posts

: 1


Join date

: 2010-07-15


Location

: Ireland



Hi Angelina and welcome to the forum. When I googled the OP's problem, imagine my surprise when I found that you had made a similar post today, on another forum, on a thread that had been inactive for two years!

What's up with that?



Posts

: 7392


Join date

: 2010-02-26


Age

: 64


Location

: yelm, wa, usa



Hi Jayde,
Fortunately, I haven't had that problem. Here's some advice I found that may be helpful.

Here is a treatment that is impractical for the commercial grower, but for the home grower it is only inconvenient.

Remove all diseased fruits, etc. and burn as the disease survives in the soil.

Mulch the plants with something that dries out quickly.

Spray a water-based Chlorothalonil fungicide on the plants (including undersides of leaves) each and every day, making sure to get each and every female flower bud, blossom, and fruit. Add a few drops sticker/spreader to the spray bottle.

Dust bordeaux on the ground under the plants, around the plants, and on the plants. Make sure to check every day and redust as it washes away by the rain, etc.

Do this during the wet season and hopefully the disease will only be a little trouble when the dry season comes around, so at that time you shouldn't need to dust or spray as often.



Posts

: 7392


Join date

: 2010-02-26


Age

: 64


Location

: yelm, wa, usa



@jadye09

wrote:Does anyone know how to get rid of wet rot? I have the purple pincushion mold all on my squash.
Howdy Jadye:
Also check that your plants are not over run with squash bugs. The bugs dig into the base of newly formed squash fruit and cause the fruit to die. Many times the dying fruit will become covered in a grayish colored fungus looking stuff as the fruit rots after the bugs have done their dirty work.
Another thought. Check the moisture at the base of the plants as well. If your squash are touching wet soil that could also cause problems. If that is the case place a couple of inches of dry mulch on top of the soil to isolate the squash from the wet soil.
God Bless, Ward and Mary.

Certified SFG Instructor




Posts

: 935


Join date

: 2010-02-26


Age

: 67


Location

: Wake, VA



Waaah!

Went out a few days ago and found my impending pair of yellow squash had turned into something resembling countrynatural's not-so-"strange and wonderful" nightly visitors (skunks, if you haven't been following that thread).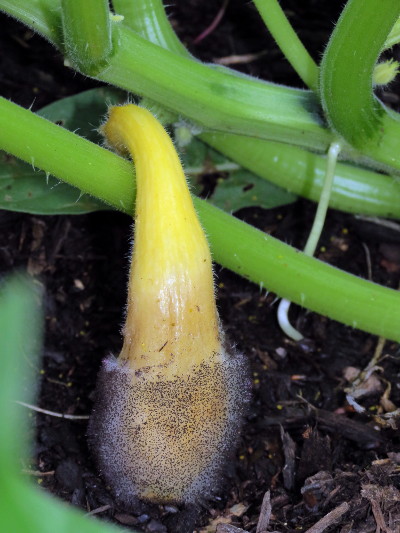 The APS (American Phytopathological Society) says, in APS publication number IW00007, "Subsequent fruit sets are usually not affected unless conducive conditions reoccur." (i.e. warm, wet weather) and
"Rapid fruit development and the ephemeral nature of the disease and the conditions that promote it make control measures impractical."  
So, not a disaster, just a set back. Next set of squashes in line look okay so far...



Posts

: 1123


Join date

: 2016-04-11


Location

: Port Matilda, PA Zone 5b/6a





Forum Moderator Certified SFG Teacher




Posts

: 14362


Join date

: 2013-04-21


Age

: 68


Location

: Fresno CA Zone 8-9



---
Permissions in this forum:
You
cannot
reply to topics in this forum