I started building the boxes in January 2010. We had a mild winter.
I built a total of 13 boxes.
All boxes have a plywood bottoms and blocks to elevate the boxes.
I added an additional 2x4 on the bottom for extra strength and depth.
I built a wooden greenhouse on one of the deep boxes for Tomatoes and Basil.
This GH Box has a shade curtain on the side that can be moved up for summer for cooling.
All of the boxes have built in soaker watering lines underneath the cedar lath for Auto watering, along with a shutoff valve so I can control the amount of water for each of the boxes.
I planted the brassica's in late February.
I the only growing problem I ran into was the Radishes; they had all tops no bottoms.
Ii think my mixture is high in nitrogen.
I am experimenting with a mixture with less compost and using Coconut Coir as part of the mix for root crops.
We are harvesting Broccoli, Kohlrabi, Peas and Lettuce at the moment.
I am very pleased with the quality and amount of produce we are getting.
I still plan to add some additional boxes, one for herbs and additional boxes for extra capacity.
It has been a very raining spring this year.
This poor weather would have been a disaster with my old garden setup.
My old garden had poor drainage and a couple of willow trees that sucked nutrients and water from the soil.
The new SFG has produced very well considering the weather.
I keep posting.
Here are the pictures...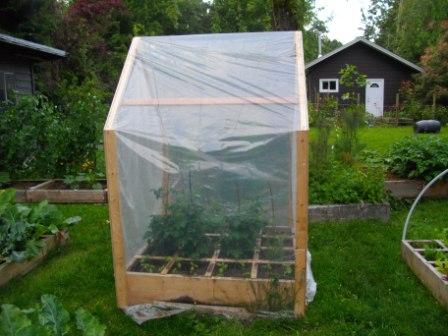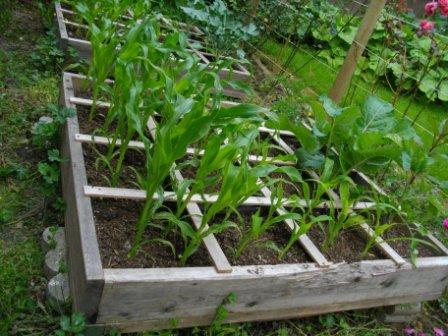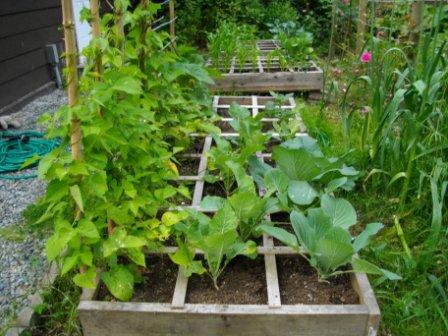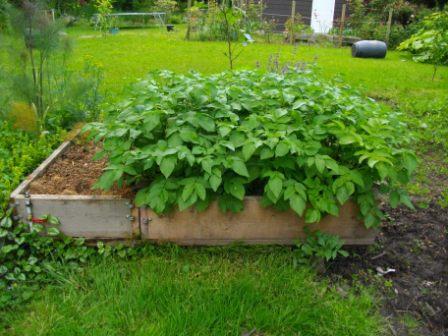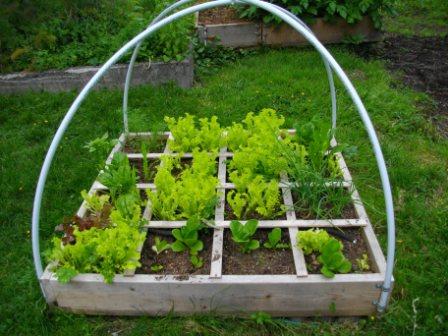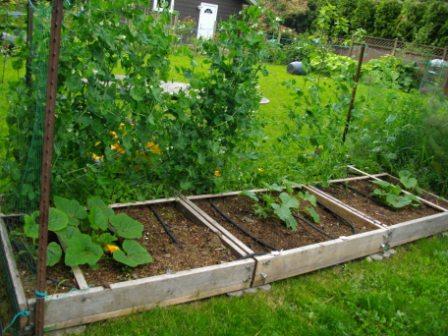 Posts

: 4


Join date

: 2010-06-12


Location

: Surrey, B.C., Canada



Wonderful gardens! I love the greenhouse for your tomatoes and basil!



Posts

: 530


Join date

: 2010-03-21


Age

: 66


Location

: Colorado Springs, CO Zone 5b



Beautiful! My basil and peppers wish they had a cover like you gave some of your babies. In fact I am sure that they came to me in my dreams last night and whispered, "We would like you to give us a little hair-dryer action"



Posts

: 2054


Join date

: 2010-03-03


Age

: 60


Location

: Everett, WA USA






Posts

: 2467


Join date

: 2010-05-05


Age

: 62


Location

: Warner Springs, CA USDA Zone 8a, Sunset Zone 7 (I think)



Congrats! Your garden looks amazing!



Posts

: 62


Join date

: 2010-06-15


Age

: 38


Location

: Queensland, Australia. (US zone 10 borderline11)



Thank you for sharing. Your garden is lovely.



Posts

: 439


Join date

: 2010-03-19



Your garden looks really nice! The greenhouse for your tomatoes, etc. is amazing. Do you happen to have some plans for it, or did you just wing it?



Posts

: 710


Join date

: 2010-03-21


Age

: 43


Location

: Aurora, Ontario, Zone 5a



Your garden is beautiful !!



Posts

: 383


Join date

: 2010-04-08


Location

: Florida Panhandle



I did not use plans for the greenhouse.

I will take some detailed pictures and measurements and post them on the forum.

Thanks for all of the wonderful comments.

Jeff



Posts

: 4


Join date

: 2010-06-12


Location

: Surrey, B.C., Canada



---
Permissions in this forum:
You
cannot
reply to topics in this forum