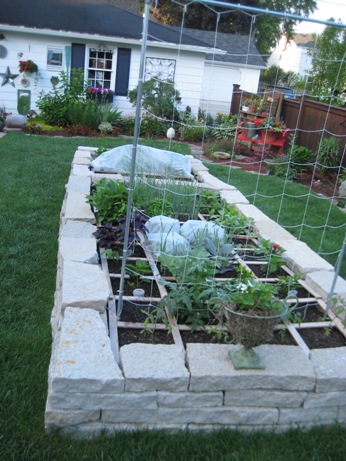 It's been a nice spring/summer in Wisconsin. Even though my garden didn't get built until Mid-May, it is going gangbusters! I'm having a blast.
Question: I've never used floating covers before. I have them on cabbage, broccoli and potatoes. Is there a safe time to take them off, or do you keep them on until you're read to harvest? Advice please!
Gardenwriter
That looks great! Does the mix leak out from the space between the stones? When you water, does the water leak out and leave a stain on the white rocks? I'm considering doing something like yours.

The lanscaped area in the background is beautiful too!



Posts

: 12


Join date

: 2010-06-16


Location

: Kaneohe, HI



Oh yes, it's even prettier now that your plants are filling out! I love the look of stone in a garden. Some of the most beautiful gardens I've ever seen are rock gardens.



Posts

: 319


Join date

: 2010-03-22


Location

: Columbia, SC (Zone 8)



Thank you. I am loving it!

We lined the bed with garden fabric to keep the soil in place. Can't afford to lose any of Mel's Mix! It seems to be keeping everything where it should be.
Thanks for posting this. It looks even better than new. The gift that keeps on giving. I know nothing about row covers so can't help you there.



Posts

: 2467


Join date

: 2010-05-05


Age

: 62


Location

: Warner Springs, CA USDA Zone 8a, Sunset Zone 7 (I think)



Your garden does look great! Is there someway to keep grass from getting in?
What was the purpose of your row covers? Cold protection? Insect protection?

Certified SFG Instructor




Posts

: 150


Join date

: 2010-03-04


Age

: 59


Location

: Bountiful, Utah Zone 6



The lightweight fabric lets the sun and water in, but keeps out the bugs that typically attack those crops. Mel does talk about it in his book. So far, it seems to be doing what it is supposed to be doing.

Thanks for responding to my posting!

Gardenwriter
You ARE in Wisconsin. Looks fantastic! You have full sun...dreamy. I wish I did. Must call city and have them lop off goofy neighbor's junk trees to aid in giving my garden some more sun. All this rain and then sunny humid days...it's been kinda great, right??

I'm not using any covers, never have, however, my broccoli seems to have a bug that is thoroughly enjoying the leaves. That and my sweet pea's are all holey.



Posts

: 185


Join date

: 2010-04-17


Age

: 47


Location

: Wauwatosa, WI (zone 5a)



Looks like we are in the same neck of the woods. I'm in Wauwatosa also. Our yard is on the Secret Gardens of Wauwatosa Garden Tour on July 10. Proceeds are used by the Tosa Beautification Committee to buy plants for the boulevards and such. Why don't you come by? I'd love to meet an actual Square Foot Gardener in person!
When you first posted the construction pictures, I think I even posted that it looked like my neighborhood. Hhahaha. That's great. I'll have to mark my calendar for the garden tour!!! That would be too cool.



Posts

: 185


Join date

: 2010-04-17


Age

: 47


Location

: Wauwatosa, WI (zone 5a)



---
Permissions in this forum:
You
cannot
reply to topics in this forum