Latest topics
»
Northern California & Coastal Valleys - What are you doing this month?
by
sanderson
Today at 1:28 am
»
CANADIAN REGION:What are you doing in October 2016
by
Kelejan
Today at 12:10 am
»
Straw Bales with Seeds?
by
donnainzone5
Yesterday at 11:50 pm
»
Second Year SFG in Canada
by
sanderson
Yesterday at 11:08 pm
»
TrolleyDriver's Compost Thermometer
by
jimmy cee
Yesterday at 10:44 pm
»
Notice: Gluten-free Recipes Sub-Forum- Up and running!
by
BeetlesPerSqFt
Yesterday at 9:20 pm
»
Our Newest Regional Hosts!
by
Scorpio Rising
Yesterday at 8:56 pm
»
who has chickens
by
Turan
Yesterday at 8:53 pm
»
Indian Solar Gardening Calendar
by
Scorpio Rising
Yesterday at 8:52 pm
»
N&C Midwest: October Happenings!
by
Scorpio Rising
Yesterday at 8:40 pm
»
Asia Region -Showcase of Gardens - Show Us Yours
by
rajmahendra
Yesterday at 8:36 pm
»
California's Drought
by
countrynaturals
Yesterday at 1:23 pm
»
Fun Spider addition to Home Page
by
sanderson
Yesterday at 12:56 pm
»
last chance to pre-order baker seeds-rare seed catalog
by
sanderson
Yesterday at 12:48 pm
»
Bountea Compost Tea - Got it!!!
by
dstack
Yesterday at 12:31 pm
»
Microbes...you gotta see this one !!!
by
has55
Yesterday at 10:07 am
»
Senseless Banter...
by
AtlantaMarie
Yesterday at 7:37 am
»
Mason bees
by
Scorpio Rising
10/23/2016, 8:45 pm
»
2016 SFG in Brooks, Ga
by
yolos
10/23/2016, 8:05 pm
»
Hello from central Massachusetts!
by
Scorpio Rising
10/22/2016, 10:39 pm
»
What's eating my plants
by
donnainzone5
10/22/2016, 12:30 pm
»
Shallots, Prisma
by
AtlantaMarie
10/22/2016, 7:59 am
»
Peas and cucumbers: Trellis position and plant spacing
by
yolos
10/21/2016, 8:32 pm
»
New England October, 2016
by
Scorpio Rising
10/20/2016, 8:56 pm
»
leggy potatoes plants were started too early in the hous
by
Scorpio Rising
10/20/2016, 8:38 pm
»
Thin Crust Pizza
by
No_Such_Reality
10/19/2016, 11:34 pm
»
November Planting in SoCal, time to keep working it and bragging rights time!
by
No_Such_Reality
10/19/2016, 10:27 am
»
Winter Hobbies and Crafts
by
Scorpio Rising
10/18/2016, 7:48 pm
»
Cucumber plant visitor
by
Scorpio Rising
10/18/2016, 7:31 pm
»
Hello all
by
Scorpio Rising
10/18/2016, 7:16 pm
I'm so excited to discover I have toads in my yard, and they are huge.
I discovered this while looking for something in my dark kitchen one evening. Through the sliding glass doors in the dark something moved and I could see that just outside was an enormous toad (about 4-5 inches long) on my deck. Later when I was mowing the lawn, another toad (smaller, about 3inches) hopped away into the mulch. I got a picture of him (below).
Now my dilemma: I had been planning to build a fence around my SFG, but won't it also keep out the lovely toadies? And if so, would I no longer benefit from their snail-eating habits? Anyone else with toads and a fence?
The snails did a number on my peppers last year so I want to stay friends with the toads.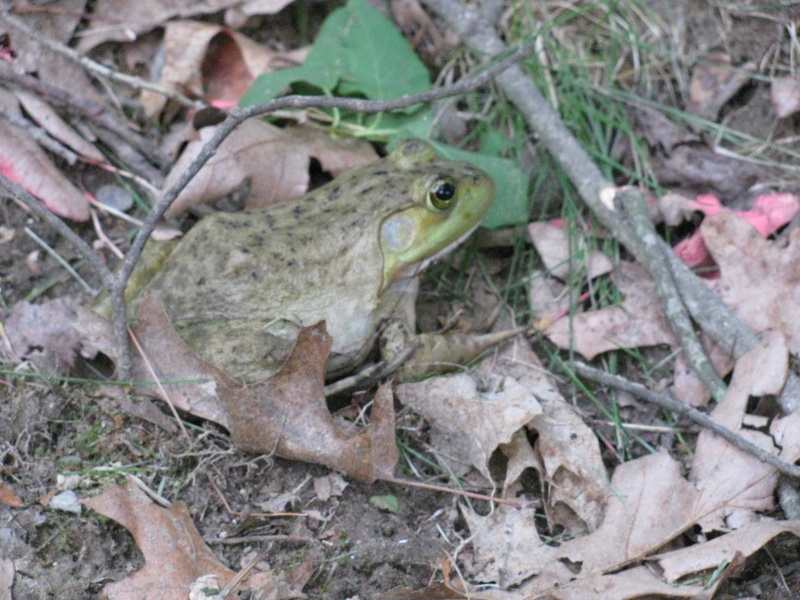 I'm no expert, but this looks like a frog to me. Here is a link. Bullfrogbabe would know the answer to your questions. Maybe you could PM her.

Forum Moderator Certified SFG Teacher




Posts

: 13981


Join date

: 2010-03-06


Age

: 54


Location

: Keene, NH, USA ~ Zone 5a



It does look a lot like a green frog, maybe you are right. We thought it couldn't be a frog because we don't have any water for it to live in. I'll have to take a walk down the neighboring street to see if anyone has put in a pond or something.

In this case, I can probably put up my fence!
What were you going to fence out?

Certified SFG Instructor




Posts

: 150


Join date

: 2010-03-04


Age

: 58


Location

: Bountiful, Utah Zone 6



Large frogs eat snails and slugs too!



Posts

: 111


Join date

: 2010-03-08


Location

: England (South)



I have chipmunks, squirrels, skunks, rabbits, possibly deer (though I haven't seen one on my street yet), and coyote. Also crows and all sorts of birds: jays, orioles, robins, cardinals.
I'm mainly looking to keep out the rabbits and chipmunks, and avoid attracting deer. I'm also afraid to attract vermin or become the scourge of the neighborhood by stimulating a boom in any local wildlife population. There is a skunk that visits frequently due to the grub problem I'm fixing soon (hello nematodes).
I'm guessing the frogs are only around temporarily because we've had a lot more rain than usual this spring,and/or because one of my neighbors has some standing water around.If they were toads I'd want to be more accommodating since they don't live in water (though they like it), [right?]

Nice bullfrog! You must have a large pond or wetland nearby full of waterlilies. Bullfrogs sometimes travel across land to switch ponds. They like large, permanent ponds of water, so her visit to your yard was enroute to somewhere with permanent water with lots of lily pads. Green frogs have dorsal lateral folds that run down their backs, your frog has a smaller one that just wraps around the ear drum, a signature trait of a bullfrog, compare photos below.
Bullfrogs have huge appetites for anything that moves and fit into their mouths -- bugs, baby birds, other frogs, you name it, if it fits they eat it!
It is a female, her ear is smaller than her eye (a males ear drum would be larger than his eye), she is olive green with spots (males are a brighter green without spots), and she has a creamy throat (a male would have a bright yellow throat). The bullfrog I am holding in my profile photo is a male bullfrog, see the yellow throat on him and the greener colouration without spots or mottling.
Here is a female bullfrog for comparsion.
Followed by a green frog below. See the ridge all the way down the green frogs back versus the shorter one on the bullfrog above just around the ear. The colouration is a touch different too.
If you here them calling in the wetland nearby the bullfrogs are asking for more rum in a deep loud drone while the green frogs are plucking their loose banjo strings. Enjoy!



Posts

: 189


Join date

: 2010-03-03


Age

: 45


Location

: Petawawa, Ontario, Canada Zone 4a



Thank you!!! I have been talking to neighbors about it and they tell me that in fact there is a big pond at the nearby Rod & Gun club so this must be where they are going to or coming from. I guess I don't really have a fence dilemma after all, but I learned a lot about bullfrogs!
---
Permissions in this forum:
You
cannot
reply to topics in this forum