Latest topics
»
Just Completed my Garden.....What Should I Plant NOW!
by
stealthmayhem
Today at 4:53 pm
»
Do I need to pollinate my zucchinis?
by
CapeCoddess
Today at 4:41 pm
»
New England July 2017
by
CapeCoddess
Today at 4:35 pm
»
Garden Footwear
by
hammock gal
Today at 4:22 pm
»
Hello from Silverton, OR
by
Abiqua Ike
Today at 4:01 pm
»
What are you eating from your garden today?
by
hammock gal
Today at 3:51 pm
»
help with raised beds! how much can I grow in a 4' x 4' raised bed?
by
Robbomb116
Today at 11:54 am
»
Tornado Cake
by
Cajun Cappy
Today at 11:08 am
»
Today's Harvest
by
Judy McConnell
Today at 11:00 am
»
What do you know about making sauerkraut?
by
RoOsTeR
Today at 9:02 am
»
Can anyone identify what type of watermelon this is at this age??
by
sanderson
Today at 2:55 am
»
N & C Midwest; July 2017 !
by
CitizenKate
Yesterday at 10:31 pm
»
Happy Birthday!!
by
trolleydriver
Yesterday at 9:56 pm
»
Eggplant Blossom End Rot?
by
Fiz
Yesterday at 6:11 pm
»
Your favorite watermelon and pumpkin
by
AlwaysHotinFL
Yesterday at 1:23 pm
»
What I've learned this year
by
countrynaturals
Yesterday at 10:29 am
»
Growing Romanesco Broccoli
by
plantoid
Yesterday at 7:20 am
»
CANADIAN REGION: What are you doing in JULY 2017?
by
sanderson
Yesterday at 2:07 am
»
TrolleyDriver's Compost Thermometer
by
sanderson
7/25/2017, 4:18 pm
»
How's the Weather Where You're At?
by
trolleydriver
7/25/2017, 8:21 am
»
Turan in the Western Mountains
by
sanderson
7/25/2017, 1:07 am
»
Friday Rookie Topic XII: Cucumbers
by
Scorpio Rising
7/24/2017, 8:40 pm
»
More on garlic scapes
by
greatgranny
7/24/2017, 7:17 pm
»
Third Year SFG in Canada
by
SwampTroll
7/24/2017, 2:47 pm
»
My early garden
by
sanderson
7/24/2017, 3:15 am
»
Square footage
by
sanderson
7/24/2017, 3:03 am
»
Healthy Meals
by
RoOsTeR
7/23/2017, 10:19 pm
»
HELP! Sweet Potato Plant!
by
countrynaturals
7/23/2017, 11:26 am
»
2017: First full year of SFGing in ND
by
Robbomb116
7/22/2017, 9:10 pm
»
2017 SFG in Brooks, Ga
by
sanderson
7/22/2017, 7:38 pm
Grrr! My tomato plants have fallen over again! This year they snapped the poles I used for staking in half! I have this problem every year and have tried tomato cages, and staking with wood poles and the heavy duty green garden stakes but every year they become so top heavy they fall over, supports and all! I prune the bottom 18" of the stalks as well as any suckers in an effort to control them. I still get tons of fruit but it always ends up looking like a jungle! If anyone can post pics of their support systems with instructions on how they build them and keep them upright in Mel's Mix I would be grateful!
Ooh, that's scary. I'm planning on "trellising" them, though I still don't see how that's really gonna work, but I've got it built and gonna try. I've been pruning according to Mel's outline. It's just that there isn't enough root system and the soil is too loose?
I think it is the loose soil! I thought it was the root system the last few years so I stacked two boxes on top of each other this year so there is at leat 24" soil depth for deep roots. See pics:
Before planting...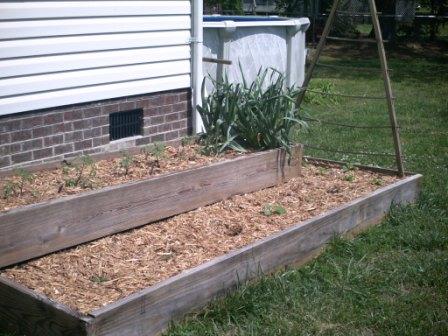 About a month ago....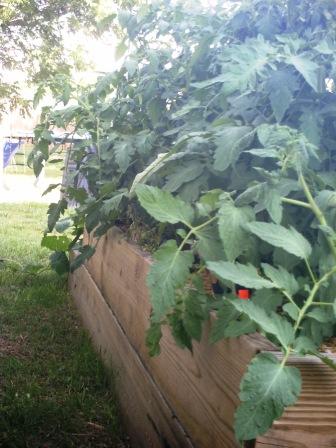 I'll take more pics today.....
That's incredible. It's amazing to see how far along different parts of the country are. I'm so proud of my part sun garden and how well it's doing this year, and yet, realisticly, it's nothing to where it WOULD be if it were a full sun location. Annnyyyway. That's amazing to me that each year your tomatoes topple over, especially since you now have so much depth available for the roots. I figure if mine want to, they'll burrow down to the soil beneath and I'm ok with that. I worked it hard, and there are still good nutrients, etc... down there for the plants. What about just old fashioned stakes. Drive them in really deep and then just lash the hell out of the plants to keep them upright. I mean, honestly, they tomatoes will ripen and grow even if the plant is on the ground, so long as the roots are in the soil. I've had many big tomatoes end up growing on the lawn because the branch just couldn't keep the weight up. Still doesn't make it easy, neat or nice to deal with.
Here are pics of my jungle....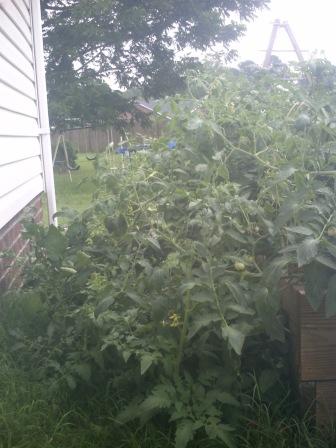 Toppled over to the ground!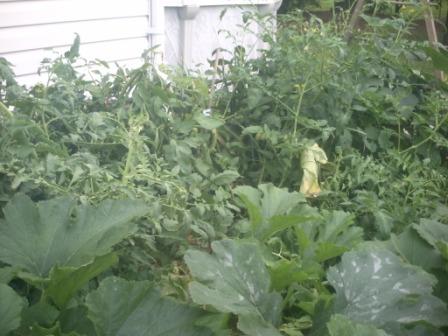 They were upright a few days ago....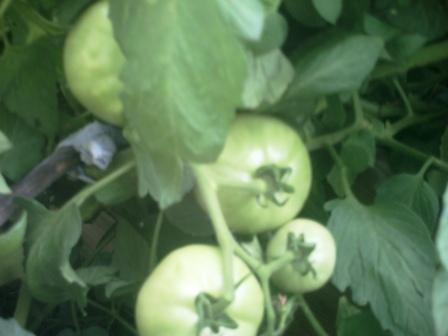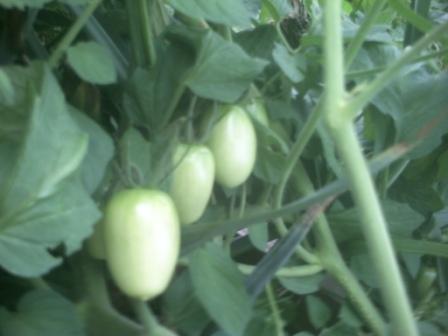 Lots of fruit!
For determinate varieties the Florida weave may be best. An overhead support system like those used in greenhouses may be what you need for your indeterminate varieties. Click this link. There you will find a good description of various choices.
It may be helpful to prune the plants to reduce weight and get better access to the stems. Here is a photo of my friend Chris and his tomatoes with overhead support. I think you need to be logged into facebook to see the photo click me.
Last edited by camprn on 6/19/2010, 9:07 am; edited 2 times in total

Forum Moderator Certified SFG Teacher




Posts

: 14165


Join date

: 2010-03-06


Age

: 54


Location

: Keene, NH, USA ~ Zone 5a



That's incredible! What a great problem to have. Nerve wracking, yes, but man, that's really pretty. LOL
The SFG type trellises use conduit anchored with rebar... could you do the same with stakes?



Posts

: 3350


Join date

: 2010-04-27


Age

: 50


Location

: Manassas, VA - Zone 7a



---
Permissions in this forum:
You
cannot
reply to topics in this forum