I have been happily pruning suckers off tomatoes and everything looked "normal" or so I thought. Then I found this. This tomato split into three parts. The red arrow shows where I pruned off a pretty big sucker. The blue arrow shows where I left the flower growth. However, now the flower growth is sending up a vertical and more leaves and more suckers. I thought the stem on the far right was the main stem because it was thicker and it also has leaves, flowers and suckers.
Which one would you prune?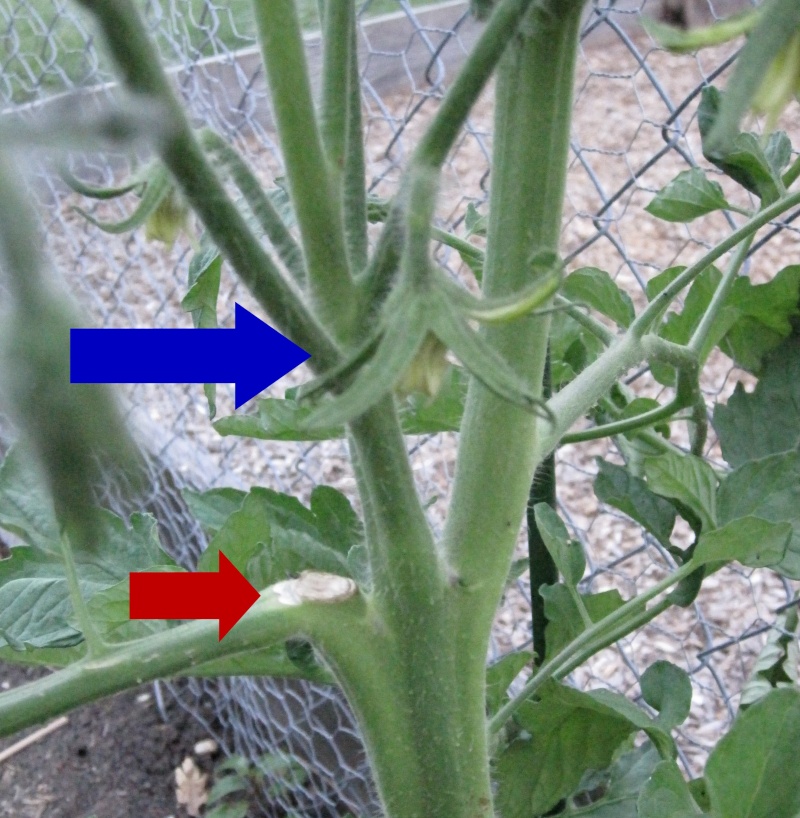 Posts

: 439


Join date

: 2010-03-19



I'll be interested in expert answers to this too.
I'm growing tomatoes for the first time and mine look pretty much like this as well. One plant now has two "leaders", one with 3 flower trusses and one with 1 so far. Actually, I am fairly happy with this as I don't really want the plants much taller than they are now and I plan on stopping them when they have 5 - 6 trusses.
I think I just didn't notice the side shoot coming out at the leave below the first flower truss (too busy jumping up and down shouting "Flowers"). I don't think it matters too much, just keep an eye out for suckers from now on. But like I say, I am new to this so looking to learn




Posts

: 334


Join date

: 2010-04-27


Location

: Iceland



I just took my wall-o-waters off my tomato plants yesterday and the suckers had totally taken over! The suckers were as big around and sometimes healthier than the branch that would have been kept if I were pruning suckers. I didn't know what to do, so I cut off some suckers and cut off some of the floppier branches, leaving suckers. just generally tried to make them more organized looking plants.

I've still got one plant that's branched way down close to the soil, and no idea what to do with it. I guess I'll just let it be and see what happens.



Posts

: 126


Join date

: 2010-04-26


Location

: Fort Worth, TX



I'm not much of a tomato grower, but I watched a video (linked from a post on the forum) that showed how to graft tomatoes. The gardener/farmer left many, if not most, of his plants with 2 runners to give more fruit potential for his plants.



Posts

: 82


Join date

: 2010-04-06


Location

: 5b Bloomington Indiana



What is very strange about this plant is that it got a flower stalk and a sucker at the same spot. After I pruned the sucker, I thought it was going to be OK but then the flower stalk grew leaves and continued to grow.

I probably have to do something with it today. Right now I am pulling suckers off the two leaders and just letting those grow.



Posts

: 439


Join date

: 2010-03-19



I never pull suckers... I just let the plant grow and do its thing. Even Dr. Carolyn (great tomato grower) suggests not to prune.

But of course, you have two camps.. the ones that prune and the ones that don't.



Posts

: 43


Join date

: 2010-03-15



I've been trying to prune, but some of them got away from me. The biggest issue I am having is that the trellis does not seem to be enough. I am tying branches to it, yes, but there are big ones to the front (or the back) where it it doesn't want to go on the trellis and would be crowding other growth if I tried. I'll need to add some bamboo stakes and twine soon, I think....



Posts

: 3350


Join date

: 2010-04-27


Age

: 50


Location

: Manassas, VA - Zone 7a



---
Permissions in this forum:
You
cannot
reply to topics in this forum