Latest topics
»
Hello from central Massachusetts!
by
Scorpio Rising
Yesterday at 10:39 pm
»
N&C Midwest: October Happenings!
by
Scorpio Rising
Yesterday at 10:30 pm
»
CANADIAN REGION:What are you doing in October 2016
by
sanderson
Yesterday at 9:45 pm
»
Northern California & Coastal Valleys - What are you doing this month?
by
audrey.jeanne.roberts
Yesterday at 9:43 pm
»
Microbes...you gotta see this one !!!
by
sanderson
Yesterday at 9:33 pm
»
last chance to pre-order baker seeds-rare seed catalog
by
AtlantaMarie
Yesterday at 7:36 pm
»
Second Year SFG in Canada
by
CapeCoddess
Yesterday at 7:09 pm
»
What's eating my plants
by
donnainzone5
Yesterday at 12:30 pm
»
Straw Bales with Seeds?
by
donnainzone5
Yesterday at 12:26 pm
»
Bountea Compost Tea - Got it!!!
by
AtlantaMarie
Yesterday at 12:25 pm
»
Shallots, Prisma
by
AtlantaMarie
Yesterday at 7:59 am
»
Asia Region -Showcase of Gardens - Show Us Yours
by
sanderson
10/21/2016, 10:16 pm
»
Peas and cucumbers: Trellis position and plant spacing
by
yolos
10/21/2016, 8:32 pm
»
California's Drought
by
Kelejan
10/21/2016, 7:37 pm
»
Garlic
by
recoush
10/21/2016, 5:15 pm
»
Mason bees
by
recoush
10/21/2016, 5:08 pm
»
Senseless Banter...
by
CapeCoddess
10/21/2016, 4:51 pm
»
Indian Solar Gardening Calendar
by
sanderson
10/21/2016, 3:50 am
»
New England October, 2016
by
Scorpio Rising
10/20/2016, 8:56 pm
»
leggy potatoes plants were started too early in the hous
by
Scorpio Rising
10/20/2016, 8:38 pm
»
Thin Crust Pizza
by
No_Such_Reality
10/19/2016, 11:34 pm
»
Our Newest Regional Hosts!
by
Scorpio Rising
10/19/2016, 8:10 pm
»
November Planting in SoCal, time to keep working it and bragging rights time!
by
No_Such_Reality
10/19/2016, 10:27 am
»
Winter Hobbies and Crafts
by
Scorpio Rising
10/18/2016, 7:48 pm
»
Cucumber plant visitor
by
Scorpio Rising
10/18/2016, 7:31 pm
»
Hello all
by
Scorpio Rising
10/18/2016, 7:16 pm
»
The Most Annoying Pest In The Yard
by
Scorpio Rising
10/18/2016, 6:45 pm
»
TrolleyDriver's Compost Thermometer
by
sanderson
10/18/2016, 4:32 pm
»
2016 SFG in Brooks, Ga
by
yolos
10/18/2016, 11:17 am
»
Tryst with my first DIY SFG in India
by
rajmahendra
10/18/2016, 7:50 am
What's up with broccoli?? Will my broccoli EVER flower? Will I just have huge leafy plants and no broccoli? This is year two. Last year, out of four plants, I had two, tiny little flowerettes to eat. Now, my plants are big, leafy, growing, but no signs of a head. Help.
My brocolli took a long time before the head started. Thought I would only be eating leaves

After a while the heads finally started to show. I looked down the center of the plant from above and separated the very tiny leaves in the middle where the head should grow from. I found that there was a little tiny head in there just waiting to sprout and grow.
Like I said it took time but eventually they all grew heads. Brocolli seems to be a plant that needs a lot of patience to grow.
Pete



Posts

: 86


Join date

: 2010-04-27


Age

: 46


Location

: Hunterdon County, NJ



Don't worry, it will... I was worried too, my broccoli was massive, with huge leaves, but no florets. Then all of a sudden it started heading up, and the head at the moment is probably big enough for 4 people, but very tight still so I'll leave it in for a couple more days to get the most out of it.
Overall, it will have been about 16 weeks since the seeds germinated, so it is a plant that needs patience. Make sure it gets plenty of water, it's quite important, and when it comes to harvesting take the head with a few inches of stem, and leave the plant in; it will grow a few more florets, smaller than the original one but since there will be several you'll probably get again the same quantity as the initial head. It will produce for up to 6 weeks after the first harvest.
Thanks for the input guys. Water is no problem, since it seems to rain at least every other day lately, and the garden is not getting a full day of brutal sun, AND, well, Mel's mix does hold moisture pretty dag gone well. I'll just wait it out. I was beginning to worry that it was another situation like the radishes, where tons of foliage grew, but no actual food. LOLOL
Did you take note of when they germinated? I believe it takes on average 16 weeks before harvest, so if you're below that definitely no worry.
I've been getting the same lousy weather that Lavender Deb has been getting-only a bit worse. This year is going to be my year for broccoli, I think. This is the biggest head I've ever grown, and I don't know why! I planted the seed on 2/22.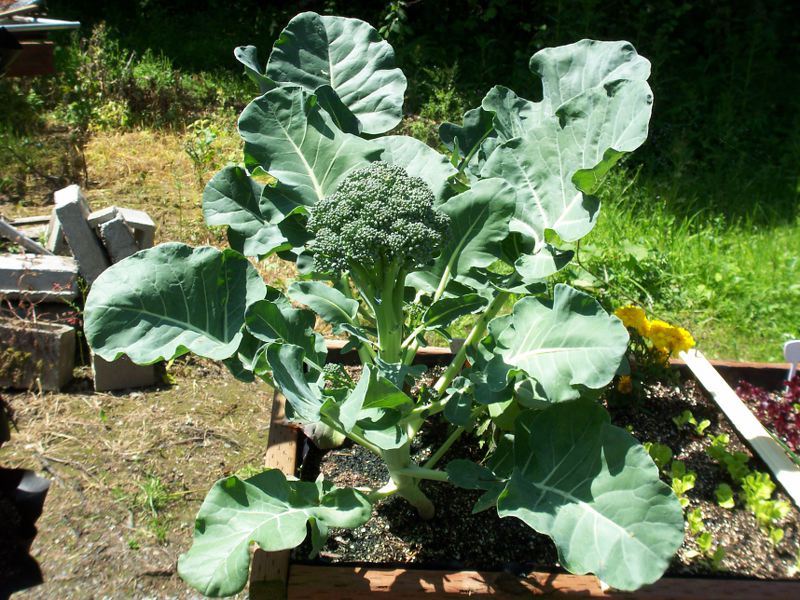 Posts

: 7392


Join date

: 2010-02-26


Age

: 63


Location

: yelm, wa, usa



I am on my second year attempt at broccoli too. This years plants are bigger and thicker than last year but it looks like I will still be lucky to get 1 mouth full-sized broccoli head off each one, same as last year.

I added a decent mix of compost and the plants grew tall with big leaves but the heads are really small. I have waited as long as I can on them before picking, they are starting to look like they are going to flower so I know it is time to eat them.

4 bits for dip, 1 off each plant...a bit of wasted space! I could have planted 4 squares of lettuce or something else that would have produced more than 4 bites. Same results 2 years in a row, so I don't think I'll try broccoli again next year.

I started mine from seed indoors back on March 15, transplanted them outside on April 25, and will be taking the tiny heads off 2-3 of them this week (the 4th plant still hasn't formed a head).

It must be a nutrient issue of some sort? They had lots of water and it wasn't hot until recently.

My radishes that were planted June 1, almost 3 weeks ago have big leaves, but don't seem to be filling out yet either. I had mixed results with radishes last year, some filled out and some didn't....so far it's not looking good on the radish front either again this year.



Posts

: 189


Join date

: 2010-03-03


Age

: 45


Location

: Petawawa, Ontario, Canada Zone 4a



This is one plant out of eight. The other seven are doing just a little better than you describe. I had to cut the main head on them (at the size of a quarter) because they were starting to seed.
Last fall, I swore off growing broccoli. But CherriesJubilee got me interested in them again, when she started talking about the different varieties of broccoli that she was growing. Of course, lazy me, I ended up growing Packman again!



Posts

: 7392


Join date

: 2010-02-26


Age

: 63


Location

: yelm, wa, usa



If the broccoli gets stressed out when it's young, it will start heading when it's too young, and will produce a small head. Some of the causes of stress are having its roots disturbed (I started mine in Jiffy7 for that reason); they dislike too much heat; and they like to have the soil where they're planted very firm, otherwise they'll move in the wind and damage the roots.
I threw away my first two batches of seedlings because they didn't have enough light the first time, and they were kept indoors at a temperature that was too hot the second time. The ones I have now are grown following all those rules above, and they've been doing great (I'll post a picture before harvesting!). The variety is Chevalier.
I didn't start mine from seed, and I have no idea what the variety is. I got it at a big box store.

I think there's something wonderful about the Mel's mix, but something mysteriously amiss about it for certain plants. I'm 40 years old, been gardening with my family since before I was out of diapers. I know a few things, not a ton, but I have a knack for keeping things alive/growing things, and some of this stuff is WEIRD. I'm a little fearful that I'll get a great show, but the food itself may be lacking. We'll have to see. I tasted one of the less mature sugar snap peas yesterday, and it wasn't very sweet at all. Tastey enough, but not what I'm used to, although man, the shoots/vines are over 5 feet tall and no longer have anywhere to trellis on to, but they keep reaching for the sky. ALL my warmer weather stuff, peppers, tomatoes, eggplant, are taking off like mad....This year was my experiment year, so I guess I cant' get too worked up, but I find it all very interesting. (in the best kind of way)
Another tip about broccoli....in fact, all the brassicas.
I put a small handful of lime in the bottom of each hole before I plant the transplant. This from Bob Thomson of Victory Garden Show fame.
Helps prevent clubroot and makes for a healthy plant.
Another tip....plant broccoli transplants at least an inch deeper than it was in the transplant pot. It will grow roots down its length like a tomato does and make a stronger plant.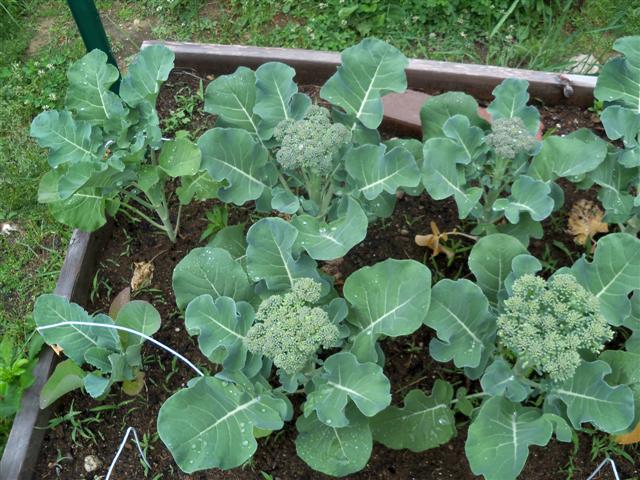 Here's my broccoli in May. I have since harvested some and new nibs are growing around the open head space.



Posts

: 4613


Join date

: 2010-03-21


Age

: 74


Location

: Southwestern Maine Zone 5A



---
Permissions in this forum:
You
cannot
reply to topics in this forum