url=http://www.servimg.com/image_preview.php?i=150&u=15016226]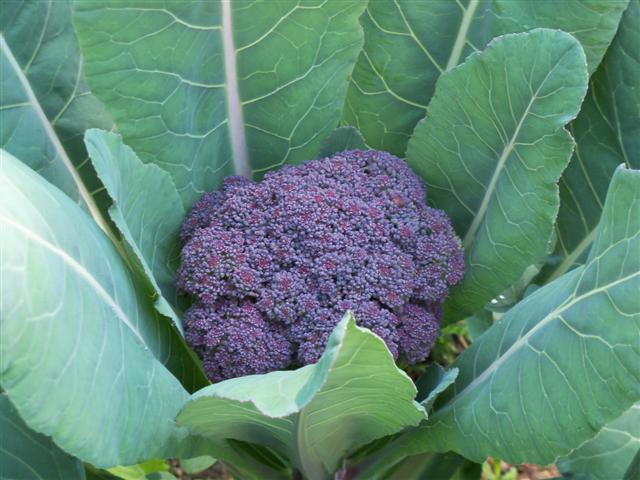 [/url]
Remember this purple cauliflower, Violet Queen?
I cut two heads last nite and my dau-in-law cooked them for supper tonite.
I don't eat cauliflower so she had to tell me what she thought about it.
The cauliflower looked more like a broccoli head than a cauliflower when I cut it. It had more than one stem beneath the head.
She said it turned green when it cooked and it tasted a little like a broccoli more than cauliflower....but with an added great flavor. She loved it. She tried it without any dressing or oils or anything on it to taste its actual flavor.
So if you want something different, but great tasting, try Violet Queen cauliflower.
I got mine from johnnyseeds.com this spring and have enough seeds left in my fridge crisper to start more next year, much to my dau-in-law's happiness.
Next year I'm also going to try the wine-colored cauliflower called Graffiti. In the seed cataalog, the head looks more like a cauliflower than Violet Queen does.



Posts

: 4674


Join date

: 2010-03-21


Age

: 75


Location

: Southwestern Maine Zone 5A



It's so pretty. The graffiti looks nice, too. Congrats on the harvest.



Posts

: 22


Join date

: 2010-04-05


Age

: 31


Location

: SE Washington state



Pretty! Sure looks like a purple broccoli to me. Neat though.



Posts

: 185


Join date

: 2010-04-17


Age

: 47


Location

: Wauwatosa, WI (zone 5a)



Mmm. Steamed cauliflower with bread crumbs toasted with butter over the top. SO GOOD! I agree, it really does look like broccoli.



Posts

: 274


Join date

: 2010-06-21


Age

: 35


Location

: Charlotte, NC -+- Zone 7



Pretty! Did anyone try it raw? That would look great in a salad!



Posts

: 17


Join date

: 2010-05-17


Location

: Chattanooga



Hi Quiltbea

I have something very similiar here in the UK but it is called Purple Sprouting Broccoli

I'm waiting for mine to be fully ready and should be there in about a week.

Can't wait to get cookin it.

Mike



Posts

: 4


Join date

: 2010-03-19


Location

: Devon, UK



It is pretty looking and cool!

Enjoy.

Happy Gardening Everyone....



Posts

: 675


Join date

: 2010-05-05


Age

: 62


Location

: Central NJ - From 6A to 7A 2012



---
Permissions in this forum:
You
cannot
reply to topics in this forum