Now that the eggplants, zucchini, and tomatoes are ripening, here's TWO awesome ways to use them up. I make this year-round, as it's delicious hot OR cold, it's easy and cheap to make, and it's even better as leftovers. These are translated from "Cuisine d'ete" (summer cooking), printed by Tomawalk editions (no publisher information found)
It's pronounced rat-a-too-wee, by the way -- and yes, it features prominently in the adorable Disney movie of the same name.
Traditional (6 servings)
6 zucchini/courgettes
3 eggplant/aubergines
6 tomatoes
1 yellow pepper (or green, or red...)
2 onions
3 branches of fresh thyme (or 1 tsp of dried)
6 tablespoons olive oil
salt, pepper
1. Wash the veggies. Peel and dice the onions, cut the zucchini into rounds, and the eggplant into cubes. Seed and slice the pepper.
2. Heat the oil in a large pan (I use a Dutch oven or a VERY big skillet) Saute the onions until they're golden. Add the eggplant and cook 10 minutes over medium heat.
3. Add the zucchini and the pepper and cook 10 more minutes.
4. Add the tomatoes, thyme, and salt and pepper to taste. Cover and cook over medium heat 25 minutes, adding a little water if necessary. Serve hot or cold.
*********
Mediterranean terrine (this is NOT the traditional way to prepare ratatouille, but it's faster, needs less of your attention, and is still awesome...so it's a good company dish, as you can be enjoying your guests while it bakes!)
For 6 people:
4 zucchini/courgettes
2 eggplant/aubergines
8 oz cherry tomatoes (or sliced 'regular' tomatoes; I've done both ways)
a bouquet of fresh basil
8 tablespoons olive oil
salt, pepper
Preheat the oven to 350F/180C - for easier serving, line a casserole dish with waxed paper -- this isn't necessary (I never do it), but it can be helpful if you're going for pretty and need to have it come out of the pan all in one piece!
Wash the zucchini and eggplant, and cut them into thin slices lengthwise (so you get "planks" of vegetables)Wash the cherry tomatoes (or wash and slice the regular tomatoes). Wash and pluck the basil from the stems.
drizzle a little olive oil in the bottom of a baking dish, then line the bottom with slices of eggplant. Drizzle with oil, and sprinkle with salt and pepper. Next is a layer of basil (a few, not a full cover!), a few cherry tomatoes or slices, and a layer of zucchini...season each layer and drizzle each layer with olive oil. Repeat until you've used all the veggies.
Bake 50 minutes - let sit for a few minutes, then serve warm, or cool and refrigerate for a delicious cold dish later.
Thanks for sharing this recipe! I've printed it and keeping it handy for when those veggies start ripening in the garden.
Always wanted to make ratatouille and even better to get the recipe from a french man!

BettyAnn in USA . . .



Posts

: 625


Join date

: 2010-03-04


Location

: USA



If I'm a French man, somebody's got some serious 'splainin' to do.

(I'm an American mom living just outside Paris...please don't worry -- no offense taken; I just thought it was funny.)
*blushing very red*

see that's what happens with assumptions! - your user name seemed like a guy name to me, lol.

so are you an expat?



Posts

: 625


Join date

: 2010-03-04


Location

: USA



heehee -- don't worry, I'm not offended in any way. La Fee actually means 'the fairy', like my former icon used to be, like this: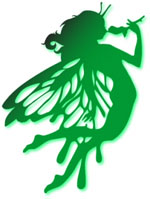 I figure I need a garden fairy to keep the big red slugs away!
And yes, we're expats...and loving every minute of it (especially now it finally decided to act like it's summer!)
Thanks, LaFee, I forgot all about ratatouille - it's another one of my favorite eggplant dishes.

Our daughter in Austin gets so much eggplant and squash in her CSA boxes that she makes 'touille all summer long and freezes it for winter eating.

Your terrine sounds similar to an Ina Garten recipe. She layers the veggies in a round dish, then weights them down overnight and turns it over the next day onto a cake plate for serving. It makes a very colorful dish. (She adds layers of bell peppers, too, if memory serves.)



Posts

: 1450


Join date

: 2010-03-16


Age

: 62


Location

: Southeastern Missouri (6b)



They both sound wonderful. I have saved them in my recipe file.



Posts

: 2467


Join date

: 2010-05-05


Age

: 62


Location

: Warner Springs, CA USDA Zone 8a, Sunset Zone 7 (I think)



Chopper, they're roughly the same thing...the terrine tends to be just a little lighter, because it's just baked, rather than sauteed....but they're both fantastic. I like the leftovers over rice (sometimes with a little Parmesan) -- makes a very satisfying vegetarian meal. It also marries extremely well with lamb.

The nice thing is that you can also add or subtract as you like -- some minced garlic, a little thyme...all the flavors of Provence (thyme, bay leaves - just remember to remove them!, parsley, garlic...any of it can be added as you like)

by the way -- lavender is used as a seasoning in Provence, but it's not as common as you'd think...and a real "herbes de Provence" doesn't have lavender in it....so don't feel it's not authentic if you don't add it!
---
Permissions in this forum:
You
cannot
reply to topics in this forum