Ok, I'm totally new to this. New to all gardening in fact. That being said, my house sits on a hill - but we've got a great area to put our square foot garden. That being said, it is on in incline. Any suggestions or do I just put the boxes down on a slope?

Also, did you all build your own boxes or purchase them from SFG? Which material did you select and why? I cannot seem to find a breakdown as to why to select which material.

Thanks!
Meli



Posts

: 1


Join date

: 2010-06-27


Location

: Oakland, CA



Hi Meli, Welcome to the SFG Forum.

I'm new to SFG as well and purchased my garden directly from the SFG website. I chose the "Classic" white vinyl 4' x 4' design.

My husband wanted the vinyl because we've got the garden right next to our house and didn't want any wood that could attract termites or carpenter ants. I selected the white "Classic" style because I liked the aesthetics. It looks really nice with the white PVC pipe I used to hold my sunshade. I'm also using white trellises for some of my vines.

Our Homeowners Association requires that no "vegetable gardens" can be visible from the street and we live on a corner so 3-sides of our house show. I've incorporated my SFG into my landscaping.

Hope this helps.
Gloria



Posts

: 431


Join date

: 2010-03-15


Location

: Double Oak, TX Zone 8a



You can terrace your boxes down the slope.

Visualize stairs with open treads stepping down the slope.



Posts

: 189


Join date

: 2010-03-03


Age

: 46


Location

: Petawawa, Ontario, Canada Zone 4a



Welcome. It really depends on how steep the incline is. Two of my boxes are on an incline of 3"-4" per 4', so I just used 2x8 on one side and 2x10 on the other and slightly dug in the 8" side. I was using found lumber, so this is what I had. If I had been purchasing lumber I would have gone with 2x6 and 2x8. If your hill is really steep, then you might want to actually dig it out to terrace it as Gloria mentions. But that is a lot of work.

As to the type of material. I really think that is an individual decision. I went with whatever I could scrounge up (and they look like it), others have used wood, other vinyl and some bricks or rock. You might want to peruse the gallery to get an idea of what folks have done.



Posts

: 904


Join date

: 2010-03-03


Location

: USA



You will want to dig them in like belfry said. I have mine on a slope as well and I just dug the one side in and used a level to make sure it was even. Otherwise you run the risk of your Mels Mix washing right out of the box.

As far as what type of box, I think you have to decide what is important to you--aesthetics, cost, material, time etc.. I ended up going with recyled composite beds from Sam's club for $39. I knew that I wanted something that would last a while, had the ability to be taller than 6 inches, and looked "finished" since they are in a highly visible spot. My beds are 8 inches tall but I can stack them two tall for a total of 16 inches. I have some of both and will be making them all 16 inches tall next summer---they are the perfect height for me.



Posts

: 420


Join date

: 2010-03-18


Location

: MN Zone 4



Welcome to the forum and the regional forum for Northern California! Looks like you have gotten some good advice on building your boxes.
I look forward to seeing your boxes and your progress on your new adventure. It is truly wonderful growing your own food and you will find that the SFG method produces wonderful results.



Posts

: 439


Join date

: 2010-03-19



If you are a Facebook member you should be able to see the photos of this woman's garden. She has fabulous raised beds built on a hill. http://www.facebook.com/#!/photo.php?fbid=487132202682&set=a.487130422682.265347.54784972682&theater
Flip through her photos, she has a beautiful garden.
http://www.facebook.com/#!/pages/Stems-n-Roots/54784972682

Forum Moderator Certified SFG Teacher




Posts

: 14139


Join date

: 2010-03-06


Age

: 54


Location

: Keene, NH, USA ~ Zone 5a



As usual Camp, you have THE BEST links...
You must have golden fingertips...







Posts

: 2260


Join date

: 2010-04-25


Age

: 39


Location

: Post Falls Idaho and LOVING it



Thanks Jennie! Isn't her garden AMAZING?


Forum Moderator Certified SFG Teacher




Posts

: 14139


Join date

: 2010-03-06


Age

: 54


Location

: Keene, NH, USA ~ Zone 5a



In April 2009 I tried to get lumber at Lowe's and Home Depot but they only had chemically-treated lumber in the 12" widths I wanted so I went to a nearby lumber yard and purchased them. They were all cut to 4-ft lengths and my son screwed them together for me with braces in the corners.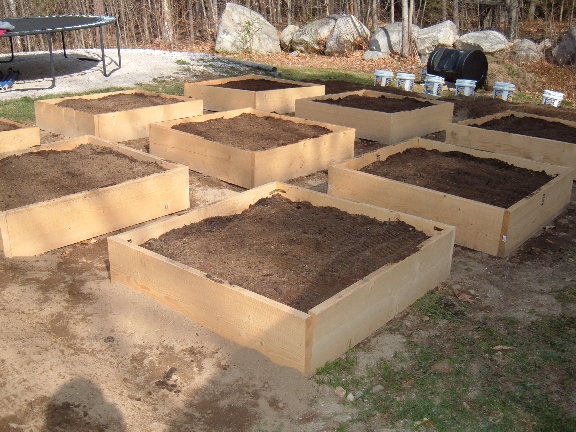 My Dau-in-law had 6 yards of good garden loam delivered. My son and grandson filled the nine raised beds and there was lots left over to make 3 long 15-ft berms (raised beds but without the lumber) for a strawberry patch along the front and two long beds along the back for things like potatoes, corn, alpine strawberries, squashes and annual flowers and this year, I'll be putting in asparagus, a perennial that needs to stay in one place for the next 20 years.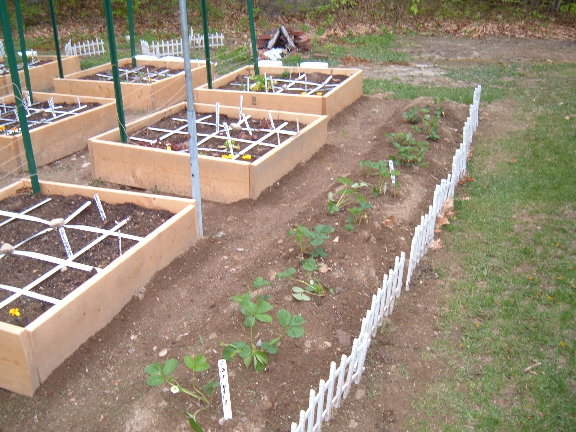 Strawberries planted along the front.
I amended the beds and the berms with peat moss, composted manures and things like limestone and green sand and was ready to plant.
Cedar would be the best lumber to get, but it wasn't available to us here so I bought spruce which isn't as long-lasting, but I plan to enclose my beds with concrete blocks in the future so my old body won't have to bend so much and I can sit on the blocks while I putter.
I can't help you on the slope, but you've already had some good answers.



Posts

: 4646


Join date

: 2010-03-21


Age

: 75


Location

: Southwestern Maine Zone 5A



---
Permissions in this forum:
You
cannot
reply to topics in this forum