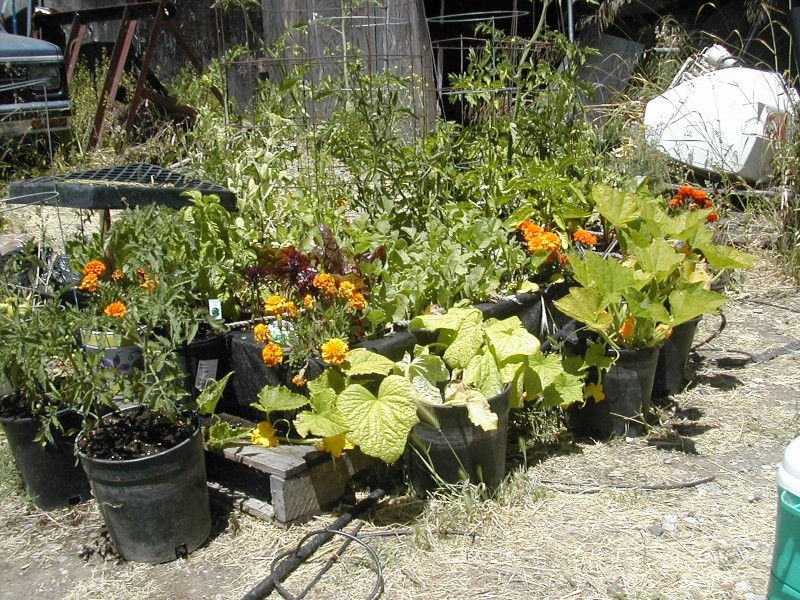 Please see update of SFG
Like most beginners I have planted too much stuff in my 3 xb 6 SFG
and things are impacting growth of each other



Posts

: 17


Join date

: 2010-06-10


Location

: san jose, ca.



Mark,

Thanks for the update. Everything is getting big! I am not sure if it is just the photo, but a few things look a little yellow. I was having a similar problem in my bed of green beans and summer squash. After I put on some organic fertilizer, things started to look better.

Also, I noticed you have some tomatoes planted. Have you harvested any yet? With our cool spring, all I have gotten is green tomatoes (although it could just be that something is stealing them before they get ripe enough for me to notice).



Posts

: 439


Join date

: 2010-03-19



Yes and I went out of town for 10 days and the garden went down hill fast. The squash and cucumber in the pots should have been put in bigger pots before I left because the fruit just coming out died and all turned yellow, but it is coming back and today I saw some new fruit. I have picked two black krim tomatoes and they were the best, but the plant doesn't look good with only one more fruit and no more flowers. The bush beans just sit there, the sugar peas all turned brown but maybe it was the end of the season and replant in fall? Got maybe two handfull of peas, not much. Five Radishes out of two squares before going to seed, thought I had thinned out enough but maybe not. Dill, Basil, Celintro, have all gone to seed, is that normal or is it me? Chard doing ok with a few leaf miners, romain is coming on strong now that it has a sun shade. The rest of tomatoe plants look good except one of the early girls has a branch w/ yellow/brown leafs. The peppers are ok but not as strong as I would like. The pole beans really turn yellow if the soil is weak but I think I have saved them as well, don't expect much. Many tomatoes turning now.
I knew going in that growing so much so close was going to have problems and keeping up on the feeding is key, I have been looking at the fox farm fertilizer but it is pricey, been using cofee grounds. What type do you use?
Mark



Posts

: 17


Join date

: 2010-06-10


Location

: san jose, ca.



@garden mark

wrote: Dill, Basil, Cilantro, have all gone to seed, is that normal or is it me?
It is normal. Cilantro in particular is very sensitive to heat. All of them are and to keep them happy right now they have to be babied and kept cool and keep picking off the seed heads. And with that dill and cilantro won't care and they will bolt anyway. LOL. I am trying to keep some cilantro planted every few weeks or so and I have found that dill is still perfectly pickable even when there are seed heads on it. So is cilantro for that matter if there are still leaves on it.
I cut a few inches off the top of the basil as it starts to look hinky and it is doing pretty well - getting nice and thick and leafy.



Posts

: 2467


Join date

: 2010-05-05


Age

: 62


Location

: Warner Springs, CA USDA Zone 8a, Sunset Zone 7 (I think)



I planted some cilantro from seeds thinking I could get a few leaves from before it flowered. The sprouts got only an inch high before they flowered. I have had poor success with radish, lettuce, chard and spinach. It is too hot for them right now.

A friend of mine (and a California master gardener) doesn't even attempt them in the summer. She grows those crops in the fall and spring. She also doesn't recommend peas in our heat in the summer months.

Of course, I had to try it for myself and I guess she was right! Those outside crops really didn't do well.

You should be able to grow basil if you keep the flower tops off. You might also get some better results with some shade cloth. Let me know if you figure it out. I just started some letttuce inside with the hopes of getting a start on fall crops.



Posts

: 439


Join date

: 2010-03-19



Baker Creek has a Slo-Bolt cilantro Mine has just sprouted, so I don't know if it will be any better or not. I'll let you know.



Posts

: 755


Join date

: 2010-03-02


Age

: 68


Location

: Southeast Tennessee



---
Permissions in this forum:
You
cannot
reply to topics in this forum