Latest topics
»
Senseless Banter...
by
trolleydriver
Today at 6:05 pm
»
2018 - First Annual Seed Swap Week - January 20-28
by
Ginger Blue
Today at 4:02 pm
»
How's the Weather Where You're At?
by
countrynaturals
Today at 12:33 pm
»
Gophers
by
countrynaturals
Today at 12:32 pm
»
Happy Birthday!!
by
trolleydriver
Today at 7:43 am
»
SUGA 2017
by
SQWIB
Today at 7:09 am
»
High heat tolerant tomatoes
by
walshevak
Today at 6:03 am
»
Fourth Year SFG in Canada
by
trolleydriver
Yesterday at 11:57 pm
»
Colored Mulch
by
sanderson
Yesterday at 4:36 pm
»
Butternut squash, turkey Italian sausage, cannelini bean soup
by
hammock gal
Yesterday at 11:19 am
»
Mid-Atl - Jan 2018 - Brrrrrrrrrr! and Happy New Year
by
AtlantaMarie
Yesterday at 6:43 am
»
CANADIAN REGION: What are you doing in January 2018
by
sanderson
Yesterday at 3:53 am
»
What are you eating from your garden today?
by
sanderson
Yesterday at 3:41 am
»
New England Jan 2018
by
hammock gal
1/13/2018, 5:50 pm
»
My first Attempt
by
21Actual
1/13/2018, 5:05 pm
»
Air Fryer! HELP!
by
sanderson
1/13/2018, 3:26 pm
»
New SFG box-Humanitarian way
by
sanderson
1/13/2018, 3:24 pm
»
Drafts?
by
trolleydriver
1/13/2018, 1:18 pm
»
Hello from Northern Ontario Eh!
by
BeetlesPerSqFt
1/13/2018, 1:07 pm
»
N&C Midwest—January 2018!!!
by
Scorpio Rising
1/13/2018, 11:04 am
»
January 2018 Avatar: Surprise Us
by
sanderson
1/12/2018, 4:57 pm
»
Review of Terms of Service
by
Ginger Blue
1/12/2018, 4:02 pm
»
DIY Plant Markers
by
countrynaturals
1/11/2018, 7:32 pm
»
Non flowering sugar and snow peas
by
sanderson
1/11/2018, 3:21 pm
»
has55's R & D Journey
by
has55
1/10/2018, 11:19 pm
»
California's Drought
by
toledobend
1/9/2018, 11:55 pm
»
Is there ever enough compost?
by
newbeone
1/9/2018, 9:30 pm
»
Trellis mod
by
brianj555
1/9/2018, 9:19 pm
»
Spring Fever Anyone?
by
newbeone
1/9/2018, 8:51 pm
»
New Composter - Need Help Filling Correctly
by
saganco
1/8/2018, 6:00 pm
So many of you have posted photos of your wonderful gardens, I thought I'd take and post a few. The file size is too large to put in the Gallery, so I'm going to try the "host an image" feature.
These are our four 4x4 square foot boxes. As you can see, one is still under construction. The others are planted mostly with tomatoes, peppers, onion, and tomatillos. Some areas are draped with red plastic mulch to combat soilborne fugus diseases, just in case the nastly little beasties should try to creep from the ground up into the mix.
So far, we have not had disease problems, but I am knocking wood as I write this! Since we are heavily planted with solanaceous crops this year, I'm figuring on sweet corn next year.
We also have four 2x4 boxes. Here's one with cukes, basil, Italian flat-leaf parsley, Egyptian walking onions, and garlic chives.
These are mystery tomatoes we grew from seed. The seeds came from a friend's mother who has grown this variety from saved seeds for so long, she doesn't remember what they are. She thinks they're indeterminate, but I'm beginning to wonder since they're so heavily fruited. We just call them Mom's Tomatoes.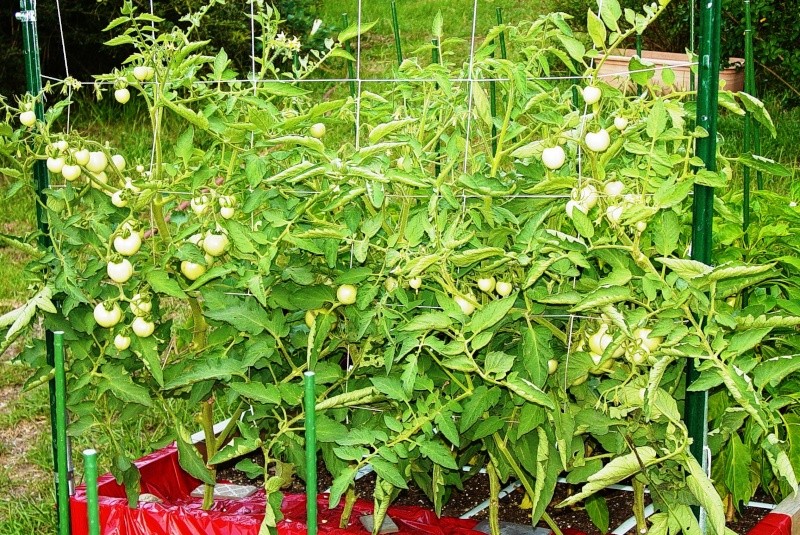 Here's one of my assistant gardeners -- of the smaller canine persuasion -- sitting down on the job.

(He doesn't have cataracts. The flash went off and I haven't been able to get rid of the glare.)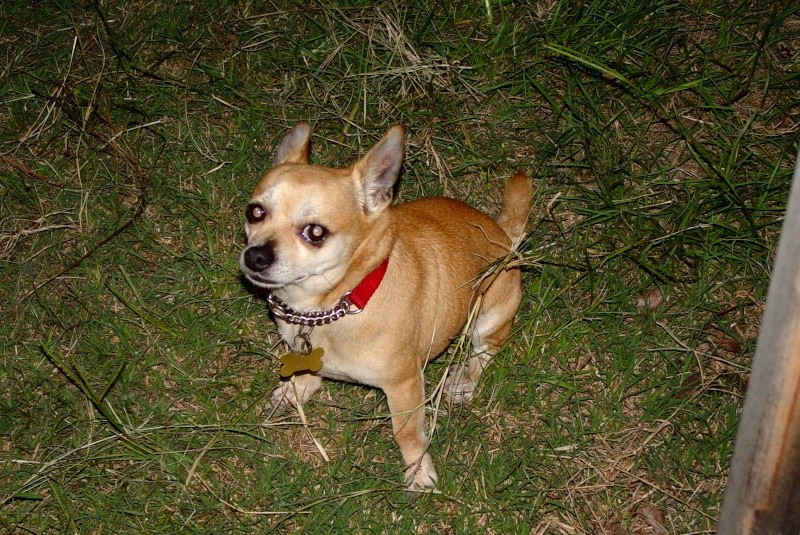 Water garden #1. You can't really see any water because it's so full of water iris and waterlilies. Time to divide! Oh, and that's a trailing rosemary in front.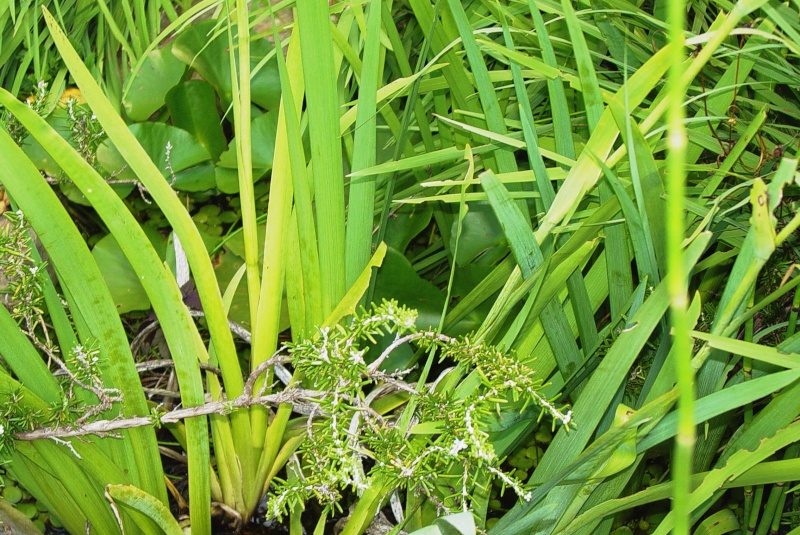 Rainbow peppers in one of the 4x4 boxes. They mature from purple to orange to red and are thick-walled and luscious.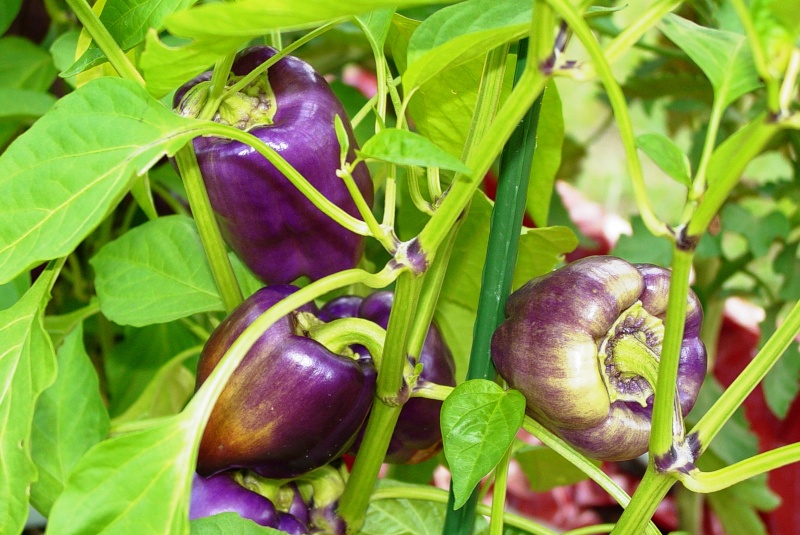 Water garden #2. Just a mudpuddle planted with creeping Jenny and some reeds, but insect predators love it! They also love the creeping thyme planted behind (right background).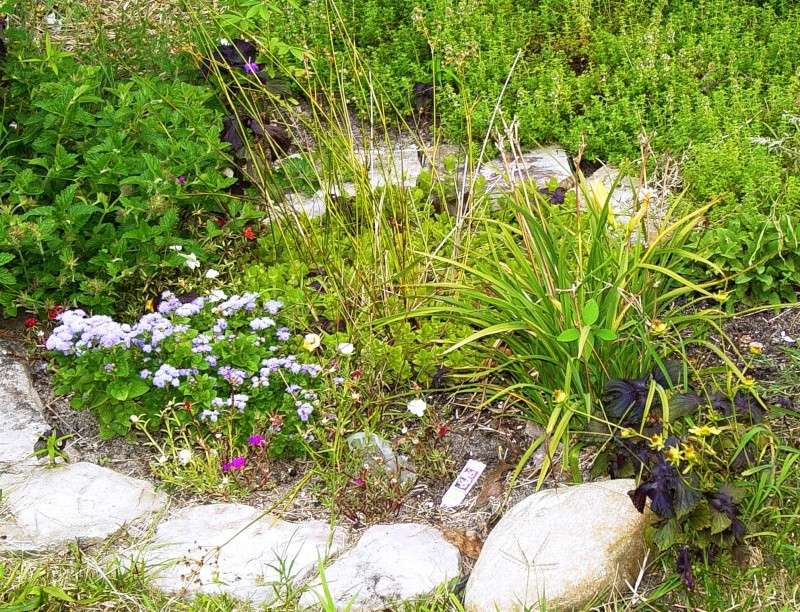 Water garden #3. This is above-ground in a half whisky barrel-like planter. My assistant gardeners of the larger canine persuasion like to drink from this one.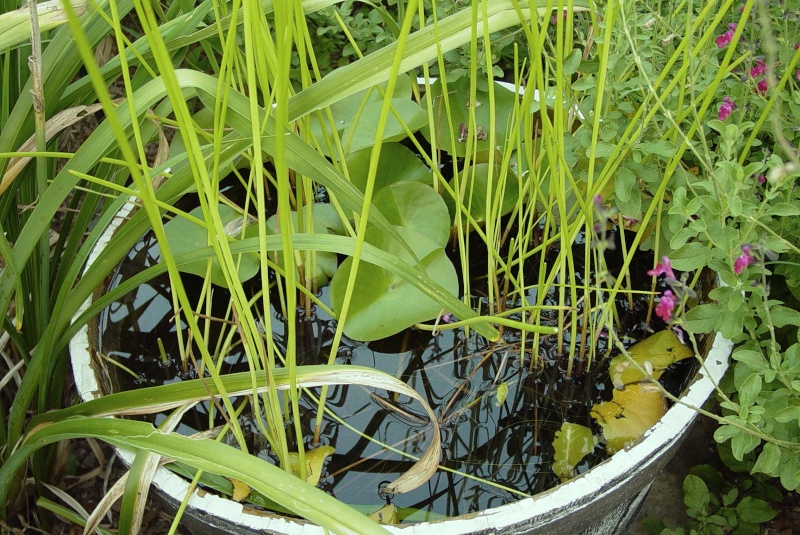 In-ground Malabar spinach climbing a trellis arch, accompanied by a voluteer coreopsis.
Last night DH made a stunningly wonderful salad. We'd run out of lettuce, so he used Malabar spinach leaves combined with chopped sweet basil, grape tomatoes, bell pepper, shredded mozzarella, and ripe olives. All was drizzled with vinaigrette.
Sweet banana peppers.
Red wiggler skyscraper, originally marketed as a composter. It was a total loss for hot composting but makes a great worm bin.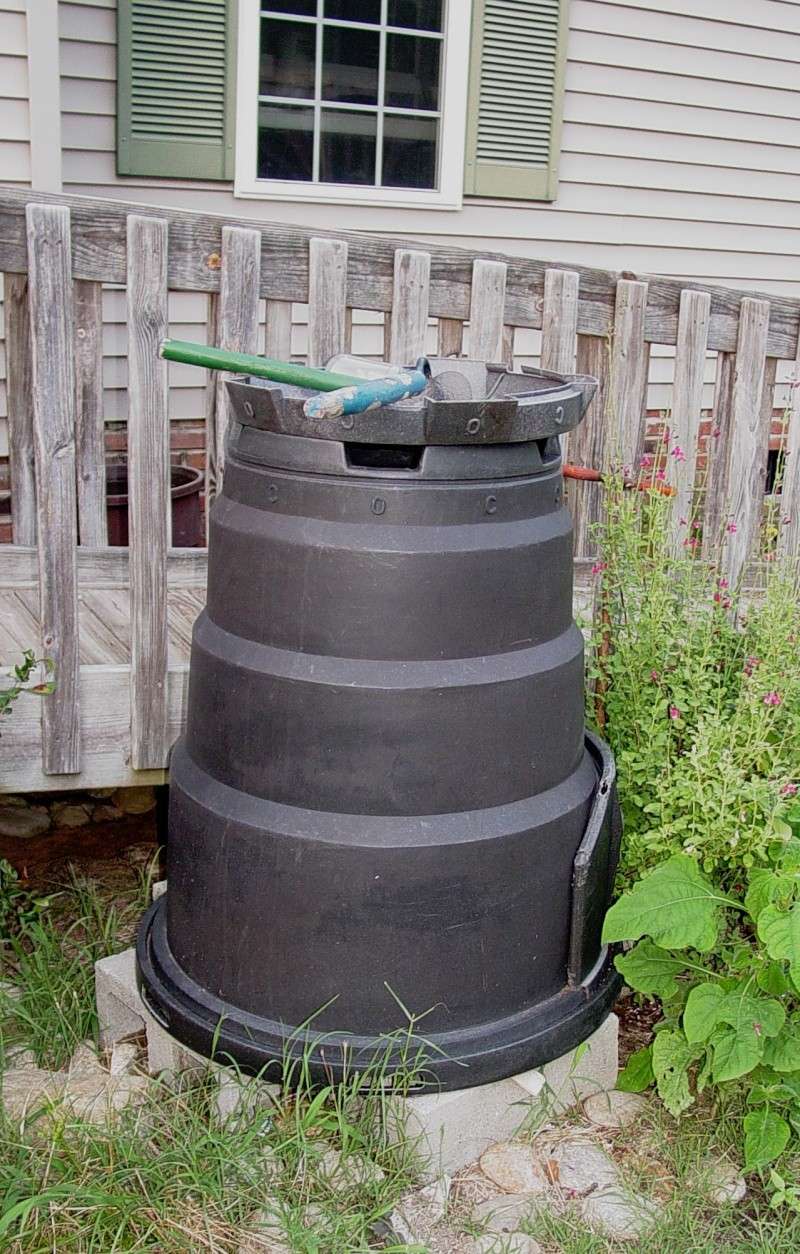 The composting area, three side-by-side bins.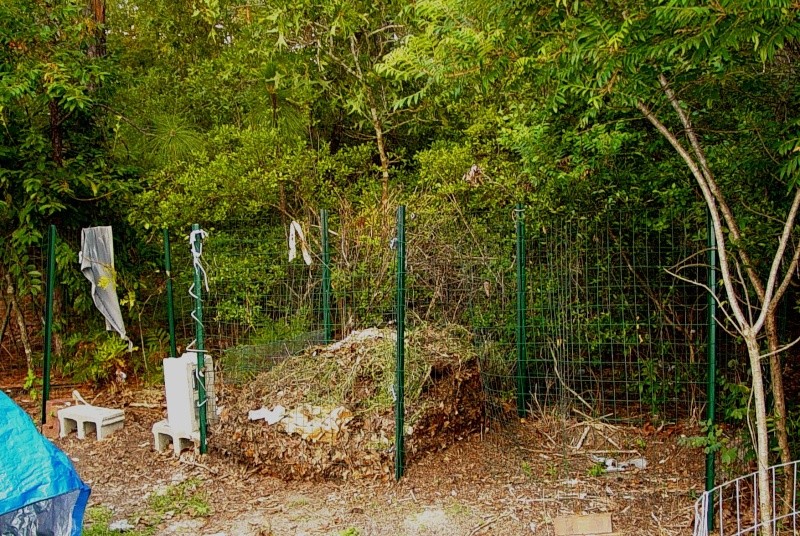 This is nothing more than green plastic-covered welded wire fencing and fence posts. A little falls through the fencing, but not enough to signify. It probably cost a total of $30 to build and undoubtedly will outlast us! You can't see much of the space around it, but that's where we collect materials to be used in building compost piles. DH had just cleaned out last season's compost. You can see the beginning of a new pile in the center bin.
All for now!



Posts

: 319


Join date

: 2010-03-22


Location

: Columbia, SC (Zone 8)



Wow, absolutely beautiful! I so miss having a pond. Also... where did you find the red mulch?



Posts

: 3350


Join date

: 2010-04-27


Age

: 50


Location

: Manassas, VA - Zone 7a



LOVELY!!!!

your spinach, how big will it get?



Posts

: 768


Join date

: 2010-03-11


Age

: 38


Location

: Flint Area, Michigan (zone 5a-5b)



OOOhhh I love the pics - thanks for the garden tour; it's gorgeous!!



Posts

: 595


Join date

: 2010-03-16


Location

: Cincinnati, Ohio (6a)



Very nice! I wish I had that much land to do that much stuff spread out! I'm having to plan, plan, plan, and plan some more to get all my beds that I want to act as a fence so it doesn't creep into our tiny yard. Jealous!



Posts

: 274


Join date

: 2010-06-21


Age

: 36


Location

: Charlotte, NC -+- Zone 7



junequilt....Great garden. I love your compost area. I have one of those barrels that need turning by hand (but no crank handle) but its not near large enough for my needs. I'm going to have to improvise elsewhere. I like your idea.



Posts

: 4700


Join date

: 2010-03-21


Age

: 75


Location

: Southwestern Maine Zone 5A



Your garden is wonderful, and I'm in full tomato envy.

Thanks for sharing with us!



Posts

: 77


Join date

: 2010-05-08


Location

: Chicago area, (zone 5a)



Thanks for sharing - very nice. Gorgeous.



Posts

: 2467


Join date

: 2010-05-05


Age

: 62


Location

: Warner Springs, CA USDA Zone 8a, Sunset Zone 7 (I think)



I'm loving this vining spinach!!! Never seen or heard of such a thing. Can you tell us a bit about it? LOVE spinach....Gorgeous garden.



Posts

: 185


Join date

: 2010-04-17


Age

: 48


Location

: Wauwatosa, WI (zone 5a)



Your garden looks so good !! I love that compost pile !! I drive around and I see folks gardens and go awwww and my sons say there she goes again another garden

So I said awww about your garden and they didnt hear me

You have done a nice job !!
Moms Tomatoes
Those tomatoes look like some I have, but mine were given to me by a neighbor. She has blessed with a few surprise plants. She forgot what seeds she had started. I have creole tomatoes, green zebra from her. Let me show you the ones I have like yours. I really think these might be creole tomatoes.
Unknown Heirloom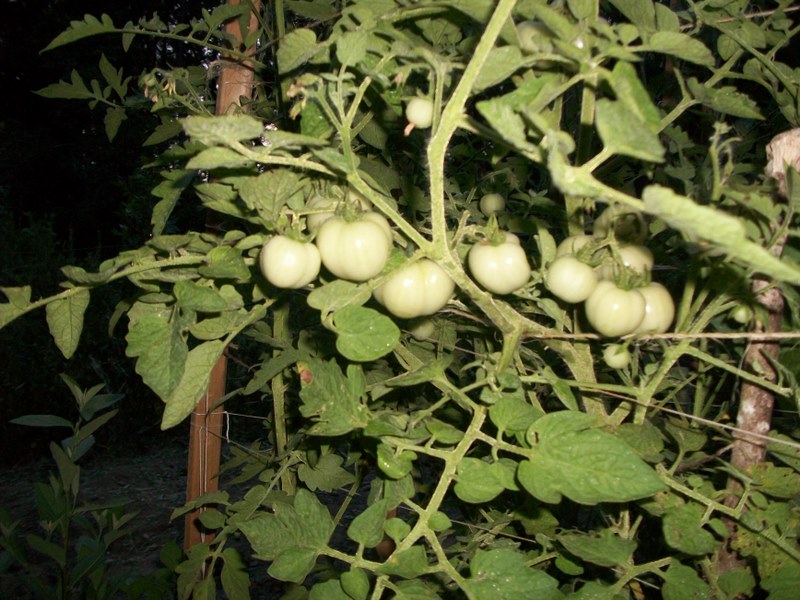 I will take some more pictures in daylight and we can compare leaves better. And when they are ripe if you post a picture I can show them to my neighbor she might know

I love having surprise plants, I was hoping this plant was black cherry tomatoes, but it could be another plant she gave me

I am taking pictures for July's update today. I will add the zebras in there too.
Happy Gardening Folks !!!
Ha-v-v



Posts

: 1123


Join date

: 2010-03-12


Age

: 58


Location

: Southwest Ms. Zone 8A (I like to think I get a little bit of Zone 9 too )



It means so much to get feedback from other gardeners. I really treasure this forum! Let me see if I can answer a few questions.
Megan, I mail-ordered the red plastic mulch from Gardens Alive. Also, you probably can't see it in the photo of the 4x4 beds, but in the center bed I used red tomato watering trays from Park Seed. I love both the mulch and the trays.
Regarding Malabar spinach, one vine has already reached the top of our eight-foot trellis arch, and it's only the beginning of July! Malabar isn't actually spinach, but it tastes exactly the same. It's a Southern spinach-lover's answer to prayer because it loves heat and humidity, pests ignore it, and I've never known it to catch any kind of fungus or disease. It's beautiful and tastes great. Malabar is very frost-tender, so the slightest hint of frost kills it. Once planted, however, it will seed itself prolifically and you'll probably never have to buy seeds again.
Paintedlady, I have never before had tomatoes like this. We invested in square foot gardening because we could hardly ever get in-ground tomatoes to (a) thrive, (b) bear, or (c) survive due to the disease that runs rampant in our native soil -- possibly a combination of early blight and septoria leaf spot. I can't tell you how thrilled we are that FINALLY we can have healthy, productive tomato plants, and it's all due to square foot gardening. Thank you, Mel!

That really does look like the same tomato, Hav-v-v! The leaves on mine have a tendency to curl, but it hasn't affected their growth or productivity. I noticed this morning that one of the tomatoes is beginning to show hints of ripening. Can't wait for the first taste!



Posts

: 319


Join date

: 2010-03-22


Location

: Columbia, SC (Zone 8)



---
Permissions in this forum:
You
cannot
reply to topics in this forum