My granddaughters helped make the mix & fill the boxes & always have to check everything when they visit. Last night I had a headache & was laying on the couch, the 6 year old was giving me a neck massage. I asked her if she was going to be a nurse when she grew up & she said "no, I'm going to be a farmer and a typer". I'm a medical transcriptionist & work at home. When she was younger she would sit at the other keyboard & mimic my actions, posture, everything. I found a free typing course online & now she is learning the keyboard. Wonder if she'll be the youngest to know the keyboard?
Her sister, 10, always talks about being a farmer. Her mom told me that she had already asked her if we would leave the house & property to her when we were gone so she could become a real farmer.
They also asked if we would fix them some boxes to have in their yard & whether they could still plant anything this year. We are going to fix them some 5 gallon buckets tonight with some rooted tomato suckers, cukes & pumpkins. The oldest one could care less. Here they are back in May.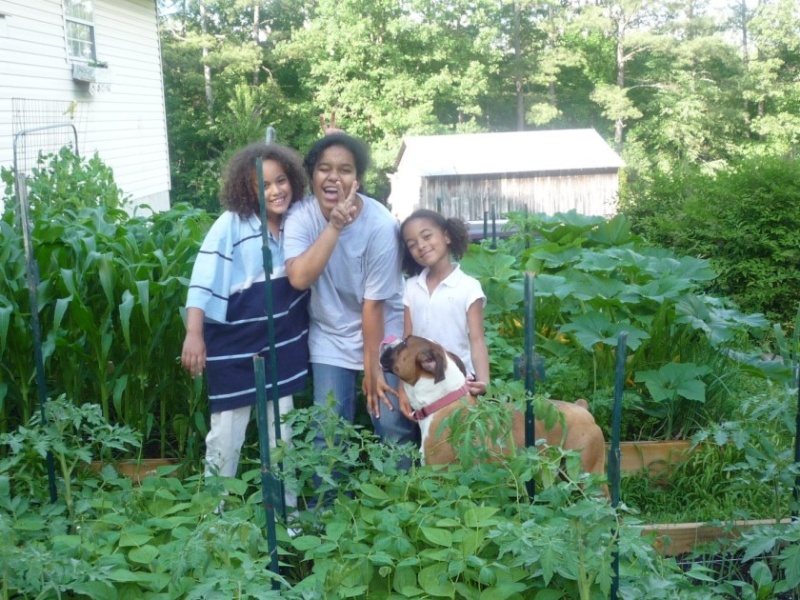 Posts

: 754


Join date

: 2010-03-02


Age

: 68


Location

: Southeast Tennessee



Two out of three ain't bad.



Posts

: 2467


Join date

: 2010-05-05


Age

: 61


Location

: Warner Springs, CA USDA Zone 8a, Sunset Zone 7 (I think)



Gotta get 'em young! I wish I had been sfg-ing when my son was that age.



Posts

: 7392


Join date

: 2010-02-26


Age

: 64


Location

: yelm, wa, usa



Beautiful kids, Dixie. Good for you, teaching them to garden.

Don't give up on the older one. She may change her mind someday, and if she doesn't her sisters will have a good place to dump extra zucchini in the summer.



Posts

: 1450


Join date

: 2010-03-16


Age

: 62


Location

: Southeastern Missouri (6b)



Good for you Dixie ! There are so many real life lessons they can learn from the garden and what a lasting impression and memories they will have !



Posts

: 247


Join date

: 2010-05-17


Location

: zone 8b, SoCal



The girls are absolutely beautiful!

The oldest might change her mind later. When I was a kid I would cry every time I had to work in the garden. I hated my parents home grown veggies as I had found several bugs in my dinner. Yuck. I hated zucchini until I was left to take care of my parents vegetable garden one summer when I was in college. I was told to eat the veggies or freeze them. I tried every recipe I could think of for zucchini (they had 6 plants) and when they came home 3 weeks later, I had eaten everything the plants had produced. (Basically lazy and didn't want to freeze anything!)

Anyway, you are setting a wonderful example. Keep at it!



Posts

: 439


Join date

: 2010-03-19



---
Permissions in this forum:
You
cannot
reply to topics in this forum