these are my beautiful potato plants (all blue variety). i so want to get into them but am trying to wait patiently untill it finishes flowering and the flowers turn brown like the growing instructions say. it's vdery hard!!!! the bags have this nifty little flap you can open and check on them but i'm afraid i might ruin something if i get in there and start digging around to check on them. oh its so tempting though to try it. i started out with 3 seed tomatoes in each bag. i think i got either 4 ot 5 plants from that.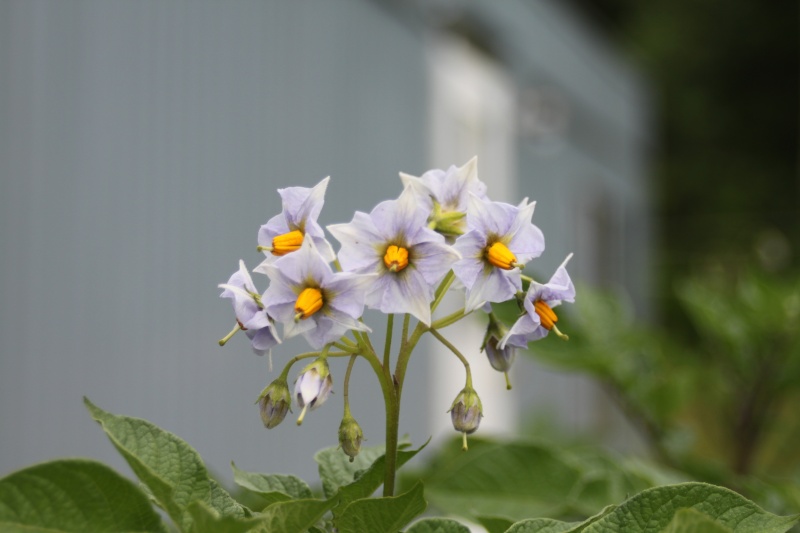 flowers
bag #1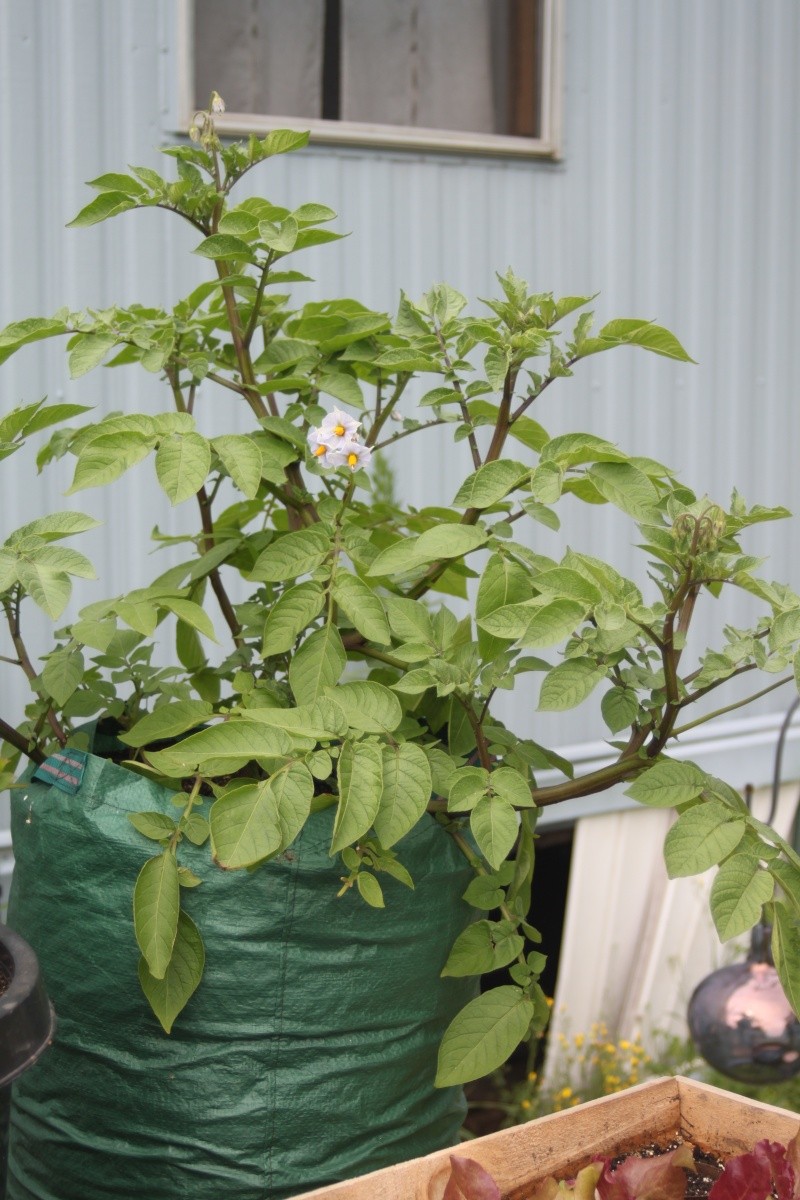 bag #2
Thanks for letting me rant
Crystal- who is inpatiently waiting to check out the potatoes.
I harvested potatoes while they were still on the vine several times. How about a slit near the bottom and close it up with duct tape when you are finished?



Posts

: 2467


Join date

: 2010-05-05


Age

: 62


Location

: Warner Springs, CA USDA Zone 8a, Sunset Zone 7 (I think)



Chopper- will disturbing the "dirt" hurt any? the bags have a flap that opens for "checking how they are doing" acording to the instructions that came with the bag. i'm mostly worried i will open it and a whole lot of my MM will fall out and i wont be able to put it back or something along those lines. and if i cant get it back in will it hurt anything? thanks for replying and answering all my questions
It ain't that delicate. LOL.



Posts

: 2467


Join date

: 2010-05-05


Age

: 62


Location

: Warner Springs, CA USDA Zone 8a, Sunset Zone 7 (I think)



I'd clip off those flowers if I were you. Nice vines!



Posts

: 3350


Join date

: 2010-04-27


Age

: 50


Location

: Manassas, VA - Zone 7a



ok- why clip off the flowers? and if i clip flowers how will i know when they are ready? since the planting instructions said "after flowers turn brown, they will be ready to harvest". i know on some plants clipping the flowers lets the part you want grow bigger- like garlic. is this one of those? this is my first year doing this. thanks

oh yeah- i went and opened the little flap and dug around in there. i found a very little tater, but it was to hard to get further into the bag- most of the plants seem to be on the other side of the bag. figures. i left that little guy in there.
so are we to clip off the flowers?



Posts

: 134


Join date

: 2010-04-02


Location

: Lake County IL. Zone 5A



Thanks for the advice on the potatoes... I'll clip the flowers on mine...

Another impatient moment.... I have one tomato that is ALMOST ready... it's a stupice and it's the first one ripening in my garden. It's almost all red, except for a little bit at the stem end. I think it will be ready tomorrow.......



Posts

: 530


Join date

: 2010-03-21


Age

: 66


Location

: Colorado Springs, CO Zone 5b



The way I understand it is this: When a potato starts flowering, it is putting its energy into reproduction, rather than into its root system. If you have a whole field full of them, removing the flowers would be a lot of work, but when you just have a few....

Mine are Kennebecs which are supposedly a late bearer, so I'm just going to wait until the vines die back this fall. (Though I may do a little exploratory digging later this summer.)



Posts

: 3350


Join date

: 2010-04-27


Age

: 50


Location

: Manassas, VA - Zone 7a



---
Permissions in this forum:
You
cannot
reply to topics in this forum