This is my 2nd year SFG'ing and I grew zucc/squash last year too. My plants quickly get very, very big; typical, yes. But last year and this I have had leaves that get yellow, and/or brown only at the base of the plant. This happens once the plant is producing fruit.
My plants don't appear to have any disease.
I've seen powdery mildew and I don't think any of my plants have any problems like that. Almost as if these are just older leaves that may have gotten too wet from laying on the ground while raining or watering.
Every time I search this on the web, I get a response about diseases.

Has anyone else noticed a few leaves at the base of their squash or zucchini plants having this discoloration, even though the rest of the plant is perfectly fine?
Can you post some pictures of your zucchini or squash plants?

Patti



Posts

: 808


Join date

: 2010-03-04


Location

: WV -- Zone 6a



@pattipan

wrote:Can you post some pictures of your zucchini or squash plants?

Patti
I can, but there's not much to see. The plant looks great. I have removed any of the discolored leaves. At this time, I don't believe there are any at the base of my plants.
This is a week or two ago. They're much bigger now!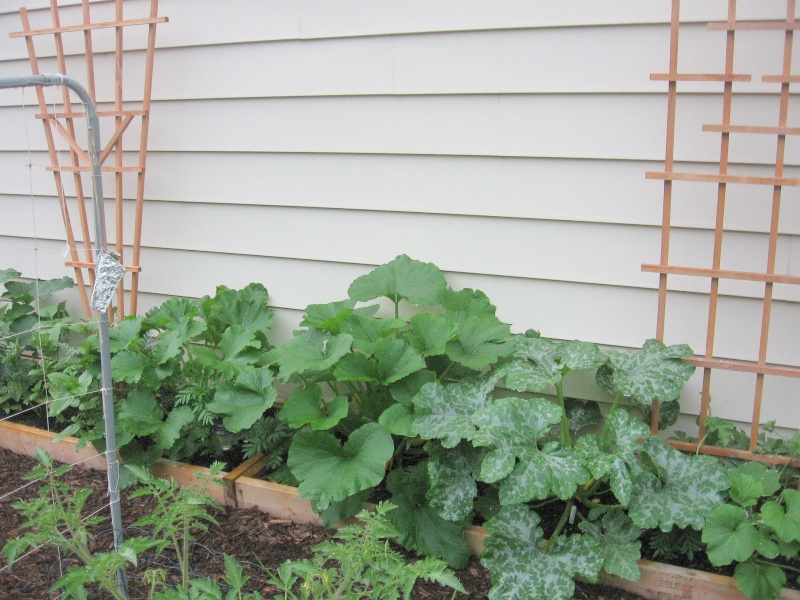 I'll check down under the healthy leaves later to see if there are any discolored leaves that I can take a picture of. If there are, I'll post them later this evening.
Yes, my yellow crookneck squash has the same appearance as yours: older leaves yellow, eventually turn brown, newer leaves healthy and green. I just pull the the old ones off. Like you, I have some powdery mildew but no other obvious squash problems.



Posts

: 319


Join date

: 2010-03-22


Location

: Columbia, SC (Zone 8)



That is normal -- nothing to worry about. Pull off the yellowed or dried leaves so they don't harbour diseases. Mel discusses this in the article on the main SFG website about training zukes up a trellis. He says trellising them helps keep the lower leaves green. I think it happens because the leaves shade the bottom of the plant. Nice looking squash plants, BTW.



Posts

: 904


Join date

: 2010-03-03


Location

: USA



As June said, the original leaves just kind of exhaust themselves, they cannot get sun and the plant just no longer needs them, thus they wither and may be removed. It's all good.

Forum Moderator Certified SFG Teacher




Posts

: 14167


Join date

: 2010-03-06


Age

: 55


Location

: Keene, NH, USA ~ Zone 5a



OK, this is awesome! Just what I was needing to hear. Thank you!

One more question about those yellowed/brown old leaves and removing them. Do you remove yours at the point where the stem and leaf meet or do I take a knife and cut it at the base of the plant. I'm afraid to cut it off near the base of the plant b/c I don't want to leave an "open wound" to be suseptible to disease. So I've been removing the "crusty" leaves by pinching the leaf off at where to stem and leaf meet.

Any thoughts on this?

Thanks again for the help up to this point!
Jenny:

Pinching the leaves is fine. Unless I am pruning good leaves for shape I just pinch any leaves that need to be removed.

God Bless, Ward and Mary.

Certified SFG Instructor




Posts

: 935


Join date

: 2010-02-26


Age

: 67


Location

: Wake, VA




---
Permissions in this forum:
You
cannot
reply to topics in this forum