I have been reading about rabit manure...and thinking about having hubby build a hutch and buying a couple little guys for my kids. And using their waste in my garden...anyone do this?

Jennie






Posts

: 2260


Join date

: 2010-04-25


Age

: 39


Location

: Post Falls Idaho and LOVING it



I do middlemamma and it works really good. the SFG's that have the most rabbit manure in them grow the best.

Certified SFG Instructor




Posts

: 741


Join date

: 2010-03-05


Age

: 22


Location

: Illinois zone 6



Josh, can you tell me how many you have and how you care for them? How often do you feed them? How much manure do the number you have produce?

Thanks so much for your input.

Jennie






Posts

: 2260


Join date

: 2010-04-25


Age

: 39


Location

: Post Falls Idaho and LOVING it



I'm considering rabbits as I think they will be less work than chickens. I've had both in the past. Two or three rabbits will give you a fair amount of manure if you gather it often. What I would do is put down either straw or sawdust under the hutch and gather it up monthly. A medium sized rabbit will produce about a pound of manure a week -- that adds up really fast. Rabbits need to be fed and watered daily just like domestic pets, but if you don't breed them, are pretty easy. My question is do I want the spend the $$ necessary to get rabbits for the manure or about the same price to get chickens which will also give me eggs? Decisions, decisions.



Posts

: 904


Join date

: 2010-03-03


Location

: USA



I've HAD them on purpose. They were not pets, we raised them for protein. Poo was a bonus. You would be doing yourself a favor by going to the Farmers co-op (I think it might be Cenex in Idaho) and getting a good book or two on raising rabbits. They are easy but it is nice to know what you are getting into before you go. Rabbits eat wood (not really, they have rodent teeth that they need to grind down) and were easiest for us when we had an all wire cage. My husband made our cages (hutches) but got the plan from our books (pre internet days).

They need protection from the elements, a way to exercise, handling, blah, blah, blah. It is helpful to have a system for the poo to compost without making the rabbits (or your neighbors) unhappy. It doesn't smell bad like chicken or cow poo but it can get a scent from urine in summer heat.

Rabbit poo is not considered "hot" and can go right into the garden if your SFG has worms to break down the pellets (poo). The odd thing I discovered was that rabbit poo in my compost heap (wire cylinder turned weekly in summer) did not break down. The worms ignored it in all the lawn, straw and kitchen scraps in the compost. It would remain in pellet state until it was in the soil. Then it would disappear into the dahlias (or whatever)

The one and only reason we do not have rabbits or hens in town is because we like to travel and no longer have nephews to come take care of them while we are gone. Alfalfa pellets or meal with the compost does about as good of a job as the rabbit poo once did.



Posts

: 2054


Join date

: 2010-03-03


Age

: 60


Location

: Everett, WA USA



@middlemamma

wrote:I have been reading about rabit manure...and thinking about having hubby build a hutch and buying a couple little guys for my kids. And using their waste in my garden...anyone do this?

Jennie
Yes, I currently have 6 rabbits. We had lots of rabbit droppings to go into the garden this year.
The smell isn't bad, just dump bags of peat down below the cages.
They will eat a lot in the winter, so be prepared to purchase food. In the summer they can eat a lot of yard scraps / greens and hay, which is far cheaper than feed.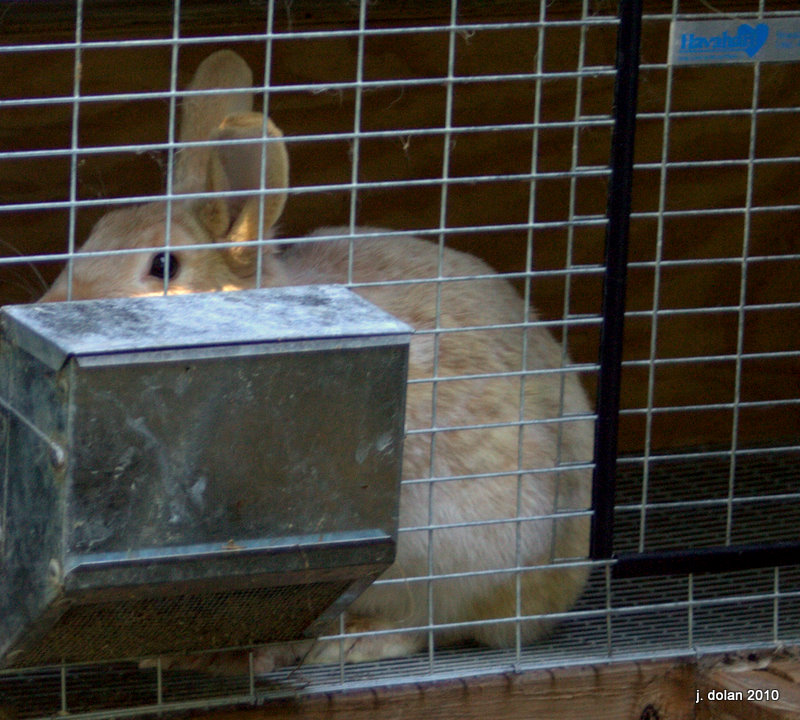 Jamie



Posts

: 3


Join date

: 2010-07-12


Location

: Neenah, WI



We've had a couple of pet rabbits that were kept in the house, but we didn't garden then. They're very low-maintenance and with a bit of handling they're actually decent pets. The House Rabbit Society has a lot of great information about keeping rabbits as pets.



Posts

: 778


Join date

: 2010-04-29


Age

: 48


Location

: Central Virginia, 7A as far as I can tell



I have a pet bunny. Rabbits make great pets!!!!! I will have to start utilizing his pellets though, I didn't know that you could do that. (I am new to this SQG thing).



Posts

: 3


Join date

: 2010-05-26


Location

: Utah



middlemamma I have three rabbits, I have a white mama and a black dad and back in spring they had babies and I kept one brown one and sold the rest,she had 8.
The two big ones I've had for about 4 years,they are tame and I can turn them lose in the yard and let them roam around. They eat about the same as a small dog or cat would eat,I feed and water them everyday. The cage was given to me and it has wheels so I can easily move it. I just scoop up the poop and put it in my Mel's mix as one of the compost,and I put the rest in the compost pile about once a month. In winter I just let it go till spring,move their cage and scoop up everything and put it in the compost pile or my mix for the garden. The red wigglers love it.
Daddy rabbit enjoying the SFG,he does not bother the veggies most of the time,but once he helped himself to some lettuce.

Certified SFG Instructor




Posts

: 741


Join date

: 2010-03-05


Age

: 22


Location

: Illinois zone 6



---
Permissions in this forum:
You
cannot
reply to topics in this forum