There was some talk earlier about carrots being slow.

I planted some carrots in two different boxes. Box A was planted in March and Box B was planted in April. The soil, I thought was more or less the same - hand made MM.

The March carrots did OK, but the ones I am still pulling are faded and small and I never got anything spectacular out of it. Box B has oranger and larger carrots. Odd. Mix the same, I feed them the same, same amount of light, same seed package. Who knows. There may have been variations in the mix I was not aware of.

Anyway, carrots take freaking forever and they are a bear. That we can all agree on. Love them, though.



Posts

: 2467


Join date

: 2010-05-05


Age

: 62


Location

: Warner Springs, CA USDA Zone 8a, Sunset Zone 7 (I think)



I was thinking about carrots today, too. Here's three types planted on 4/18. Maturation time was in the 70 day range; they still have a ways to go. From left to right: Danver 1/2 longs, Nante coreless, and Imperator.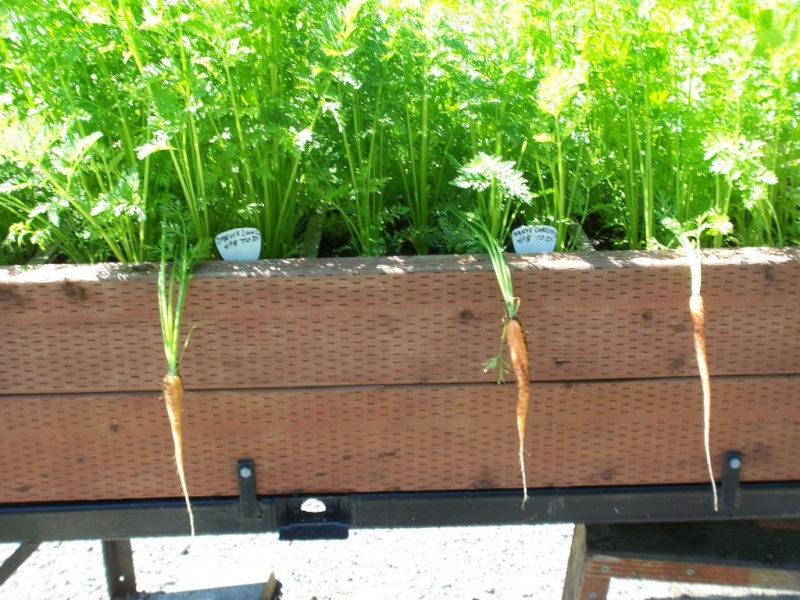 Posts

: 7392


Join date

: 2010-02-26


Age

: 64


Location

: yelm, wa, usa



Funny there's a thread about carrots just today. I gave up on mine today and pulled them out. I had them planted in a rectangular shaped box with just simple garden soil. My son actually planted these. They were his project for the summer.
I think we missed some important waterings and they just weren't doing a thing.
To me, they're one of those things I'll just buy b/c they're cheap and easy to get any time of the year. Probably not as good in the store as home grown.... I know, but just not worth the space/time for me.
Good luck with your carrots, though




Posts

: 248


Join date

: 2010-04-06


Age

: 46


Location

: Fort Wayne, IN - Zone 5B



I planted my carrots around May 10th in Mels SFG box. They have been doing really well except for the past few days. It's been hot as Hades and I have been watering.

I pulled a carrot and low and behold it was only half the size. I actually planted the mini carrots. They should have been full size by now.

Even the green tops are fading a bit and not as lush as they were or as big as others I've seen on the forum.

Any suggestions?

Tks
Happy Gardening Everyone....



Posts

: 675


Join date

: 2010-05-05


Age

: 62


Location

: Central NJ - From 6A to 7A 2012



I'm jumping on this puny carrots bandwagon. I planted mine at the end of April and figured they should be good and ready by now. HAH! They are the saddest little things you ever did see!! About 1/4" in diameter and between 1 and 4 inches long. Sad, I tell ya. I can't wait for someone to post the "this is what you did wrong" answer. I'm ready!



Posts

: 78


Join date

: 2010-04-24


Location

: Zone 7, near Annapolis, Maryland



Ok, I added compost to my rectangular shaped pot and replanted carrots; this time with seed tape. In hopes that there is no thinning necessary. It seems like that's the place I always mess up. I never remember to thin but if I do, here and there, I accidently pull too many out or pull perfectly good carrots up with the ones I'm removing.

Now, I'll keep them watered really well and hopefully the seed tape is the answer for me!

What do carrots like? Any kind of soil in particular?



Posts

: 248


Join date

: 2010-04-06


Age

: 46


Location

: Fort Wayne, IN - Zone 5B



Mine are doing semi-okay so far... in semi-MM.




Posts

: 3350


Join date

: 2010-04-27


Age

: 50


Location

: Manassas, VA - Zone 7a



---
Permissions in this forum:
You
cannot
reply to topics in this forum