HI,
Most everything is growing great, however, my celery and my Green Peppers are tiny. (tiny peppers - thin celery)
Anyone else have any problems with these?
You can see from the photo how well everything is growing. The peppers and the celery are over at the left, the smallest plants in the garden. The only reason the stuff in the front center isn't as large is because it is second crop that just got planted.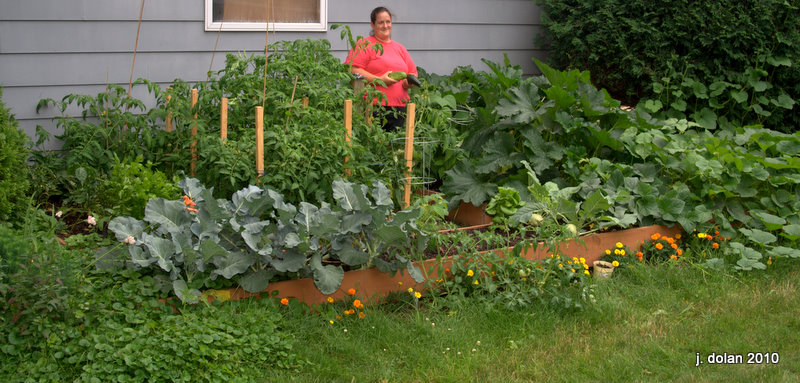 Thanks
Jamie



Posts

: 3


Join date

: 2010-07-12


Location

: Neenah, WI



I don't know why you're having that problem, but I wanted to say your garden looks great!



Posts

: 215


Join date

: 2010-03-05


Age

: 42


Location

: southeast MN, zone 4a



Thank You.

Everything else has continued to grow well. The peppers have perked up a little bit, but are way behind everything else.

Thanks

Jamie



Posts

: 3


Join date

: 2010-07-12


Location

: Neenah, WI



My peppers plants are small also. My sister-in-law in MO. said her pepper plants are small also. This is my first year gardening so I am no help...sorry! BUT your garden looks great!



Posts

: 134


Join date

: 2010-04-02


Location

: Lake County IL. Zone 5A



I am also in MO and mine are very small. I got a late start then had to replant 2-3 times. I also started with seeds not plants this year.They are currently only about 6 inches tall. I think I will be putting a hoop green house over that bed if they are just reaching their potential in the fall.
My uncle thou has had great success his are about knee height and there were 3 peppers total on his six plants.

My celery which we planted in early March really has not done great but it is still green and growing a little.
My biggest problem is with all my squash and melon plants they are loaded with male flowers. The female flowers never open or even after self pollinating they are not producing. I have plenty of little flying pollinators that are fun to watch though.



Posts

: 80


Join date

: 2010-05-26


Age

: 53


Location

: Saint Louis, MO



I am having the opposite "problem"; I am about overrun with peppers! I have one each of a green bell, banana, jalapeno, and Hungarian hot wax peppers and they are producing like mad! have lots of fruit on my tomatoes but they are just beginning to turn.



Posts

: 577


Join date

: 2010-03-27


Age

: 54


Location

: Central OH



---
Permissions in this forum:
You
cannot
reply to topics in this forum