here are some banana peppers (14 of em!)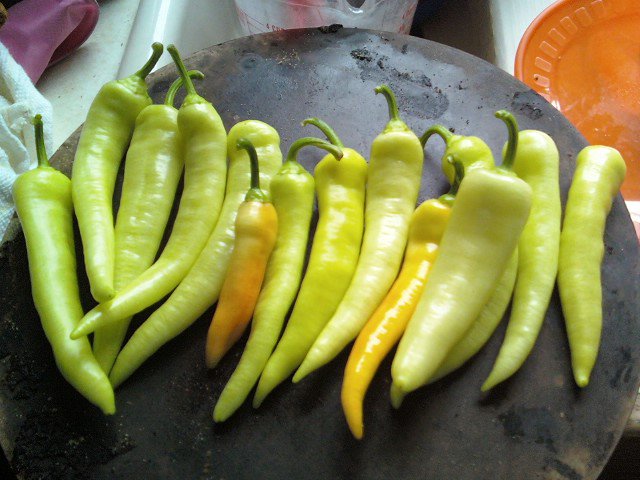 Inca Red hot peppers, tiny with a kick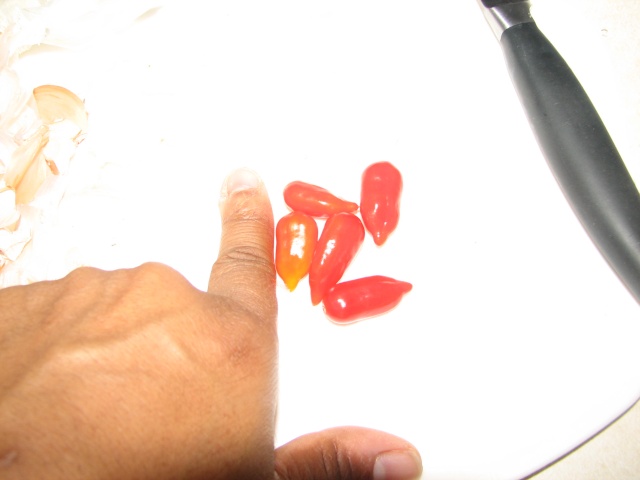 a japanese truffle tomato
Zucchini(shhh its not apple) pie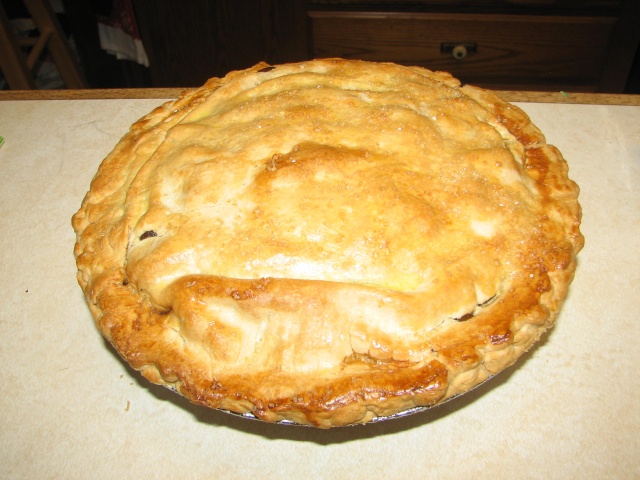 and almost 5lbs of red taters!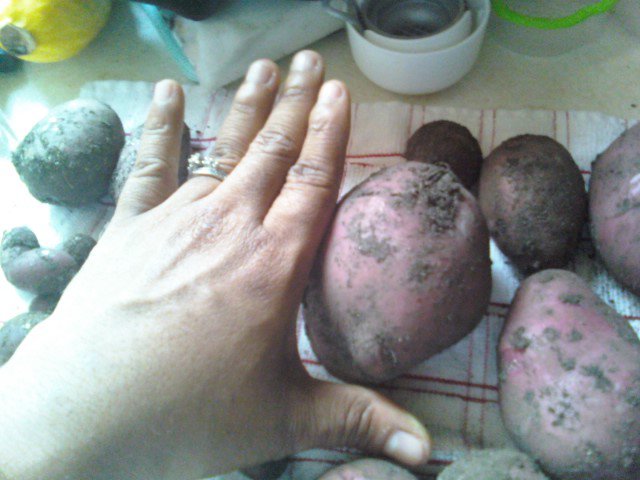 Let us know how the kids liked the pie!



Posts

: 2467


Join date

: 2010-05-05


Age

: 62


Location

: Warner Springs, CA USDA Zone 8a, Sunset Zone 7 (I think)



ooh-la-la, very nice!


Forum Moderator Certified SFG Teacher




Posts

: 14165


Join date

: 2010-03-06


Age

: 55


Location

: Keene, NH, USA ~ Zone 5a



well, 3/4 of the potatoes are gone! Yeah they didnt make it long. the itty pea sized ones were AWESOME.

The pie? I loved it, although there was too much nutmeg. hubby was "eh" mainly because of the nutmeg (I'll half it next time) the kid? She LOVED LOVED it and asked for a second slice, I sware that 3 year old eats more than me!
Jealous!! Esp about the taters! I was curious last week as to how mine were doing so I started digging in my 20 gallon tubs to see how/what was going on in there. I didn't find much of anything. I was concerned a while back that they didn't look so good. And I was right; nothing was happening in there. UGH. Not sure what went wrong but I have a few ideas of what I'll do different.

Congrats on all your goodies! Enjoy them! You deserve it after all your hard work!



Posts

: 248


Join date

: 2010-04-06


Age

: 46


Location

: Fort Wayne, IN - Zone 5B



Yummy-looking food.

How's the taste of that truffle tomato?

I know what you mean about the nutmeg. My two grandmothers each made beautiful apple pies, but one used nutmeg and the other used cinnamon. I always liked the cinnamon flavor better and that's all I put in my apple pies. I'm just not a nutmeg kind of girl.



Posts

: 1450


Join date

: 2010-03-16


Age

: 62


Location

: Southeastern Missouri (6b)



It was "eh" but i find that most fruit are. I think once the plant (and weather) settles it will be delish. It was meatier than I thought it would be, and the flavor was, i am horrible at describing, but deeper? not light like a "normal" tomato.

http://store.tomatofest.com/Japanes...s_p/tf-0267.htm
My mom only grew one tomato - Rutgers - and growing up I never realized there were so many different kinds. Nowadays it seems we almost need phrases such as the wine experts use to distinguish among all the different tomatoes - this one is smoky, that one has undercurrent flavors of currants or cassis, etc.

We picked our first Green Grape tomato yesterday and halved it. It was very good, and the flavor was just as the seed catalog described it - tart, lively, and very intense flavor. It wasn't as sweet as most grape tomatoes, but its intense flavor made up for the lack of sweetness. I'll definitely grow them again. I think they would really add to a lettuce salad.



Posts

: 1450


Join date

: 2010-03-16


Age

: 62


Location

: Southeastern Missouri (6b)



---
Permissions in this forum:
You
cannot
reply to topics in this forum