Latest topics
»
Newbie composting questions
by
trolleydriver
Today at 1:10 pm
»
CANADIAN REGION: What are you doing in September 2016
by
Kelejan
Today at 12:35 pm
»
Plantoid' s going into hospital ....
by
Kelejan
Today at 12:19 pm
»
What's a good type of lettuce to try for some one who doesn't like lettuce?
by
CapeCoddess
Today at 11:59 am
»
N&C Midwest: September 2016
by
landarch
Today at 11:49 am
»
Second Year SFG in Canada
by
CapeCoddess
Today at 11:39 am
»
compost thermometer
by
trolleydriver
Today at 10:45 am
»
Mid-South: October 2016
by
yolos
Today at 10:36 am
»
Hello from San Antonio, Tx.
by
newbeone
Today at 8:38 am
»
Senseless Banter...
by
plantoid
Today at 7:08 am
»
Northern California & Coastal Valleys - What are you doing this month?
by
sanderson
Today at 3:05 am
»
What are you eating from your garden today?
by
trolleydriver
Yesterday at 10:05 pm
»
In between
by
Scorpio Rising
Yesterday at 8:33 pm
»
Tomato Mystery Mix
by
sanderson
Yesterday at 11:26 am
»
Easy and Fabulous Crockpot Marinara
by
trolleydriver
Yesterday at 11:03 am
»
newbeone
by
Cajun Cappy
Yesterday at 8:59 am
»
The Research Journey:free-The Gardener's Guide TO PERFECT GARDEN SOIL
by
has55
Yesterday at 6:40 am
»
parsnips in square foot garden?
by
sanderson
Yesterday at 2:57 am
»
The SFG Journey-Cover crops
by
jimmy cee
9/27/2016, 9:45 pm
»
Oh no! My hibiscus moscheutos plant has some roots exposed!
by
RJARPCGP
9/27/2016, 9:37 pm
»
Tryst with my first DIY SFG
by
Mimi2
9/27/2016, 8:12 pm
»
New England September 2016
by
sanderson
9/27/2016, 7:50 pm
»
Soil Blocks: Tutorial In Photos
by
sanderson
9/27/2016, 2:57 pm
»
Compost
by
camprn
9/27/2016, 8:13 am
»
Hand Pollination ?
by
camprn
9/27/2016, 8:11 am
»
The Research Journey:SELF-WATERING SALAD GARDEN COURSE
by
has55
9/26/2016, 6:58 pm
»
Admin back! Classic cars
by
AtlantaMarie
9/26/2016, 5:38 pm
»
Kale & Parsnip Question
by
countrynaturals
9/26/2016, 3:09 pm
»
EXPERIMENT: Tomatoes to Powder
by
trolleydriver
9/26/2016, 11:00 am
»
The Research Journey:what to plant now, fall gardening in Dallas-Ft worth
by
sanderson
9/25/2016, 9:55 pm
I was surprised this morning when I went outside with my camera and watering can. I have a baby watermelon growing. Its soooo smalll.....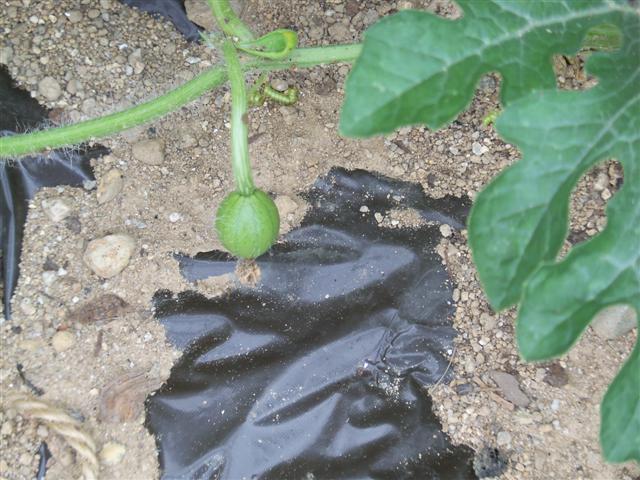 The variety is Sugar Baby and its the one started from seeds sown June 7th. The seedlings planted the same day only have blossoms right now...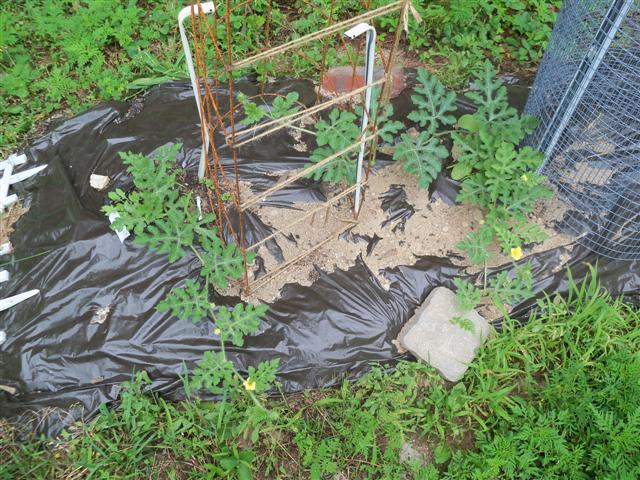 These are the two started from seedlings on the same day. As you see, they only have some yellow blossoms.
I go out each day with a Q-tip to touch each of the blossoms to help them pollinate. I hope I get more melons. My family and I love them.
How are your watermelons coming along, Quiltbea? Sure look nice. All I've gotten so far is one fruit smaller than my thumbnail. My poor watermelon is the lame duck of the garden.
Same here. I have one the size of my fist and lot looking like it is getting any bigger. And this isn't a mini variety.




Posts

: 2467


Join date

: 2010-05-05


Age

: 61


Location

: Warner Springs, CA USDA Zone 8a, Sunset Zone 7 (I think)



I'm holding off the water now. 'They say,' in a couple of books I've read, to hold off on watering the last 10 days of ripening so they can sweeten up and then they will be ready to pick. We haven't had rain for 3 days and expect none til a week from this Wed so it should work out perfectly.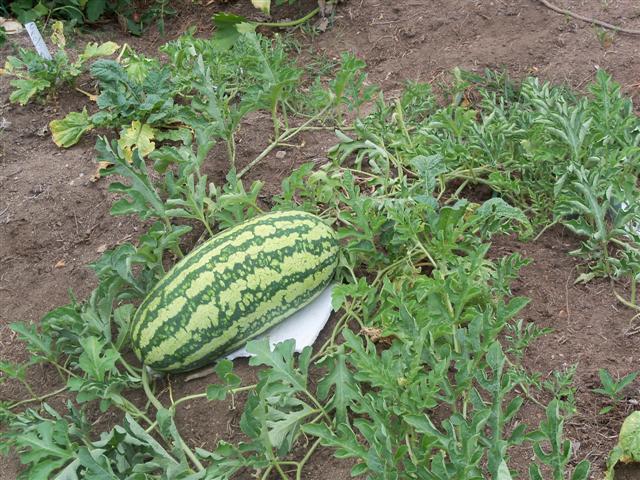 This is my largest Sugar Baby, the picture taken about a week ago. I have two more that are close to this size and about a half dozen that are much smaller. I'm hoping to get at least 3 from my vines this year. I didn't get any last year from my 2 plants.
I wish I had my camera back from being borrowed. Today I harvested the 3 Sweet Granite cantaloupe that were growing on my 3 vines. One is beyond eating and two look good. I didn't realize they were so darn small. They are only the size of an elongated baseball. I have two cut and cooling in the fridge. I'll let you know how they taste later. They were too warm when I cut them (actually, they about fell off) the vines.
Good luck everyone with your watermelons. In Maine, they aren't easy to grow since they need lots of growing time. The Sugar Baby are smaller and get to ripen in time.
Oh wow... so beautiful!!!


We're so lucky to have a farmer's market with a vendor who grows excellent melon, and he progression planted this year so that we have them late into the season!

I've been making delicious cantaloupe-peach smoothies and I bought extra to freeze so that we'll have smoothies long after the season ends.



Posts

: 778


Join date

: 2010-04-29


Age

: 47


Location

: Central Virginia, 7A as far as I can tell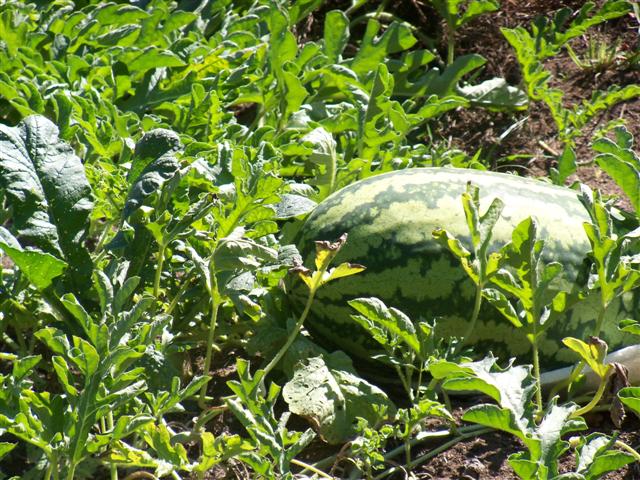 This is a photo of the largest Sugar Baby today. It still has some days to go. The stem end is not shriveling or getting brown yet.
Today will reach 88 and tomorrow will probably reach 93 so we'll have some nice warm days for the melons to ripen.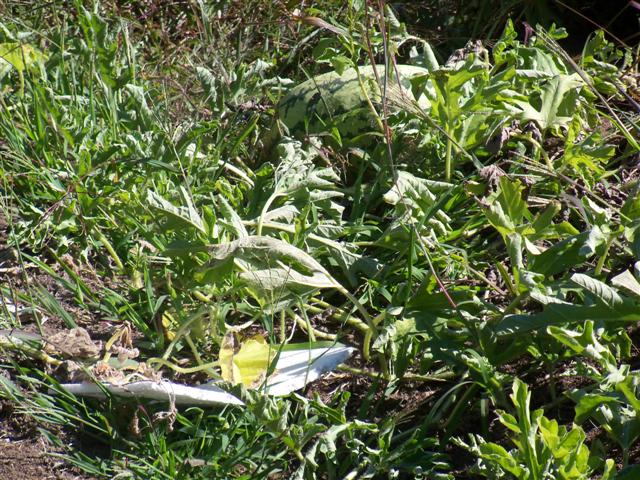 Here's another.
We use the tendril method for determining ripeness. If you look near where your melon stem is attached to the vine there will be a small tendril curling out of the vine. It's usually a few inches away from the stem of the watermelon. When that tendril turns brown and dead-looking we turn the melon over. If the "belly" is a deep cream or buttery color, the melon is ready to pick. If the belly turns yellow the melon is usually overripe, and if it is white it is underripe.

This method proved true for all four melons we harvested this year.



Posts

: 1450


Join date

: 2010-03-16


Age

: 61


Location

: Southeastern Missouri (6b)



In a number of photos of melons I have seen a pad of some sort used beneath the fruit if the fruit is lying on the ground. What is the purpose of this? Is it necessary? If so, what is the best type to use? :?:
---
Permissions in this forum:
You
cannot
reply to topics in this forum