This is the first year I planted eggplant; first flower looked promising but then it dropped off and I thought I was doomed..... I now have harvested the first one (very difficult) and have at least two more growing, all on one plant. The second plant is starting to get the hint and is growing.....
It was hard harvesting but, I am looking forward to eating it in the ratatoille (spelling). Used recipe from Mel's cookbook (photos are fantastic)

and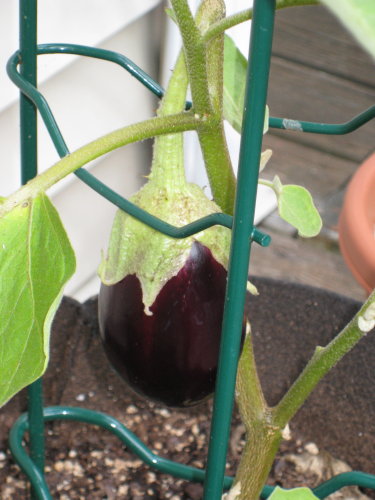 Last edited by readingnut on 7/24/2010, 3:41 pm; edited 1 time in total (Reason for editing : photo and emoticons not attached)



Posts

: 7


Join date

: 2010-06-04


Age

: 59


Location

: Stonington, CT



Lucky you. Great looking eggplant.

Mine are still too small here in Maine. I hope its just the more northern location.

Mmmmm, I'll bet it was delicious.



Posts

: 4690


Join date

: 2010-03-21


Age

: 75


Location

: Southwestern Maine Zone 5A



Nice looking fruit!

we piked our first eggplant the other day. I sliced it lengthwise and 1/4 inch wide, salt it & placed between paper towels for 15 mins. gave it a bit of olive oil spray and grilled the slices. Divine!

Forum Moderator Certified SFG Teacher




Posts

: 14165


Join date

: 2010-03-06


Age

: 55


Location

: Keene, NH, USA ~ Zone 5a



That is a nice looking eggplant readingnut! What variety is it?

I have one that I think is just about ready for harvest. I can't wait!



Posts

: 710


Join date

: 2010-03-21


Age

: 44


Location

: Aurora, Ontario, Zone 5a



Awesome stuff! Here is a nice ratatouille (hey, you only skipped one letter, so getting A- for spelling) recipe for you (tried and true), and it's from Ratatouille the animated movie, recipe from the chef that actually coached the animators on making the dish, so that it comes out "truthful"

.
http://www.grouprecipes.com/15255/remys-ratatouille.html



Posts

: 233


Join date

: 2010-05-23


Age

: 44


Location

: Prattville-AL, Zone 8



It is a "Classic" variety; at least that's what it said on the tag........
I enjoyed the movie! Might even rent it just to watch it again and I don't even have children/young adults.
Hope everyone has a wonderful Sunday now that the humidity has dropped a small bit. Oops, just went outside and it isn't one bit less humid!



Posts

: 7


Join date

: 2010-06-04


Age

: 59


Location

: Stonington, CT



---
Permissions in this forum:
You
cannot
reply to topics in this forum