Latest topics
»
Today's Harvest
by
Fiz
Today at 6:22 pm
»
Eggplant Blossom End Rot?
by
Fiz
Today at 6:11 pm
»
help with raised beds! how much can I grow in a 4' x 4' raised bed?
by
Robbomb116
Today at 4:12 pm
»
New England July 2017
by
CapeCoddess
Today at 3:45 pm
»
Happy Birthday!!
by
CapeCoddess
Today at 1:39 pm
»
Your favorite watermelon and pumpkin
by
AlwaysHotinFL
Today at 1:23 pm
»
What I've learned this year
by
countrynaturals
Today at 10:29 am
»
N & C Midwest; July 2017 !
by
CapeCoddess
Today at 7:23 am
»
Growing Romanesco Broccoli
by
plantoid
Today at 7:20 am
»
CANADIAN REGION: What are you doing in JULY 2017?
by
sanderson
Today at 2:07 am
»
What do you know about making sauerkraut?
by
No_Such_Reality
Yesterday at 10:36 pm
»
What are you eating from your garden today?
by
Scorpio Rising
Yesterday at 8:18 pm
»
TrolleyDriver's Compost Thermometer
by
sanderson
Yesterday at 4:18 pm
»
Tornado Cake
by
sanderson
Yesterday at 4:04 pm
»
Do I need to pollinate my zucchinis?
by
CapeCoddess
Yesterday at 10:19 am
»
How's the Weather Where You're At?
by
trolleydriver
Yesterday at 8:21 am
»
Turan in the Western Mountains
by
sanderson
Yesterday at 1:07 am
»
Friday Rookie Topic XII: Cucumbers
by
Scorpio Rising
7/24/2017, 8:40 pm
»
More on garlic scapes
by
greatgranny
7/24/2017, 7:17 pm
»
Third Year SFG in Canada
by
SwampTroll
7/24/2017, 2:47 pm
»
My early garden
by
sanderson
7/24/2017, 3:15 am
»
Garden Footwear
by
sanderson
7/24/2017, 3:14 am
»
Square footage
by
sanderson
7/24/2017, 3:03 am
»
Healthy Meals
by
RoOsTeR
7/23/2017, 10:19 pm
»
HELP! Sweet Potato Plant!
by
countrynaturals
7/23/2017, 11:26 am
»
2017: First full year of SFGing in ND
by
Robbomb116
7/22/2017, 9:10 pm
»
2017 SFG in Brooks, Ga
by
sanderson
7/22/2017, 7:38 pm
»
Green Caterpillars
by
sanderson
7/22/2017, 2:22 pm
»
Some of our Gluten-free Cajun Recipes
by
sanderson
7/22/2017, 1:50 pm
»
Senseless Banter...
by
sanderson
7/22/2017, 1:43 pm
I harvested 2 of my Honey Boat delicatas today. They grew quite a bit larger than the regular delicatas I have grown before. I wasn't quite sure when to harvest them since they were on the wire trellis, but when I touched them they fell right off, so I guess they were ready. I cut one in half, scooped out the seeds (small seed cavity) & cut in half again for 4 pieces that were fairly even in size & zapped them a few minutes in the microwave, then sprinkled cinnamon, brown sugar & butter - YUMMY.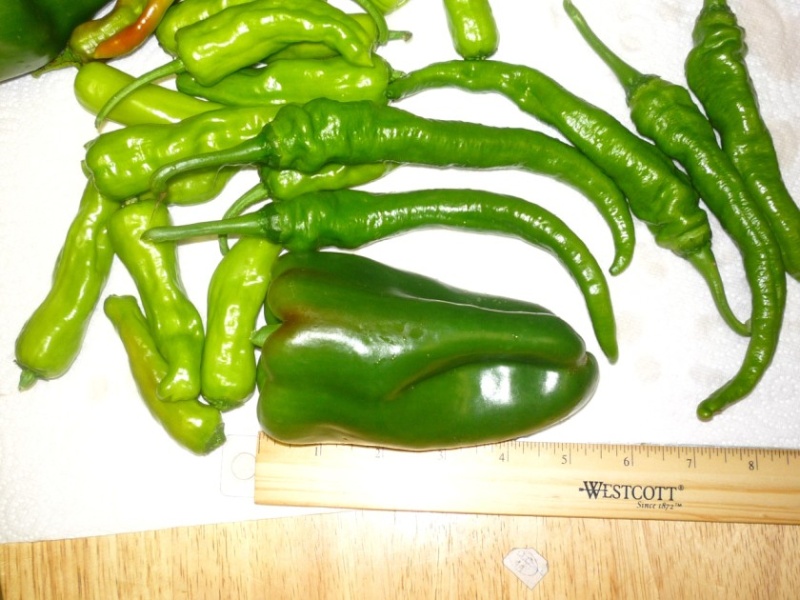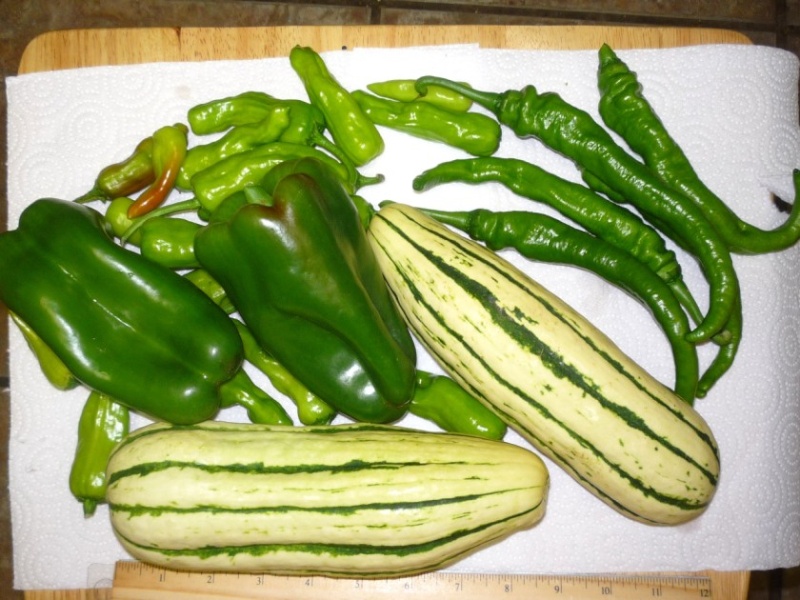 I've finally started getting more peppers that I started from seed - Hungarian hot yellow, although I didn't wait for them to get yellow. They are very hot, but not as bad as the cascabella. I also picked 2 Emerald Giant bell peppers. I'll grow them again, even though they have an irregular shape & you can't stuff them. They are very thick-walled & sweet. DH found some regular Cal Wonder pepper plants at the feed store a few weeks ago. They were in big peat pots & not root bound & have done really well. They are just starting to bloom, so hopefully I will have enough for pepper relish & to freeze.
Tomatoes are about gone - the blight has gotten to them. I pulled out several of them today. There are still lots of blooms on them, but since it has been in high 90's-100, I don't know if they will set fruit or not, I doubt it. I sure will miss them.
I'm still getting cukes, thanks to the wire trellises. I can find them & keep them picked so the vines continue to produce. I have planted 3 more trellises throughout the season & just pulled the vines on the first ones I planted in the Spring.
I lost the last section of corn I planted. It was just beginning to tassle & the wind blew part of it over. Before we got around to getting it back up & putting wire around it, my son's hybrid wolf decided it would be a nice bed, so he trampled it & dug him a nice cool spot. He won't stay in the fenced yard, so I don't know what we'll do next year. He's pretty old & lost a hind leg to some pit bulls roaming the neighborhood, so he gets babied quite a bit & I would hate for him to be tied up.
I hope everyone is still excited about their garden. This will be my first year to do any fall planting. I started brussel sprouts, 2 kinds of cauliflower, Perfection Savoy drumhead and late flat Dutch cabbage today.
In case I have never mentioned it, I LOVE SFG!



Posts

: 755


Join date

: 2010-03-02


Age

: 68


Location

: Southeast Tennessee



Beautiful harvest

I never heard of Honeyboats before.
I particularly like their small size, something new everyday here.



Posts

: 151


Join date

: 2010-04-24


Location

: SuNnY SoutH CaRoLiNa



---
Permissions in this forum:
You
cannot
reply to topics in this forum