I have an idea for a spot for my tomato plants and I was wondering if I could string up twine/netting instead of using cages. It is a wonderful south facing area, and I think my tomatoes would like it there. Anyway...I'm just curious if that would work, or if I should just stick with the cages.
Thanks



Posts

: 215


Join date

: 2010-03-05


Age

: 42


Location

: southeast MN, zone 4a



Mel suggests string or netting. He explains how to "twist" the tomatoes up the string in his book. Cages are too large for SFGs.



Posts

: 904


Join date

: 2010-03-03


Location

: USA



It depends on the kind of tomatoes. Are they vining or bush? I did have one of the smaller circle type cages in a square and a half. There are also other type of supports.
I think I remember a previous poster last year used these with success: http://www.veggiecage.com/
I've also use PVC and string, PVC and trellis netting, PVC/stake post and the above.
I don't know if you can see the cage in the back ground, it is green. It is like a "V", powder coated and would fit perfectly in a SFG.



Posts

: 768


Join date

: 2010-03-11


Age

: 37


Location

: Flint Area, Michigan (zone 5a-5b)



I'm reserving a few of my north side squares for tomatoes this year so I can use the netting to support them if/when they need it. I grew some patio tomatoes in a mix very similar to Mel's Mix last year in containers and the mix was so light that a strong wind would uproot and blow them over. With the wind we have here, I'm putting them by the netting so I can support them - even if they're supposedly "compact" plants.



Posts

: 125


Join date

: 2010-03-07


Age

: 42



Ok, I found the pic. This box is about 2x10 and against the house, which is the north side of the garden. I used PVC, poly rope/string, and poly netting. So it is easily possible, I just got creative with what I had laying around! Every few days go and help them along the netting, cause they won't really "grab" on, or using something soft to suspend them..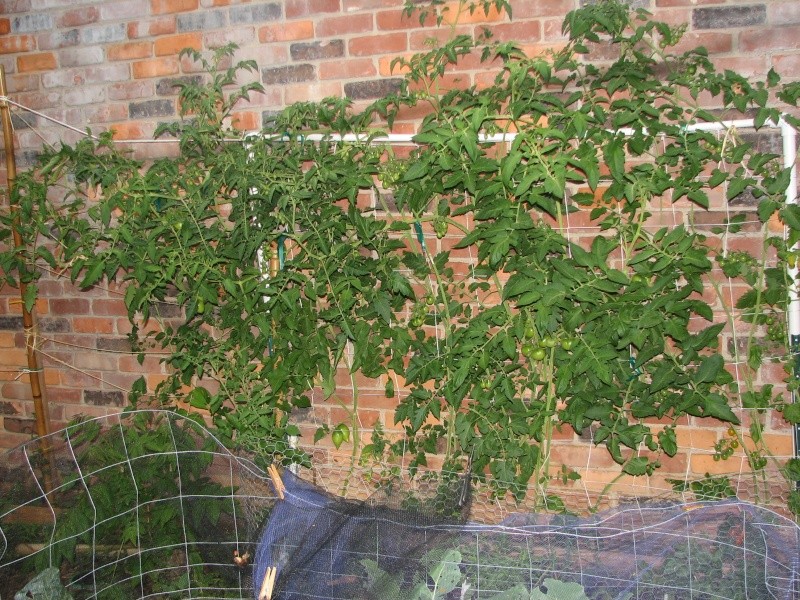 Posts

: 768


Join date

: 2010-03-11


Age

: 37


Location

: Flint Area, Michigan (zone 5a-5b)



---
Permissions in this forum:
You
cannot
reply to topics in this forum