Hi All,
I've yet to "officially" introduce myself, but please forgive the gaff and indulge my curiosity. I have a mystery!
This plant is growing in the middle of a square of bunching onions. A few squares over are two different mesclun (lettuce mixes) but none of the lettuces growing there appear to be this one. It looked so food-like I went ahead and tasted it and it tastes like horseradish but delicate and slightly sweet - not bitter. It's delicious. What could it be?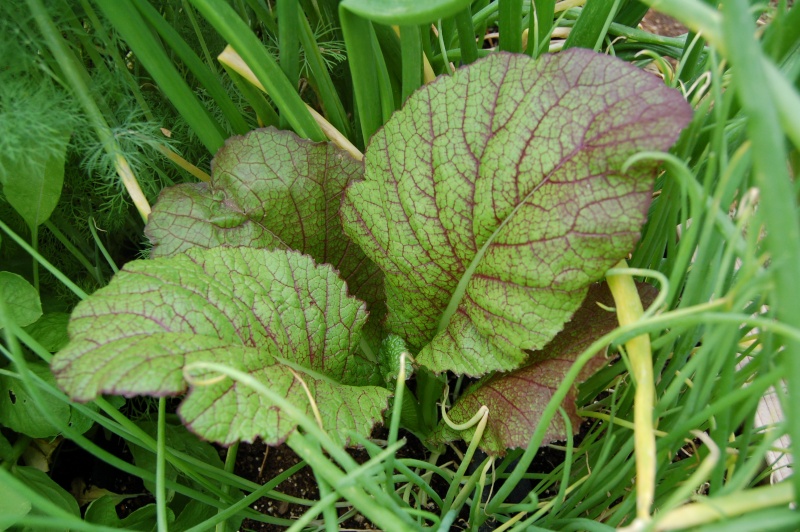 Thanks!
Check your mesclun mix seed packages. Chances are, mustard is listed on at least one of them!



Posts

: 3350


Join date

: 2010-04-27


Age

: 50


Location

: Manassas, VA - Zone 7a



Those were just the clues I needed. It looks exactly like the pictures of the Japanese Giant Red Mustard: http://www.amazon.com/Japanese-Giant-Red-Mustard-Seeds/dp/B0033P3CHM
Mystery solved.
Neat! Glad to hear it is tasty, because I got some seed for Japanese Giant Red Mustard to try this fall. FYI, I've read this is a really good trap plant, meaning it's a magnet for flea beetles, who apparently love this stuff. I haven't seen any flea beetles in a while so hopefully they are done for the year (?) but in the spring, I'm going to plant the mustard again, away from my other plants.
Here is a slightly bigger picture from Baker Creek:



Posts

: 3350


Join date

: 2010-04-27


Age

: 50


Location

: Manassas, VA - Zone 7a



Just don't let it go to seed! My boyfriend had a mesclun mix in his (non-SFG) last year. It's fairly invasive, and reseeded itself this year--none of the other salad greens in that area did.



Posts

: 210


Join date

: 2010-05-19


Location

: Central CT Zone 6a



Yep, it's Red Giant Mustard from a spicy mesclun mix. Very spicy! I use just a bit in salads and hot-and-sour soup.

This plant is prolific. If you let one go to seed, you'll never need to plant more.

Certified SFG Instructor




Posts

: 2147


Join date

: 2010-03-02


Age

: 70


Location

: Bend, OR (Zone 5-6)



Ooh hot and sour soup. Sounds good!
Thanks for the replies and the warning about letting it go to seed.
Happy Gardening!

Good to see your post, Mom2four.

I know this is probably obvious to everyone else, but what is the child holding in your avatar? At first I thought it was a raspberry, then I looked closer and now I'm not sure what it is.



Posts

: 1450


Join date

: 2010-03-16


Age

: 62


Location

: Southeastern Missouri (6b)



Duh. (Smacks self in forehead.) It's easy to see it now. I knew it should have been obvious.
Thanks.

I know what you mean about radishes and the kid factor. Our 4 y/o grandson couldn't wait until his first radishes were ready in his very first SFG. I was afraid he was in for a letdown, and it proved to be so. His mother said he was so excited until he took his first bite, and then spit it out saying, "Yuck!" Luckily it was a different story with his carrots. He loved them.



Posts

: 1450


Join date

: 2010-03-16


Age

: 62


Location

: Southeastern Missouri (6b)



---
Permissions in this forum:
You
cannot
reply to topics in this forum