There's still hope...
This wicking box is an experiment that is working well. Planted in April, I haven't watered the soil. I've added water to the tub twice. There's three indeterminate tomatoes in there that I'm letting hang down-just to see.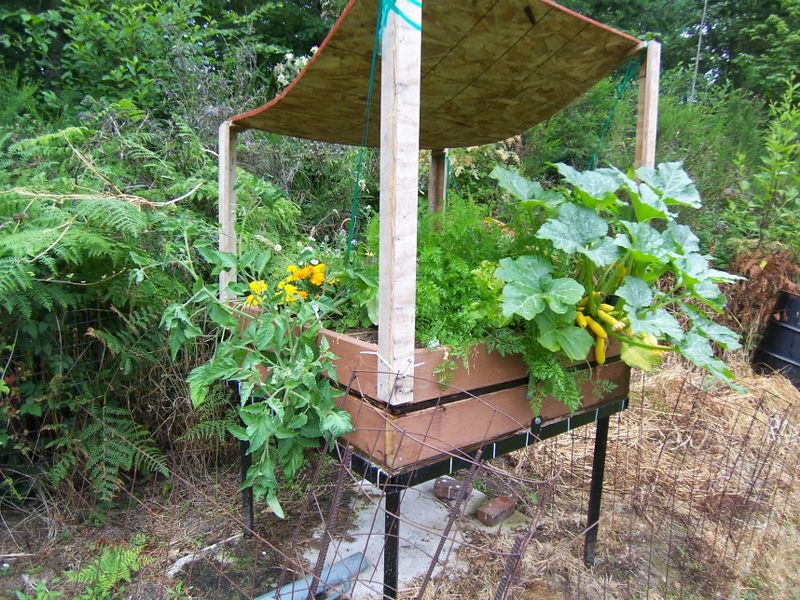 We have 8 artichokes from two seedlings planted this year. I can't wait for them to flower. The two trellises on the right should be covered with beans, but the deer got to them before I got the temp fence up.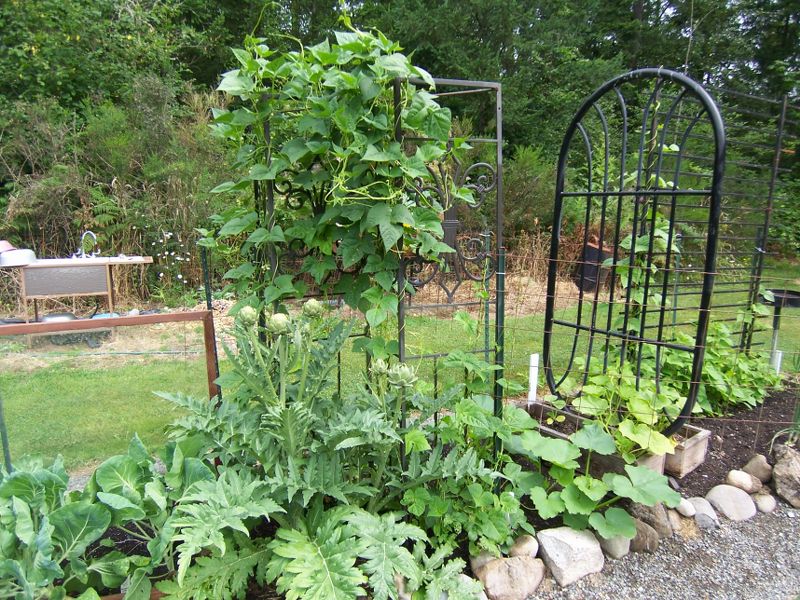 A trellis experiment that has potential. The peas are growing up, over, and down the other side. If a 4x4 box were hooped, a 1x4 box could be placed along one side and tall peas could grow up and over. I tried planting beans on the left side of the box to see what they would do, but the deer got them.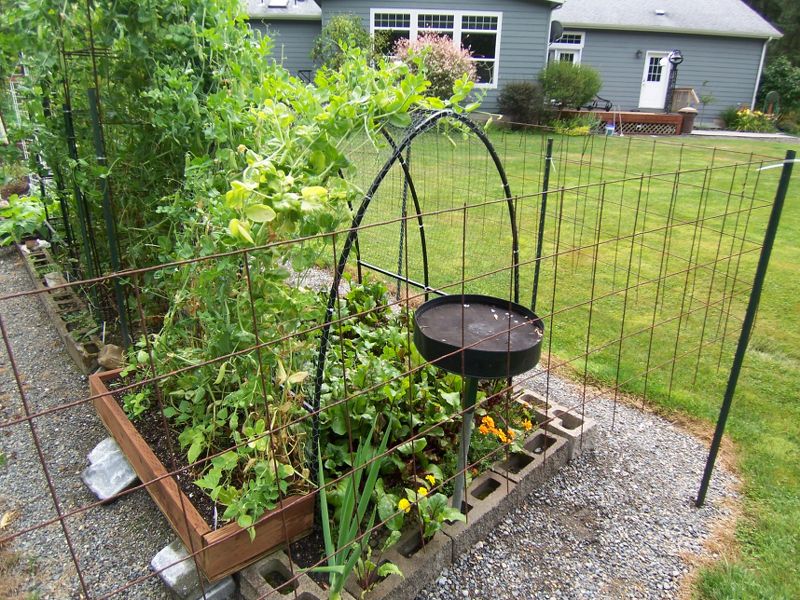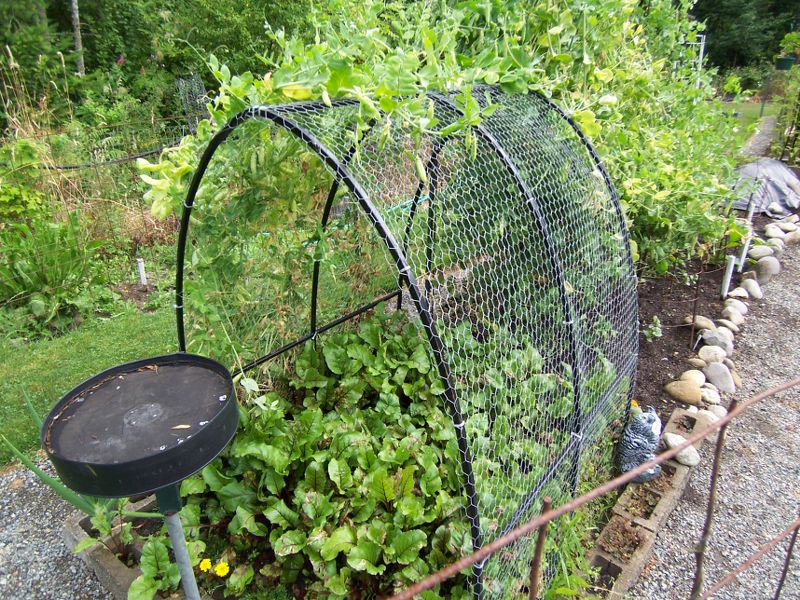 We have Walla Walla onions scattered all over that were planted from sets in March.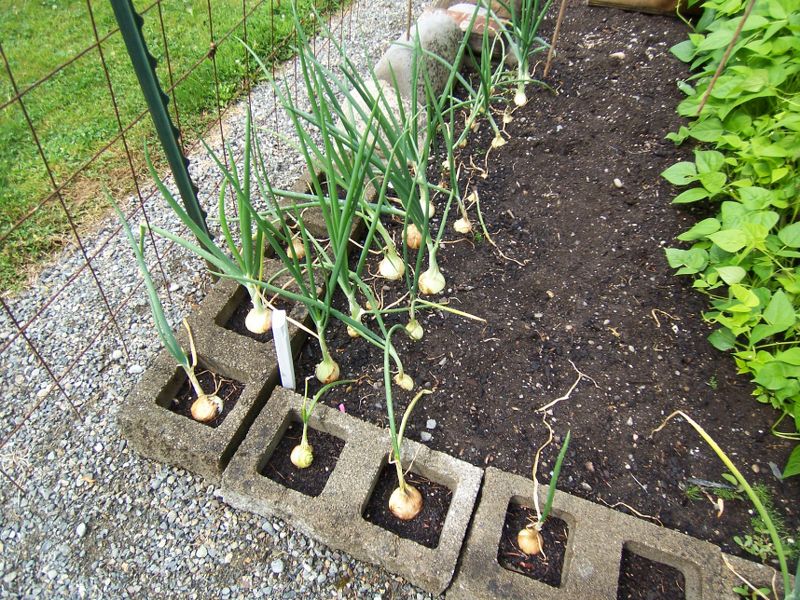 This is my first year trying to grow indeterminates in a table top (I didn't plan it-I'm going with the flow) But I think it will work.
Hey, remember all the discussions (and arguments) in the forum earlier this year about the feasibility of planting toms 1 per sf in a row? Here's 2 ind. and 3 det. planted in a row in a six inch deep box. Unruly comes to mind! The plants are growing great, and there are a bunch of blossoms. However, I don't expect much in the way of red tomatoes this year because of the weather.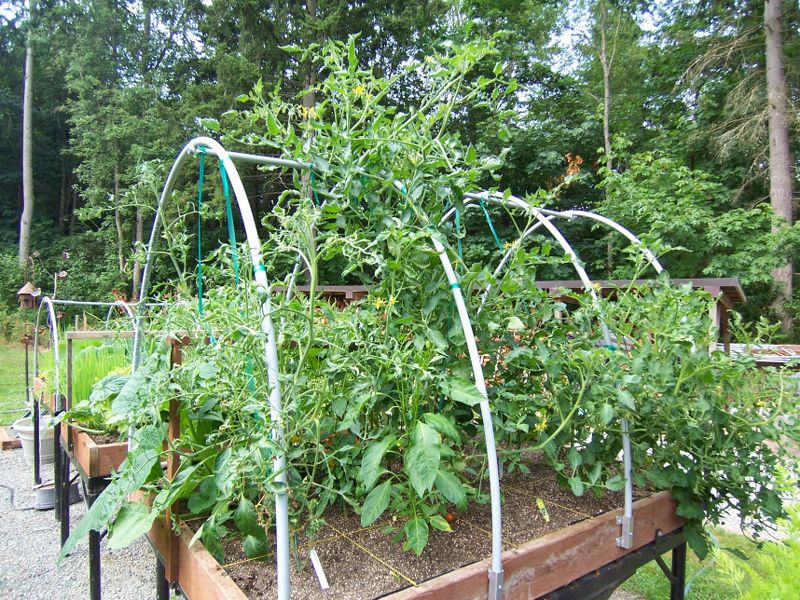 At least I've gotten a few red cherries.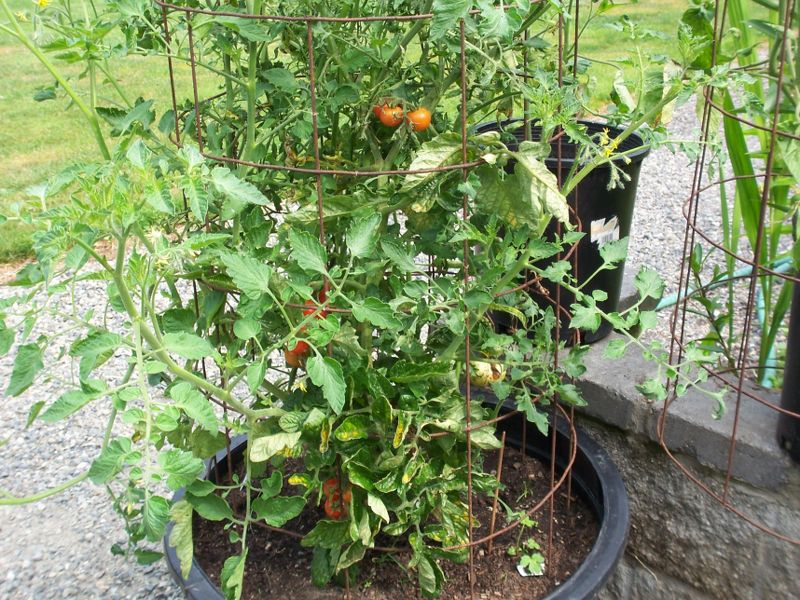 Brussel sprouts are doing well so far.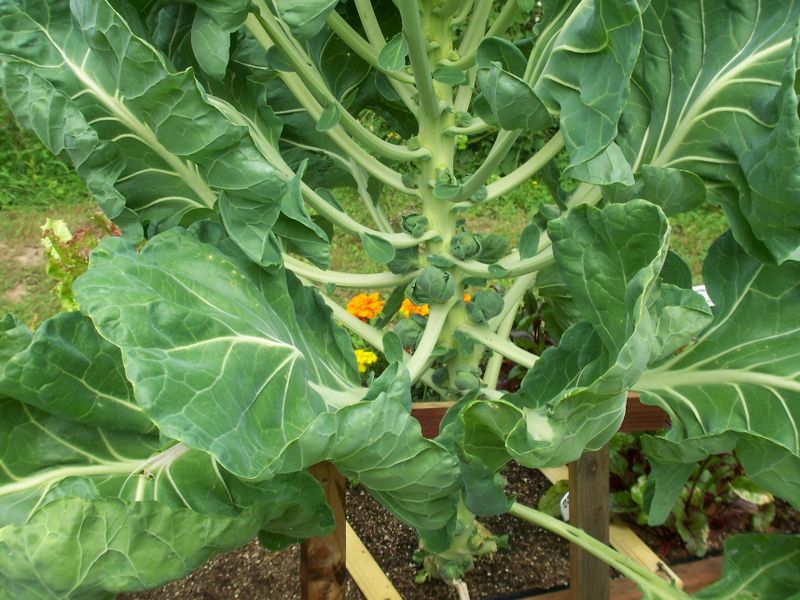 This lettuce is called Merlot. I'll definitely grow it again for the great color when mixed with other lettuces. No matter how hard I try, some seeds float around when watered!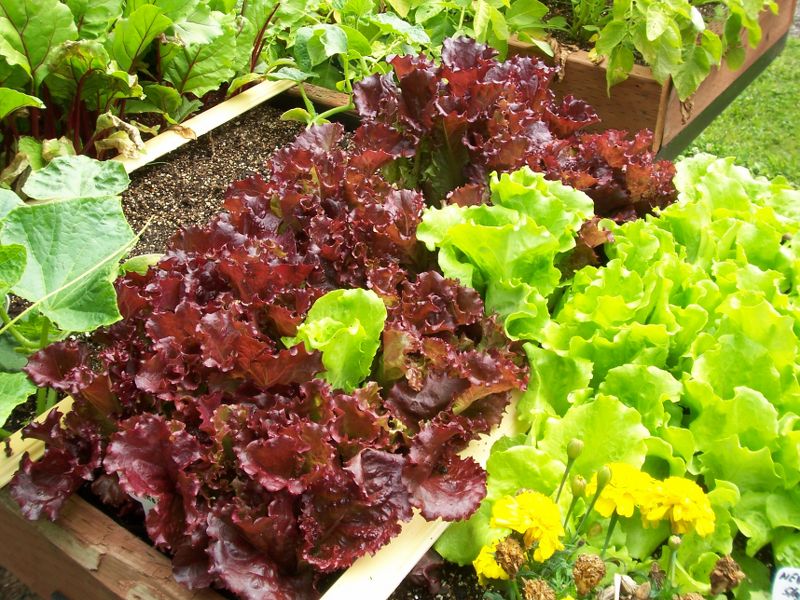 I can't bear looking at this experiment anymore-the chickens will be getting a treat this afternoon. It's a box in total shade. I planted brussel sprouts, lettuce, spinach, carrots, beets, turnips, and pac choy. The pac choy was the only thing worth harvesting. I'm surprised the lettuce and spinach didn't do better-even with the poor spring weather.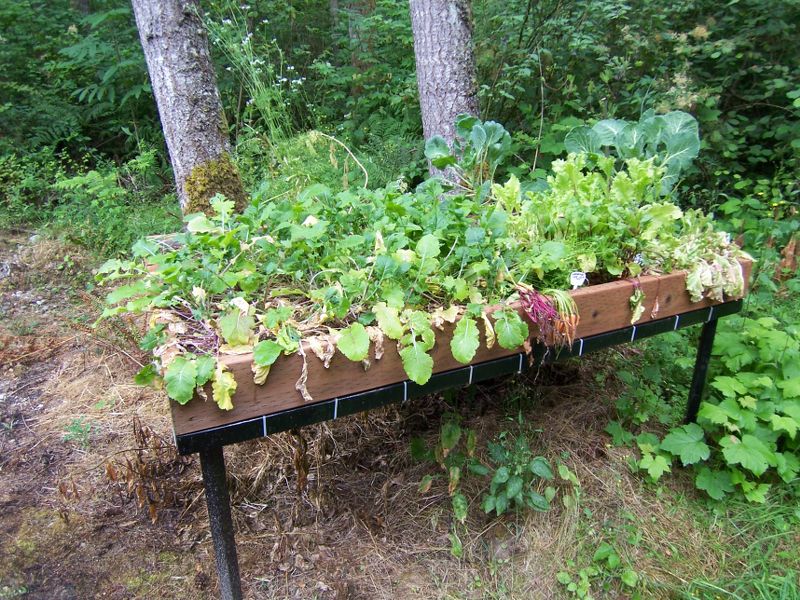 Last edited by boffer on 8/2/2010, 2:24 pm; edited 1 time in total (Reason for editing : add shade box pic)
your garden is looking pretty darn spiffy considering the rough start to the season. I'm envious of your BS & the merlot lettuce. NICE!!! :!:

Forum Moderator Certified SFG Teacher




Posts

: 14137


Join date

: 2010-03-06


Age

: 54


Location

: Keene, NH, USA ~ Zone 5a



What a great layout you have. I love the table tops, and that Squash is really thriving. How did you beat the borer?



Posts

: 151


Join date

: 2010-04-24


Location

: SuNnY SoutH CaRoLiNa



You get the great weather, and I've
never
seen a SVB! I don't know if we have them here.
@camprn

wrote: I'm envious of your BS & the merlot lettuce. NICE!!! :!:
Yeah, his BS has always been in top form.

Looks like you may get a season out of your garden after all. Excellent. Here's hoping some of the other slow starters redeem themselves. If the summer lingers a little, you may get tomatoes yet. If not, time to look up that fried green tomato and green tomato relish recipe...



Posts

: 2467


Join date

: 2010-05-05


Age

: 62


Location

: Warner Springs, CA USDA Zone 8a, Sunset Zone 7 (I think)



@Chopper

wrote:Here's hoping some of the other slow starters redeem themselves. e...
I meant the vegetables! Not the people!



Posts

: 2467


Join date

: 2010-05-05


Age

: 62


Location

: Warner Springs, CA USDA Zone 8a, Sunset Zone 7 (I think)



---
Permissions in this forum:
You
cannot
reply to topics in this forum