Latest topics
»
What's Up? Yukon gold potatoes!
by
saganco
Yesterday at 11:42 pm
»
jalapeno variety question?
by
BeetlesPerSqFt
Yesterday at 11:12 pm
»
How's the Weather Where You're At?
by
sanderson
Yesterday at 10:35 pm
»
1st Seed Catalog Arrived :)
by
Scorpio Rising
Yesterday at 9:10 pm
»
New Composter - Need Help Filling Correctly
by
saganco
Yesterday at 9:10 pm
»
CarbSmart (tm) Potatoes
by
No_Such_Reality
Yesterday at 5:42 pm
»
Third Year SFG in Canada
by
countrynaturals
Yesterday at 5:08 pm
»
Butterfly Junction
by
countrynaturals
Yesterday at 5:02 pm
»
Tomato Questions
by
brianj555
Yesterday at 4:35 pm
»
December Avatar: 'Tis The Season!
by
sanderson
Yesterday at 2:29 pm
»
The Research Journey:cardboard covering of newly planted seeds
by
saganco
Yesterday at 1:15 pm
»
Areogardening
by
trolleydriver
Yesterday at 12:58 pm
»
Garden Clean-Up/Preparation
by
CapeCoddess
Yesterday at 12:18 pm
»
Sweet Potatoes
by
countrynaturals
Yesterday at 11:29 am
»
Sauerkraut & fermenting veggies
by
sanderson
12/11/2017, 9:41 pm
»
2017 SFG in Brooks, Ga
by
Turan
12/11/2017, 6:39 pm
»
What are you eating from your garden today?
by
sanderson
12/11/2017, 2:40 pm
»
Winter Sowing vs. Winter Growing
by
countrynaturals
12/11/2017, 11:44 am
»
New England December 2017
by
Scorpio Rising
12/10/2017, 10:45 pm
»
Mushroom in my lettuce!
by
Scorpio Rising
12/10/2017, 10:40 pm
»
5-BOOK BUNDLE GIVEAWAY - ENDS 12/1/17
by
No_Such_Reality
12/10/2017, 4:15 pm
»
N&C MW; Deep Winter December/January 2017-2018
by
Scorpio Rising
12/10/2017, 1:36 pm
»
December: What to plant in Northern California and Central Valley areas
by
countrynaturals
12/10/2017, 1:24 pm
»
Spring Fever Anyone?
by
brianj555
12/10/2017, 12:50 pm
»
WARNING! Please Read! (Especially Grandparents)
by
Scorpio Rising
12/9/2017, 8:53 pm
»
Mid-South: December 2017
by
brianj555
12/9/2017, 7:29 pm
»
The start of the New Garden
by
brianj555
12/9/2017, 1:35 pm
»
Holy snow Batman!
by
countrynaturals
12/8/2017, 6:26 pm
»
First Year Square Foot Gardening in Zone 9 South Mississippi
by
CapeCoddess
12/8/2017, 3:09 pm
»
A compost calculator
by
kygardener
12/8/2017, 1:34 pm
Hey there, Upper Southerners! How is your SFG garden doing as of this first week in August?

I still haven't got a ripe tomato other than our Sweet 100 cherry tomatoes, but everything else seems to be coming along pretty good. Tonight we had grilled zucchini and a big salad...with our carrots, our cucumbers, our French filet beans, our cherry tomatoes and our onions. I had just a little garden lettuce left, so I had to fill in with store bought Romaine. For a side dish we had grilled steak -- ha! It seems our meals lately are planned around the produce. Gotta love summer!

Our ever-bearing strawberries are coming on again, but not a lot at a time, but enough to top cereal, yogurt or ice cream.

I think we're winning the battle against the squash vine borers...but I hesitate to rejoice until I harvest the winter squash next month. We've cut a few out of the stems and have injected with BT. I am keeping my fingers crossed!

Bells peppers are going crazy, I don't know why I thought there wouldn't be as many this year. And I've got way too many jalapenos!

Not doing so good is the eggplant and the beans. Not one bloom on the eggplant. :-( The filet beans that came up are excellent, but I had to plant the seed about four different times to get enough for a meal. I think the seed rotted in the soil. Next year I'll try a different kind. I did plant some Dragon's Tongue in mid-July and they all came up.

I have to sign off for the moment, but I'll get some pictures to post and finish my garden update later. Gotta show you a picture of these Opalka tomatoes, they are unique! To be continued...

...Meanwhile let us know how your SFG are doing!

Pattipan
Last edited by pattipan on 8/4/2010, 12:01 pm; edited 2 times in total



Posts

: 808


Join date

: 2010-03-04


Location

: WV -- Zone 6a



Oh sounds great! Though I am sorry about the eggplant. I think I will try some olpaka tomatoes next year


Forum Moderator Certified SFG Teacher




Posts

: 14165


Join date

: 2010-03-06


Age

: 55


Location

: Keene, NH, USA ~ Zone 5a



Hey Pattipan! Your garden sounds like it is doing wonderfully. I'd like to see those Opalka's!
I don't have any ripe tomatoes either, though I do have green ones. I started them in-ground (except for a purple cherry that was given to me.) They took their own sweet time (hopefully not a pun!) on growing, but are about chest-high now and growing well.
My peppers are growing and blooming, no fruit yet, though I did get a few a while back from a plant I bought that already had some on them. I still have high hopes for them, along with the tomatillos.
The basil has been trying to bolt for weeks now. I really need to make some pesto and compound butter! (The cilantro has long since bolted, as has the dill and the borage.)
My cucumbers have apparently fallen victim to cucumber wilt AND (it seems) a touch of mildew. One of the two plants is worse off than the other. Both are vining (and one of the vines is at least 10 feet long, I'm guessing) and held up off the ground. I've been trying to spray with milk, on someone's advice. I've gotten a number of great cukes from them and there are still more on the vine, just got another today, but I'm fearing the end is near for them.
The watermelon is pretty much a bust. I am going to try to fertilize it again, but I think it got shaded out even though it did climb up my trellis with only a little help.
I picked my first two ears of corn much too early, apparently. The silks were brown and dry, but the cobs felt small, and sure enough the kernels were very small. One of them, the cob had a sprinkling of what looked like regular kernels, and those were very sweet when I nibbled on them raw. The other one had very immature kernels that looked like sharks teeth pattern... and oh wow was it bitter. I am going to wait a while before I try any more. I think there are a few more ears inside that jungle. Biggest stalk is 9-10 feet high.
Speaking of jungle... I've got one. Between the pole beans, pole limas, the corn, and the rampicante (with a little help from the cukes, watermelon, and amaranth) I've got quite a tangle in the front bed. The pole beans are quite prolific, I'm on 3rd harvest and it just keeps on sending out new shoots, blooms, and babies. They are starting to get away from me... I tried to cook up a batch as string beans last night (cooking for a good long time just in case) and oh WOW, yes, they do indeed have strings! Lots of them. I have a big bowl of them in the fridge still, I think I am going to shell them all and whip up a nice batch of baked beans. Unless someone has a better idea? The seed turns black when they are ripe, and the pod turns a really pretty dark red/purple. Certainly helps with finding them... they have annexed whatever they can.
The pole limas seem to be a little distressed, the leaves have gone a lighter color. I've seen a few pods in there but it's hard to access due to the rampicante...will have to do some vine-burrowing soon to see what's going on, but from the seed packet the limas take a while to set, so I'm not worrying about them for now.
There is also a yellow crookneck squash in there that is finally starting to perk up only as it, too, is beginning to show signs of mildew. I'm tempted to rip it out as it hasn't produced anything yet. The two pumpkins that I planted over the 4th of July are showing vigorous growth but are still small. The rampicante is attempting to eat the world, or barring that, at least the sidewalk and our foundation! It is still sending off new side branches. We have been eating them for a while now; they are really a remarkable squash. Even when they get huge, they remain tender, and the stems don't have any seeds. I am trying to force one to go to winter squash phase (maybe too early in the year for that??) as I've read they can be a lovely pasta filling.
The potato plants are flopped over and looking sad. Haven't tried to dig yet to see what is going on under there. The carrots have GORGEOUS, really lush greens. I've dug two so far and they were great, am just leaving the rest in for a bit in hopes of getting them bigger.
The 'wild' strawberries I started from seed this spring are really big and healthy looking, though no blooms. I seeded them in a strawberry jar and am beginning to worry about how well they will overwinter in that.
My Swiss chard apparently thinks it is the Energizer bunny. It took an awfully long time to get started, but now it keeps going and going and going! I love that stuff. Lettuce and the brassicas are long gone, though I'm hoping to replant more for fall crops.
Please cross your fingers for my pumpkins... I really hope I get a few, if only to share with the neighbors' children!




Posts

: 3350


Join date

: 2010-04-27


Age

: 50


Location

: Manassas, VA - Zone 7a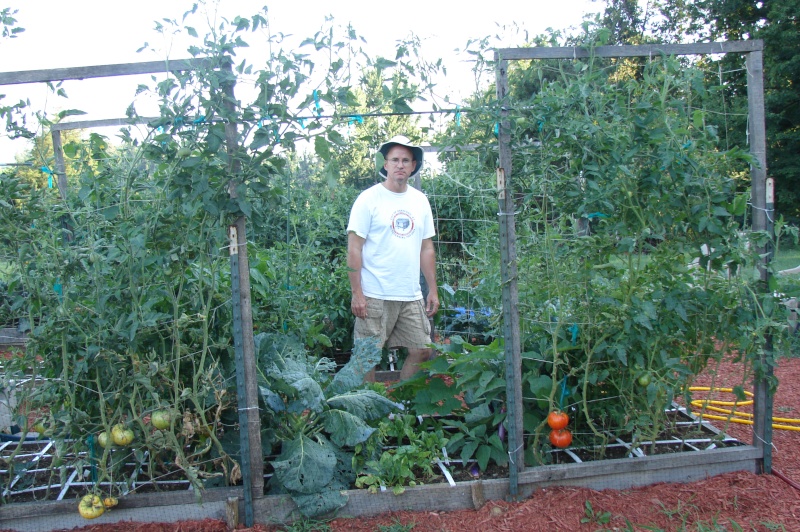 I have had some hits and misses...
My tomatoes have overgrown the trellis frames, and have made it to the boxes next door. Lots of leaves and not much in the way of fruit.
I enjoyed a few ears of corn and the racoons got the rest.
I have started planning a fall garden. I thought about it last year, but really only had the spring garden. I have lots of empty squares, and am thinking about some beans, chard, lettuce and spinich. I am considering some broccoli and cabbage - this time under a net. I had lots of problems with cabbage worms.



Posts

: 440


Join date

: 2010-05-25


Location

: Beaver Dam, Kentucky, zone 6a



---
Permissions in this forum:
You
cannot
reply to topics in this forum