Latest topics
»
What's Up? Yukon gold potatoes!
by
No_Such_Reality
Today at 12:24 am
»
How's the Weather Where You're At?
by
No_Such_Reality
Yesterday at 10:41 pm
»
New Composter - Need Help Filling Correctly
by
saganco
Yesterday at 10:14 pm
»
Tomato Questions
by
sanderson
Yesterday at 10:08 pm
»
The Research Journey:cardboard covering of newly planted seeds
by
saganco
Yesterday at 9:43 pm
»
Sauerkraut & fermenting veggies
by
sanderson
Yesterday at 9:41 pm
»
1st Seed Catalog Arrived :)
by
Scorpio Rising
Yesterday at 6:40 pm
»
2017 SFG in Brooks, Ga
by
Turan
Yesterday at 6:39 pm
»
December Avatar: 'Tis The Season!
by
Scorpio Rising
Yesterday at 6:36 pm
»
Butterfly Junction
by
sanderson
Yesterday at 2:42 pm
»
What are you eating from your garden today?
by
sanderson
Yesterday at 2:40 pm
»
Winter Sowing vs. Winter Growing
by
countrynaturals
Yesterday at 11:44 am
»
New England December 2017
by
Scorpio Rising
12/10/2017, 10:45 pm
»
Mushroom in my lettuce!
by
Scorpio Rising
12/10/2017, 10:40 pm
»
Garden Clean-Up/Preparation
by
Scorpio Rising
12/10/2017, 10:33 pm
»
5-BOOK BUNDLE GIVEAWAY - ENDS 12/1/17
by
No_Such_Reality
12/10/2017, 4:15 pm
»
N&C MW; Deep Winter December/January 2017-2018
by
Scorpio Rising
12/10/2017, 1:36 pm
»
December: What to plant in Northern California and Central Valley areas
by
countrynaturals
12/10/2017, 1:24 pm
»
Spring Fever Anyone?
by
brianj555
12/10/2017, 12:50 pm
»
WARNING! Please Read! (Especially Grandparents)
by
Scorpio Rising
12/9/2017, 8:53 pm
»
Mid-South: December 2017
by
brianj555
12/9/2017, 7:29 pm
»
The start of the New Garden
by
brianj555
12/9/2017, 1:35 pm
»
Holy snow Batman!
by
countrynaturals
12/8/2017, 6:26 pm
»
First Year Square Foot Gardening in Zone 9 South Mississippi
by
CapeCoddess
12/8/2017, 3:09 pm
»
A compost calculator
by
kygardener
12/8/2017, 1:34 pm
»
Today's Harvest
by
brianj555
12/8/2017, 8:46 am
»
California's Drought
by
countrynaturals
12/7/2017, 1:45 pm
»
Freeze warning
by
sanderson
12/7/2017, 1:04 pm
»
CANADIAN REGION: What are you doing in December 2017
by
countrynaturals
12/7/2017, 12:14 pm
»
Wind Damaged Broccoli
by
Roseinarosecity
12/6/2017, 3:43 pm
Claire is taking time away from the forum for a while, so I'm starting this thread. How's your garden doing; what are you harvesting; are you planting fall crops?

This is the busiest regional forum. I know she didn't do ALL the talking!



Posts

: 7392


Join date

: 2010-02-26


Age

: 64


Location

: yelm, wa, usa



Well...
I broke down and fertilized about a month ago because everything was stagnant. (Miracle Gro tomato plant food)
And within a week, everything ERUPTED. (in a good way)
I fertilized twice, seven days apart.

Cucumbers are going ballistic...
I have 6 plants in one square. 5 are strong, 1 is wimpy. Already pulled off 5 cucumbers. Another two coming off in another day or so. And there's about 15 babies growing like weeds. They're to the top of the trellis now. I planted 4 additional plants in an empty square to see if I could get more by the end of the year. I'm glad my neighbor likes cucumbers!

New bush bean plants (27 total, 9 per square) are flowering as of yesterday and producing pods. The original 4 plants have produced 3-4 rounds of pods.

Pole beans (10 plants) really kicked-in after the doses of fertilizer. They're climbing insanely fast. Some are halfway up the trellis. I'm hoping they follow the bush beans with a harvest.

Okra (2 plants) is flowering and we have two pods right now. One is almost ready. I wish I had 30 plants. Love okra. Kind of did it as experiment....wasn't sure if we get enough heat. Guess we do!

Peppers, both sweet and hot (9 plants total), are FINALLY producing more peppers. Only have 1 pepper harvested so far this year. I have about 5-6 babies growing now, which is good as we've been dying for peppers.

Patio tomato (in the upside down hangar) is doing awesome. Harvested probably 5-8 tomatoes. There's about 15 more coming. Salsa here we come.

Cherry tomato plant (in pot in Miracle Gro soil) is "winner, winner, chicken dinner" for the year. It's working on 5 feet tall and has produced cherry tomatoes in the 100s by now. I've pulled off probably 10 tomatoes every day for a while now. Usually 5 or so in the morning and another 5 or so after work. And it's not stopping anytime soon. There's probably 100-ish tomatoes on the plant, and another 100 or so blooms. Yikes.

Only have basil and parsley left for herbs. Basil is probably 24" tall. I can't give it away fast enough.

And finally...broccoli...the disappointment of the year. The plant exploded after the dose of fertilizer and has grown quite large. No broccoli.
I hope it sticks around and I can actually GET some broccoli this fall? Maybe?

Lesson learned...should have fertilized earlier in the year.
The lettuce type crops and swiss chard did well early. I was happy. Then yanked them out to make room for other things. I won't do carrots next year. They were a bust. And they take too long.
I want to do another round of lettuce for the fall, but I don't know when to plant it. ideas? now?
I just have all these plants ready to produce good stuff!!



Posts

: 37


Join date

: 2010-04-24


Age

: 41


Location

: Aurora, IL



Thanks for starting this thread Boffer!
This is my second year doing SFGing and I'm really looking forward to next year (even though this season isn't over yet!)!!
My snap peas did really well. I just pulled the last of those out and threw the dead stuff into the compost pile.
Bush beans have been doing great...probably need to go pick the rest now
Carrots have been doing well.
My cucumbers are going crazy!!! I think I have 6 or 8 plants and they have totally taken over one of my 4x4 boxes! I also have two zuchinni plants in the same box and that is huge as well. I plan on trying to make pickles, as I have/will have lots of pickle sized cucs.
I have 15 tomato plants and I think all but two have flowers and/or tomatoes growing! My juliet tomato plant and green zebra plant are both probably 7 feet tall and still growing! THey aren't "full", as I've been pruning, pinching off all the suckers, but they sure have tons of tomatoes on them!
Celery is huge and probably ready to be picked soon.
I only got one eggplant, but there's another one starting to grow.
My broccoli plants are huge, but no broccoli!

I have a bunch of pepper plants and they aren't doing so well.
Here are a few pics...I'll put more in my personal gallery.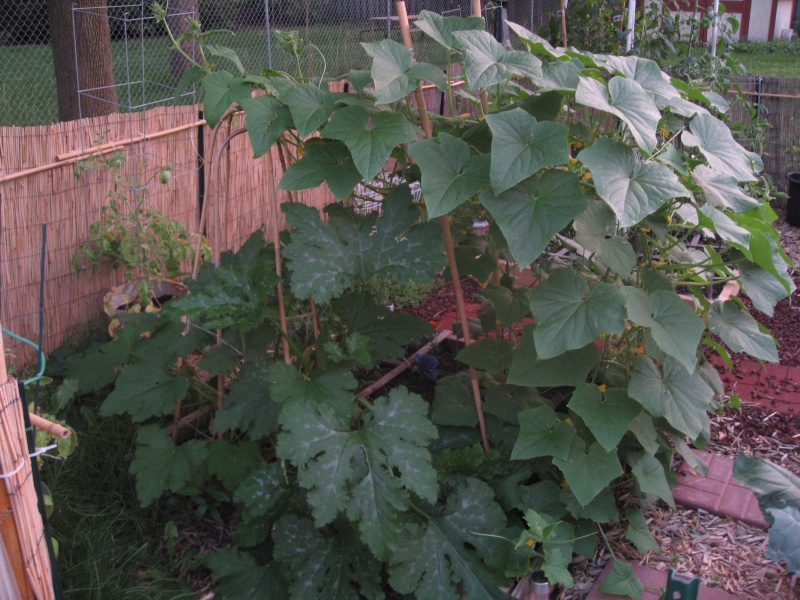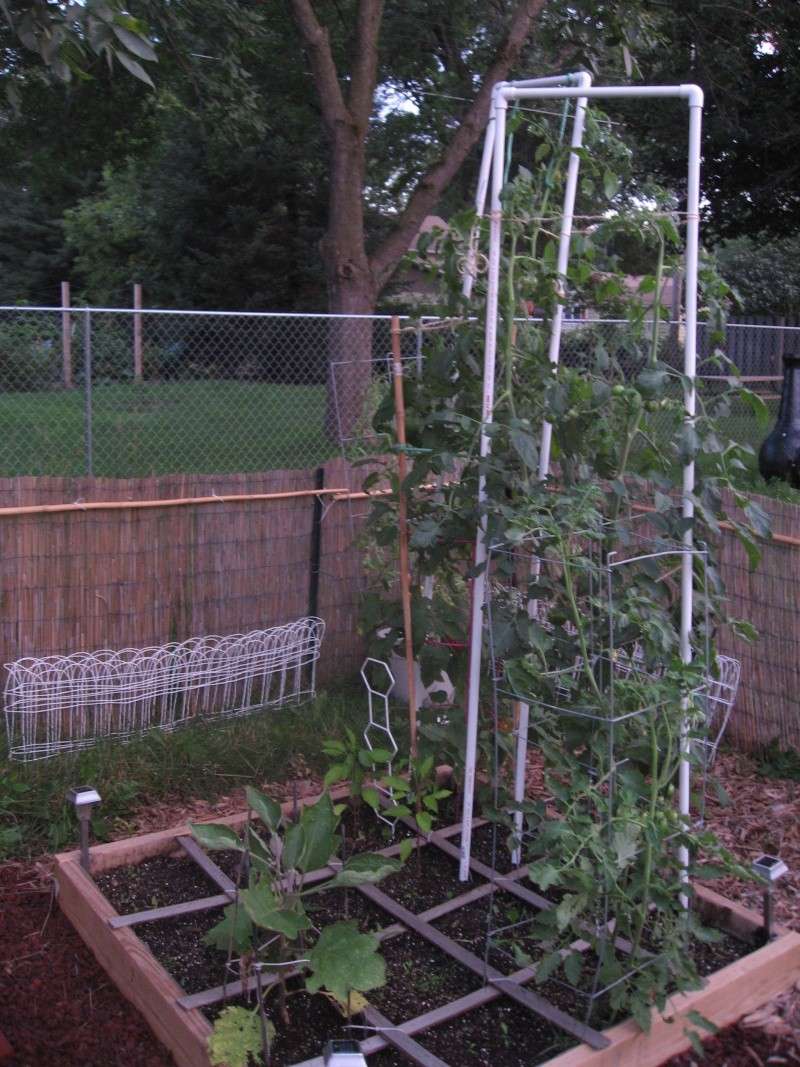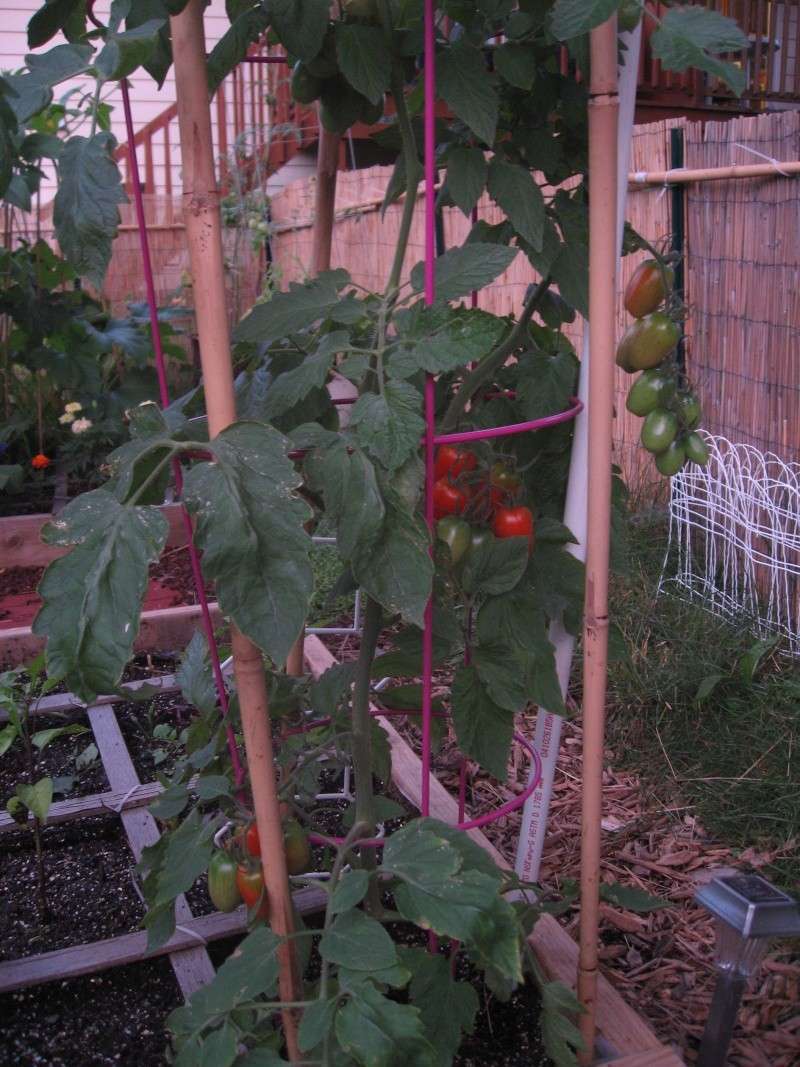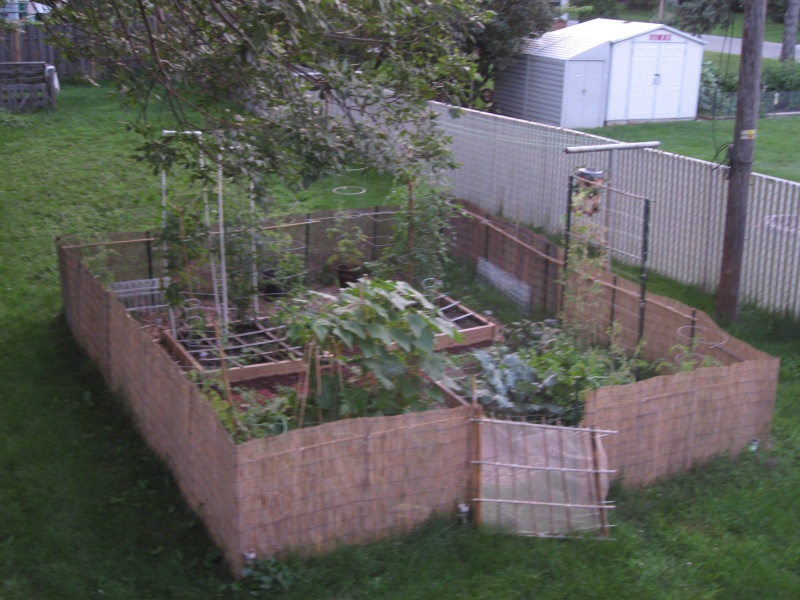 Posts

: 107


Join date

: 2010-04-05


Age

: 38


Location

: Hastings, MN (zone 4a)



Not much going on at my garden. My tomatoes have tons of fruit, but none are getting ripe! Well, not none - only 1 or 2 a day. The watermelons are stagnant. The eggplant still has no fruit. I just planted pumpkins 2 weeks ago and they are coming along so far. My big success is my butterfly bed. We have pulled over 70 monarch eggs in the past few days. I gave some away and now have about 50 in various stages at home. We are collecting more every day!

I've pulled all the onions and carrots and put bush beans in their place. They are blooming and should give me beans soon!
Still loving my garden, but it's been too hot to spend much time down there lately. 99* today with 75% humidity and severe pop up storms. Ugh!



Posts

: 595


Join date

: 2010-03-16


Location

: Cincinnati, Ohio (6a)



Some successes: peppers are producing like crazy! I picked 4 bell peppers, 4 banana peppers and probably 12-15 each jalapenos and Hungarian hot wax peppers on Thursday and more are coming on. Have had a few wax beans. Harvested the onions today and put them out to dry. Basil, rosemary and parsley doing very well; who knew basil was a bush?! Grape tomato beginning to produce; lots of fruits but just not ripe yet although I have picked a few. Beefsteak tomato not as impressive but one is beginning to ripen.

Some failures: Kale, not sure why; okra, lovely flowers but not many pods; green beans keep getting chomped on.



Posts

: 577


Join date

: 2010-03-27


Age

: 55


Location

: Central OH



I'm just starting my SFG, but my other garden has a ton of yellow cherry tomatoes. I think we got a whole bucket full today. The crook-necks are at a stand still, and the zucchini's done for. The dang rabbits are eating all my strawberries before I can get to them!

I think this week I will plant my 2nd season in my 4x8 SFG.



Posts

: 283


Join date

: 2010-08-07


Age

: 37


Location

: Central Illinois (near Peoria) 5a



Shocks - you have a wonderful looking garden! Love those tomatoes. I'm new here and going to plan some SFGs for 2011. I noticed your garden wall - it looks like bamboo of some sort. Can you tell me where you bought it and was it expensive? Thanks!



Posts

: 1


Join date

: 2010-08-13


Location

: Ohio



Our first year with SFG has been largely a success!

Lettuce: can actually have flavor - what a novelty.
Beans and sugar snap peas: grew almost effortlessly.
Potatoes: like digging for buried treasure.
Watermelon & Cantaloupe: seemed to get off to a late start, but are getting bigger by the day.

Onions: got a few.
Carrotts: probably planted too late; the 90 degree weather might have been a bit too much. However, our second try is fairing better.

Tomatoes, Cucumbers, Summer & Winter Squash: we seem to have found the limits of sun and heat these little guys can take. After re-locating, a few oddly-shaped cukes have developed, one tiny roma tomato. The summer squash just sits there. Doesn't seem to grow and haven't seen any blooms in a while. The winter squash may rebound? Still growing and lots of blossoms.



Posts

: 59


Join date

: 2010-08-23


Location

: North Central Ohio



---
Permissions in this forum:
You
cannot
reply to topics in this forum