Latest topics
»
What are you eating from your garden today?
by
trolleydriver
Today at 5:40 pm
»
Garlic Growing Lovers
by
Turan
Today at 5:14 pm
»
Lower south Oct 2017
by
brianj555
Today at 5:02 pm
»
Sowing Experiment! Anyone Tried This?
by
brianj555
Today at 4:50 pm
»
Thumbs Up????
by
brianj555
Today at 4:47 pm
»
BOOK GIVEAWAY - ENDS 10/20/17
by
CapeCoddess
Today at 3:48 pm
»
Turan in the Western Mountains
by
countrynaturals
Today at 3:37 pm
»
Third Year SFG in Canada
by
countrynaturals
Today at 3:34 pm
»
How's the Weather Where You're At?
by
countrynaturals
Today at 3:31 pm
»
Gardening & Homesteading Skills Summit REGISTER NOW!
by
countrynaturals
Today at 3:28 pm
»
Carrot Week 2017!
by
Turan
Today at 12:01 pm
»
Hello from West Coast Of Scotland
by
walshevak
Today at 11:44 am
»
Hello from Gilbert, AZ
by
No_Such_Reality
Today at 9:57 am
»
A great offer for a local SFG,er
by
AtlantaMarie
Today at 9:16 am
»
Gardening in Central Pennsylvania, 3rd year SFG
by
sanderson
Today at 12:17 am
»
Today's Harvest
by
brianj555
Yesterday at 8:21 pm
»
new greenhouse got drafted
by
Scorpio Rising
Yesterday at 8:08 pm
»
Monarch Supporter
by
Scorpio Rising
Yesterday at 7:55 pm
»
Northern California & Coastal Valleys - What are you doing this month?
by
countrynaturals
Yesterday at 1:50 pm
»
New England October 2017
by
countrynaturals
Yesterday at 1:09 pm
»
October Avatar: Don't Fence Me In
by
trolleydriver
Yesterday at 11:45 am
»
Does MM improve with age?
by
countrynaturals
10/15/2017, 3:51 pm
»
TrolleyDriver's Compost Thermometer
by
trolleydriver
10/15/2017, 3:28 pm
»
Butterfly Junction
by
countrynaturals
10/15/2017, 11:34 am
»
Leaf-Footed squash bugs
by
sanderson
10/14/2017, 11:21 pm
»
N & C Midwest: October 2017!
by
Scorpio Rising
10/14/2017, 9:12 pm
»
Tomato Questions
by
Scorpio Rising
10/14/2017, 9:06 pm
»
large plant ID stakes
by
has55
10/14/2017, 4:02 pm
»
2017 SFG in Brooks, Ga
by
sanderson
10/14/2017, 3:12 am
»
First time growing corn
by
sanderson
10/14/2017, 3:07 am
Hello SFG friends! Here's an update of the happenings in Edmonds, WA this summer!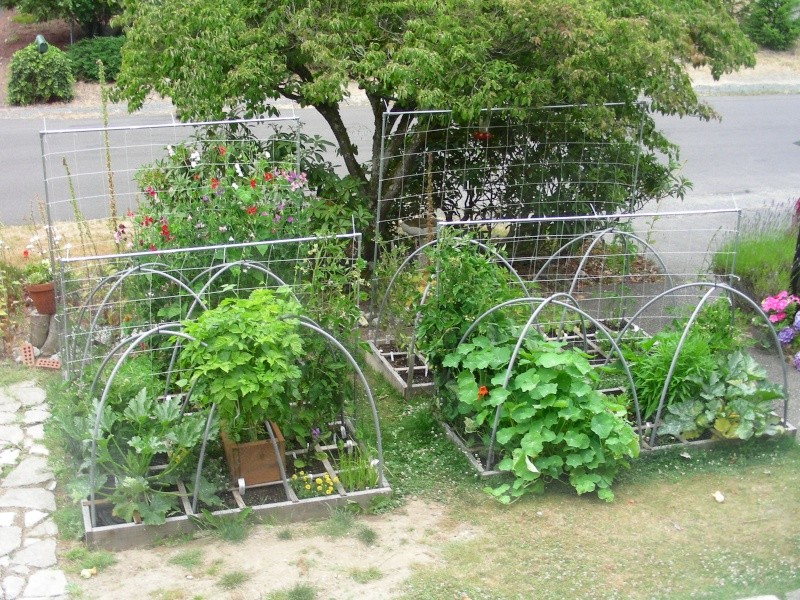 Above is a view of our 4 SFG veggie beds from my living room picture window. Yes, my SFG is in the FRONT yard (see the street in the background?) I really enjoy it, walk by it on my way to and from the car, and get lots of comments and compliments from the dog-walkers as I check the garden in the evenings. Notice the potato in the front left bed in the potato tower box. Note to self: NO potatoes in with the other veggies! This guy is 5 feet tall and I have him tied up in a ponytail to give the other plants a chance at some sun!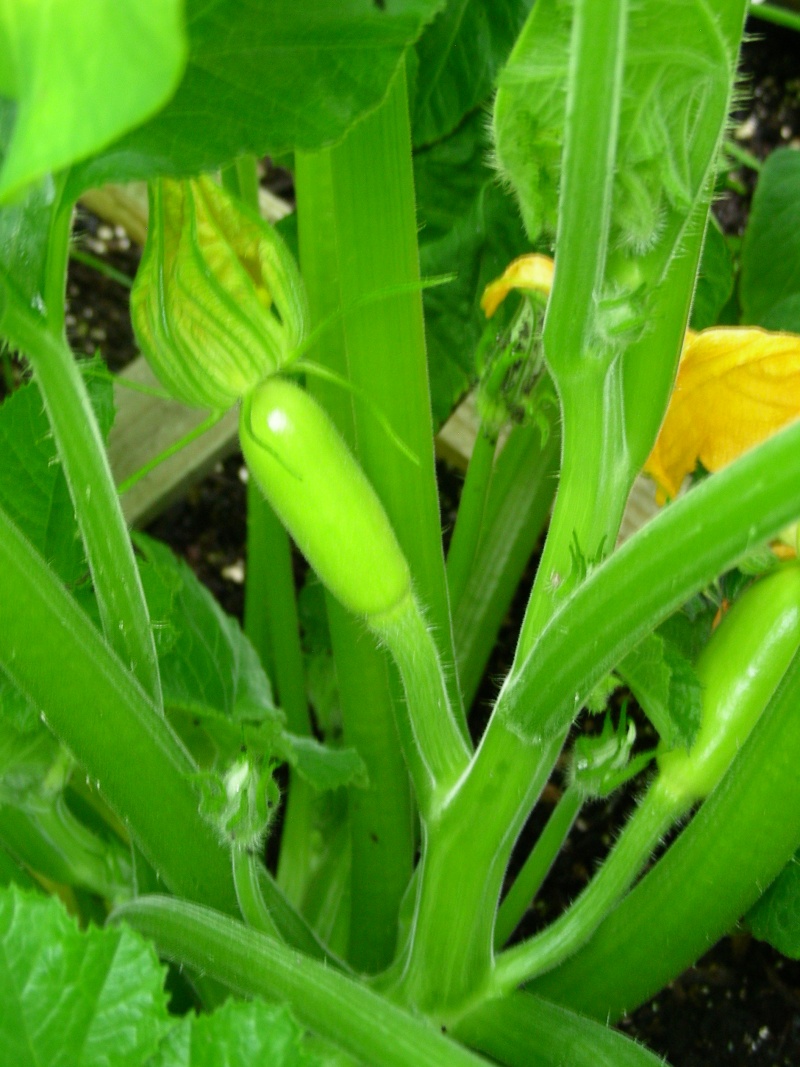 This is a baby Delicata squash hidden under the ENORMOUS leaves. FYI, Delicata is more bush shaped so you don't need to worry about long vines!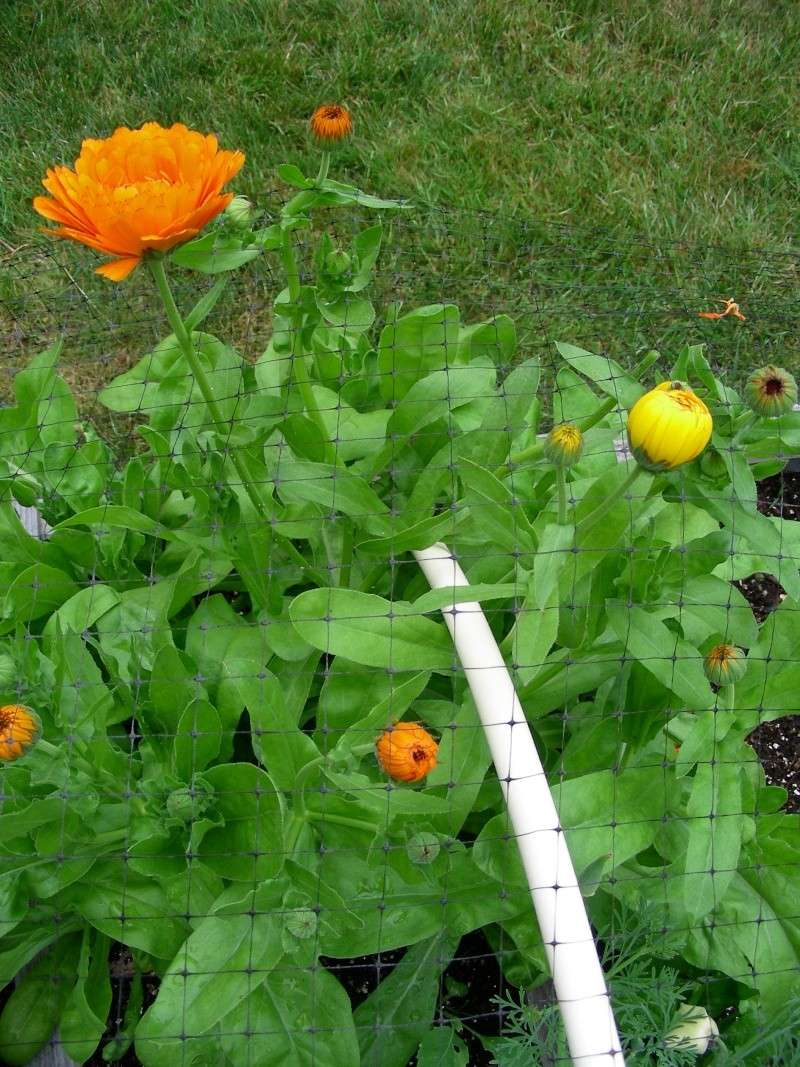 Here are calendulas growing right through the protective netting. These are in my 5th SFG box, which is all low-growing strawberries and filet bush beans, so the netting is just over some PVC hoops to keep the squirrels and coons out.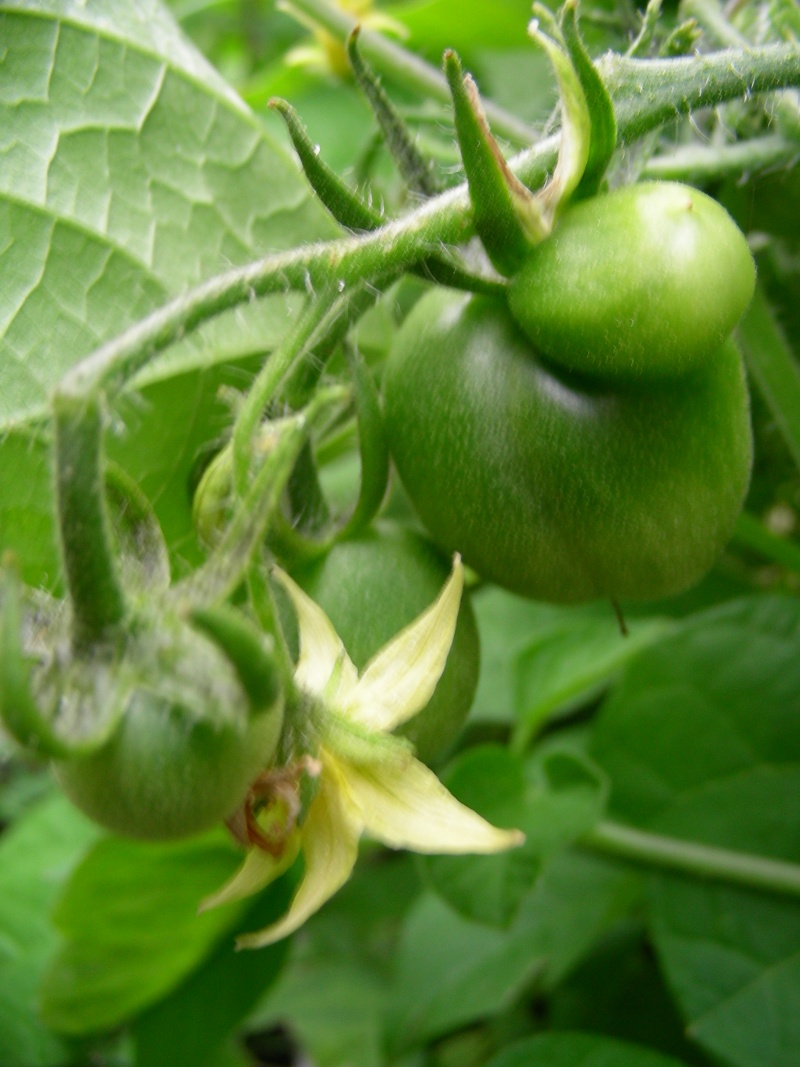 Many, MANY green tomatoes are forming on my 2 Stupice tomato plants, and some as well on my 2 San Marzano Romas and cherry tomatoes. The Brandywines and Better Boy are full of blossoms, but they all seem to drop instead of set fruit... Hmmmm.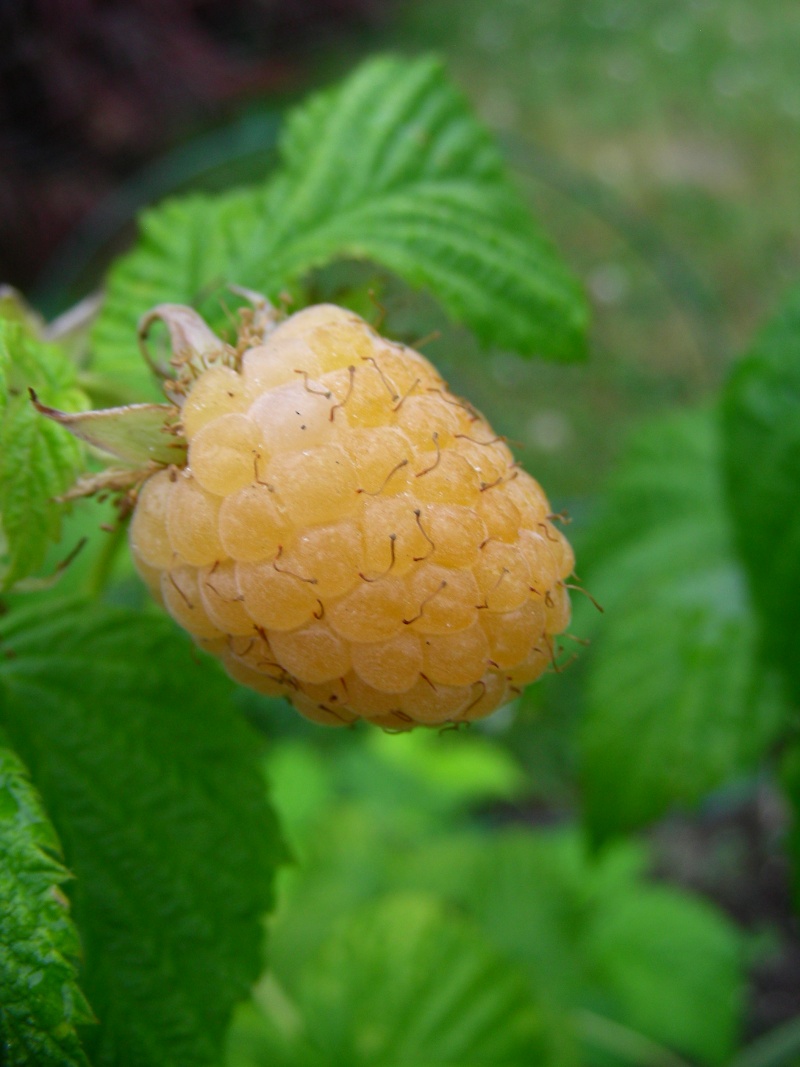 Our first Anne raspberry fruit! We planted bareroot plants from Raintree Nursery this spring and they are doing well. We shared the one berry and it was fabulous!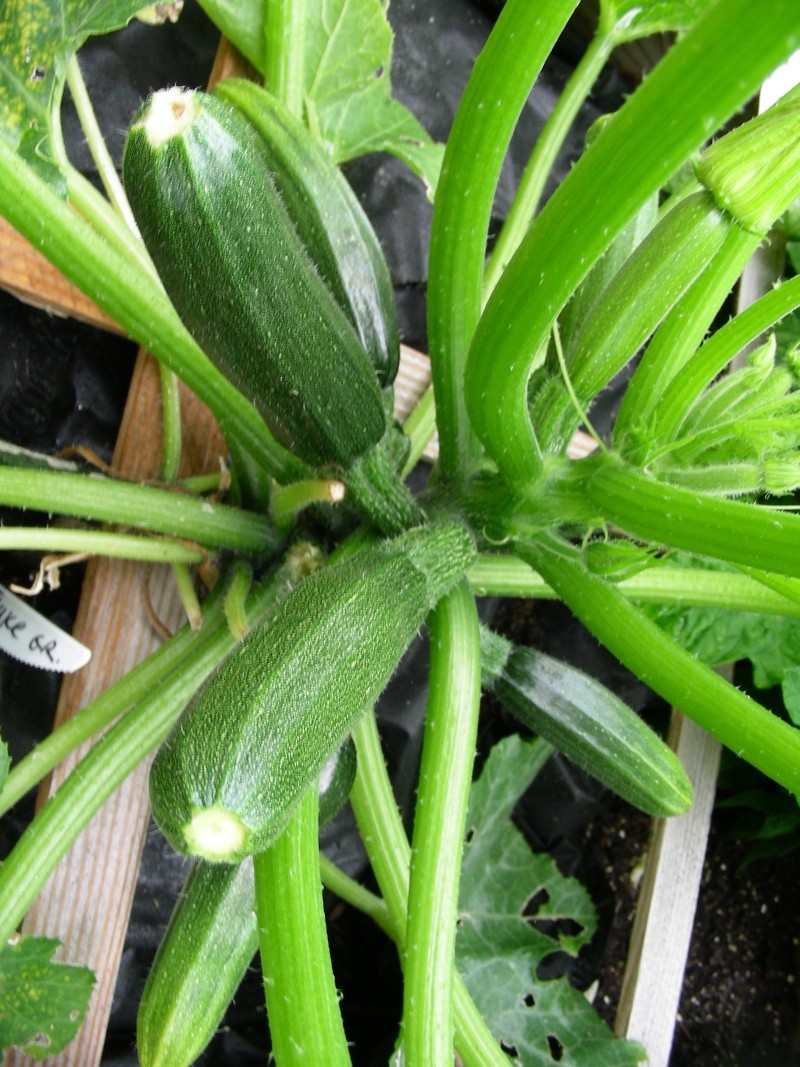 This is my first year to have producing zucchinis! The green one is prolific, but has chronic blossom-end rot. A calcium deficiency I have read? Any tips?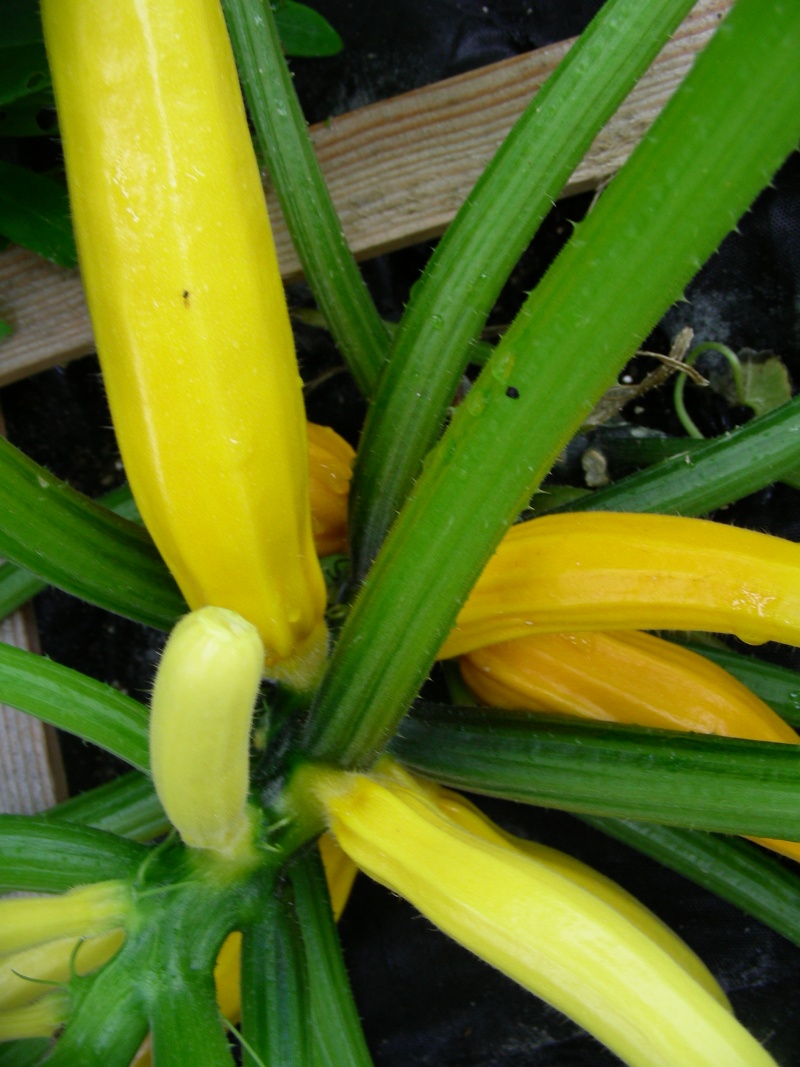 On the contrary, the yellow zukes are doing wonderfully, with no rot. But I filled this bed later, with a different combination of composts (which, of course, I did not record) so maybe they have happier soil.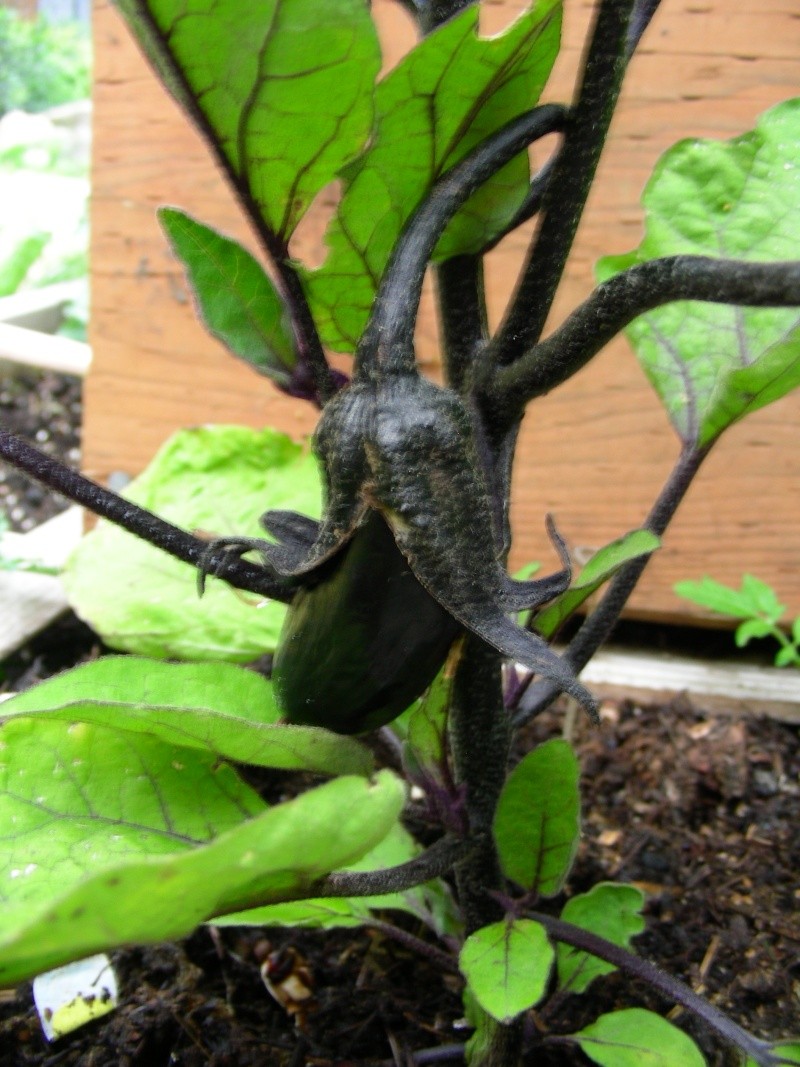 My first try at an eggplant. This "Millionaire" variety, a super-early, was purchased as the largest start possible in June from Sky Nursery. It has several babies on it. My other eggplant, a "Fairytale" seems to be just that: a fairytale. It looks the same as when I planted it!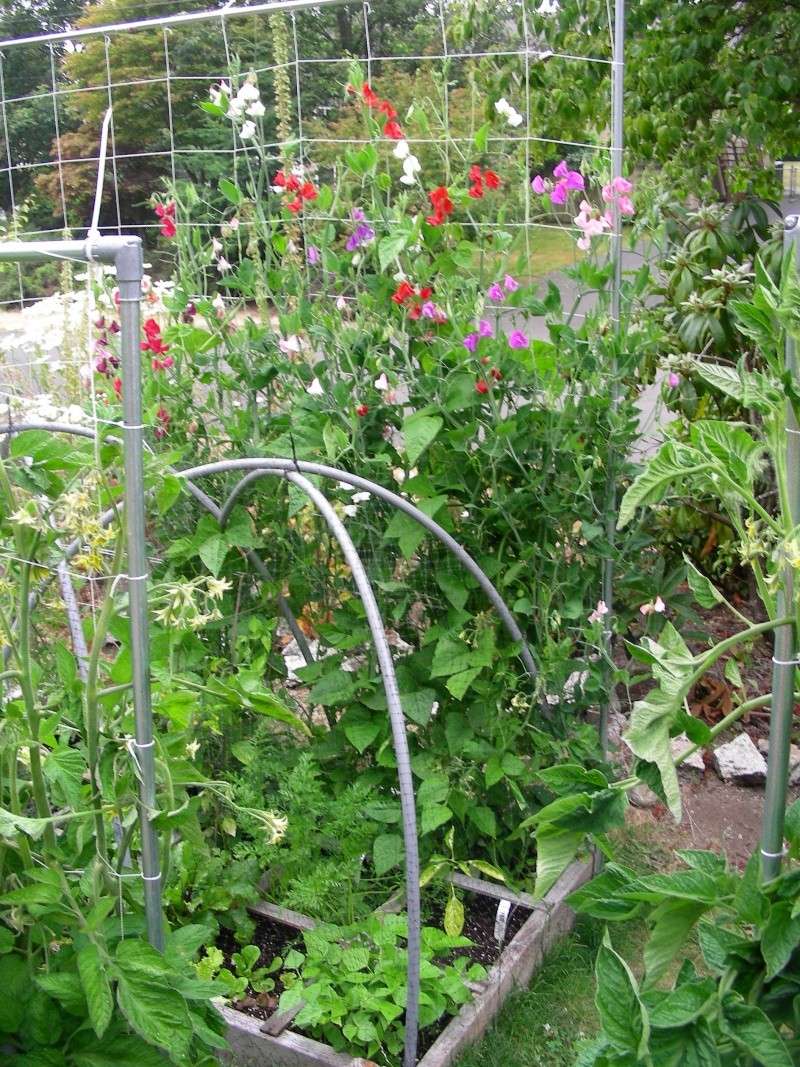 I will DEFINITELY be planting sweet peas again next year! They just keep blooming and blooming (I am sure to keep picking off all the dead blossoms) and they fill the whole front yard with their perfume! They have blessed many friends and strangers with impromptu bouquets!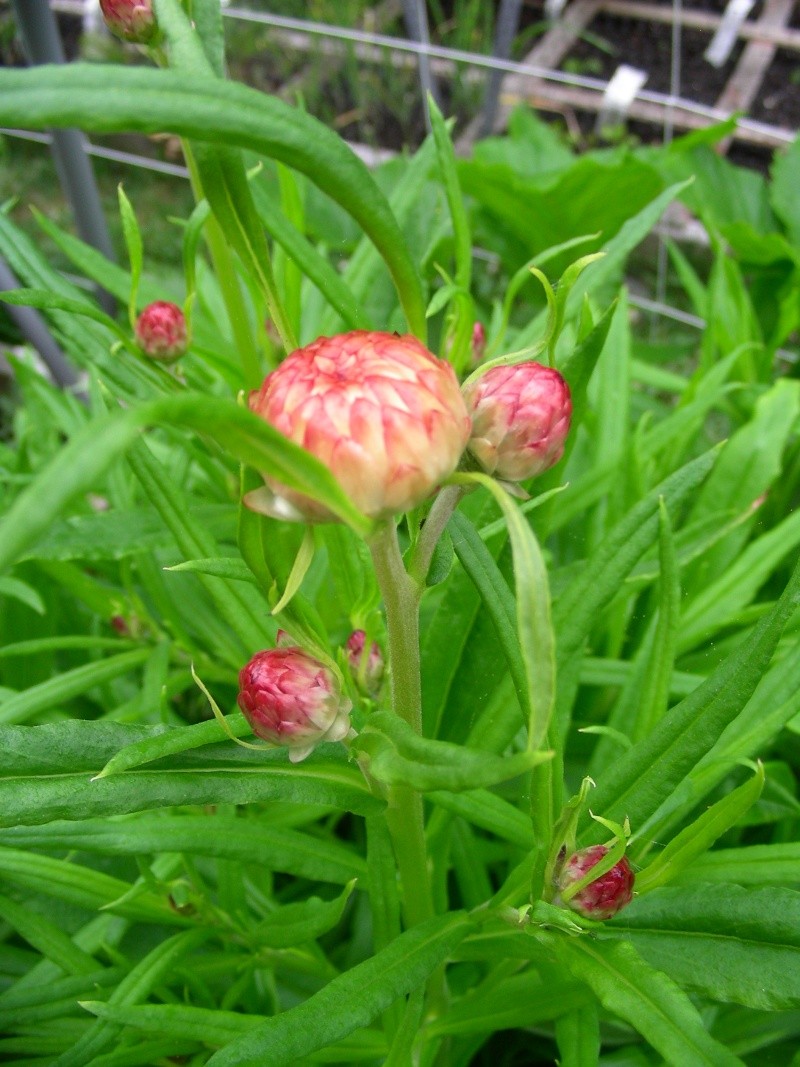 Lastly, these are strawflowers. My grandma used to grow them on her farm to use in dried flower arrangements. They are so cool, they look like they are made of straw or shiny plastic - unreal! You pick the heads and put them on floral wire stems and dry them upside down and they will hold their color for years! I have a pink and a purple plant this year. I think I'll "need" more next year!
WOW, momma WOW!
Impressive!! those strawflowers are really nice. Gonna look for them last year. And I know what you mean about sweet peas, certainly gonna grow more next year, mine were mowed down.
I planted delicata but they didnt germ




Posts

: 768


Join date

: 2010-03-11


Age

: 38


Location

: Flint Area, Michigan (zone 5a-5b)




Forum Moderator Certified SFG Teacher




Posts

: 14165


Join date

: 2010-03-06


Age

: 55


Location

: Keene, NH, USA ~ Zone 5a



I bought the Delicata squash as a large start at the local farmer's market to replace some cantaloupes that croaked.

If you buy strawflower seed, I suggest starting them indoors in peat pots and letting them get quite big before you plant out IF slugs are a problem in your area: slugs LOVE them and I've lost a lot to them.
What a lovely garden !! Your photos are fantastic !!



Posts

: 383


Join date

: 2010-04-08


Location

: Florida Panhandle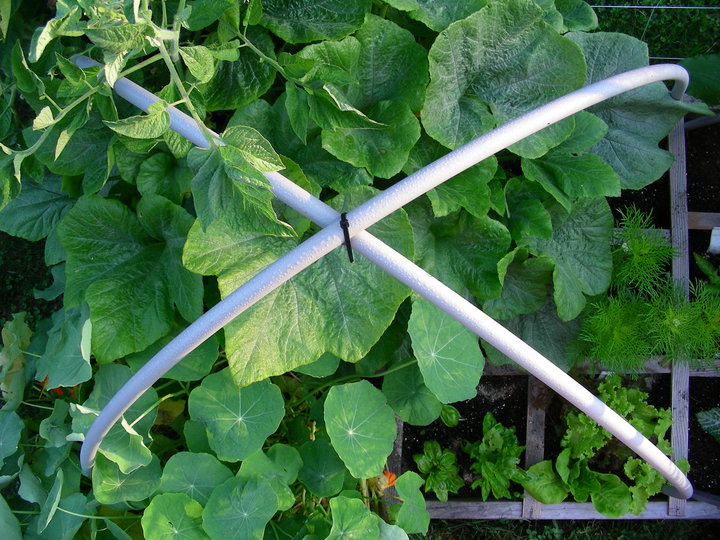 This is an overhead view of one of my 4 veggie beds. The grid is barely visible anymore! In the top left corner is a 5 foot Stupice tomato, next to a Delicata squash and an enormous nasturium. Smaller are a square of basil and some mixed lettuce starts.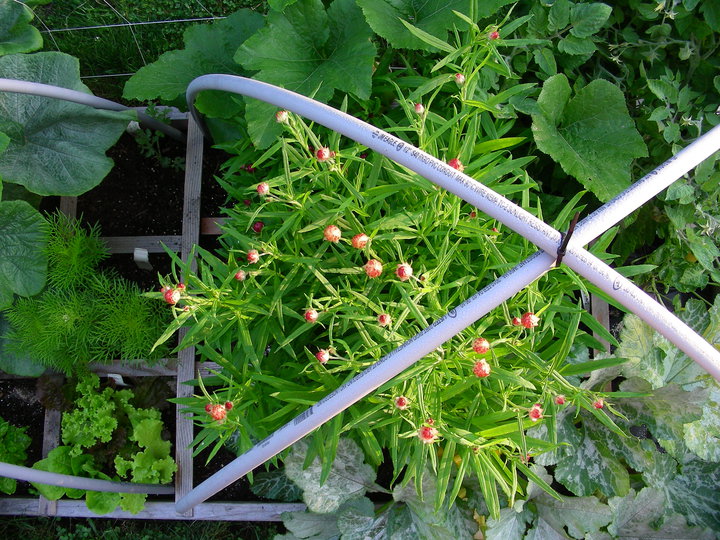 On the right side of the same 3' x 8' bed is a tiny watermelon that never grew, a sugar pie pumpkin, a San Marzano Roma tomato I grew from seed, a square of strawflowers, and a yellow summer squash.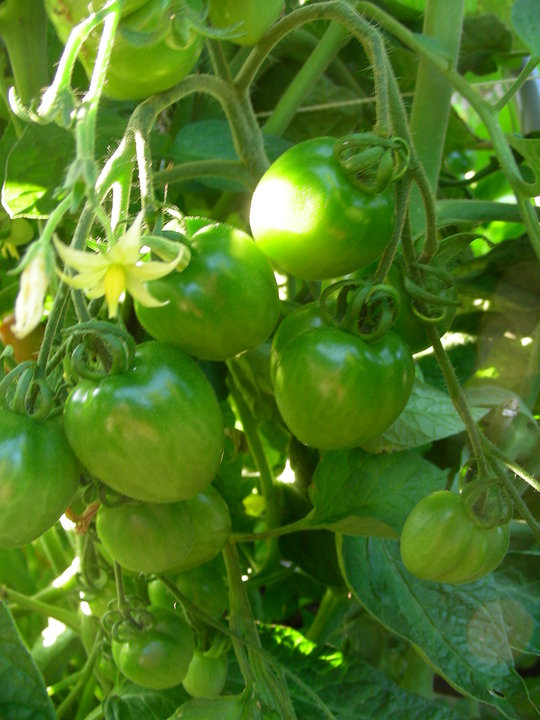 I have 2 Stupice tomatoes and they are LOADED with green tomatoes right now. Some at the bottom are starting to ripen! I have trained it up through the nylon trellis and it is now overshooting the top of the 5' trellis, with fruit all the way up. They are the most productive of the 8 types I planted.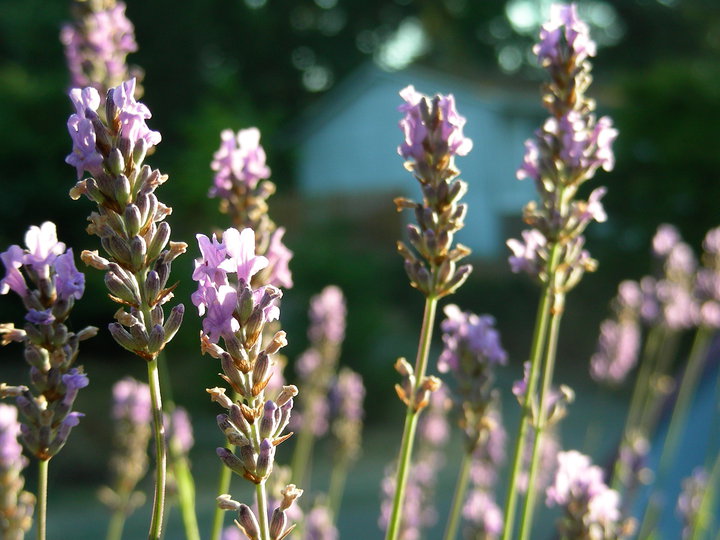 The lavender is blooming along my front walk and is luring my neighbor/pastor's honey bees!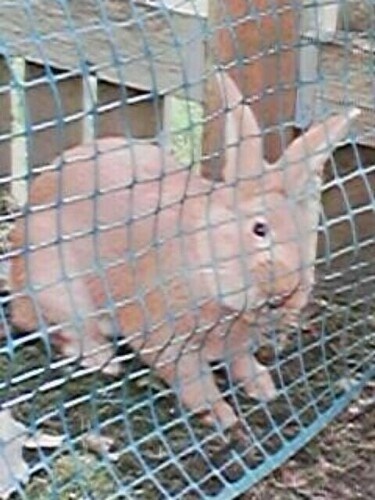 This photo taken on my cell phone is my New Zealand rabbit, Oscar. He is demonstrating how to handle my puny plastic fence to keep him out of my compost area and away from the garden gate to the veggies. Nom, nom, nom! One minute and a hole is made to get through!
Absolute beauty !!!!! You have done a beautiful job with those tomatoes!!! All of the garden is green and lush~ beautiful.
Ha-v-v



Posts

: 1123


Join date

: 2010-03-12


Age

: 57


Location

: Southwest Ms. Zone 8A (I like to think I get a little bit of Zone 9 too )



---
Permissions in this forum:
You
cannot
reply to topics in this forum