Does anyone know what's going on with my green peppers and eggplant?
First I noticed a beetle of some kind that had taken up residence inside one of the smaller green peppers. I could see him through his doorway and I swear he was hanging pictures and rearranging furniture in there. (My biggest battle is with insects, and I've had cutworms, caterpillars and other things eating parts of leaves and fruits. So I guess I wasn't
surprised). I promptly picked off the poor pepper and threw it in the compost. Then either the same day or next day, I found that the bigger one that had been next to it had completely collapsed - lost all of its structure, and was hanging there from the branch like goo. It was very sad.

I just sadly cleaned it off and ensured the other ones were okay.
This morning (now 3-4 days later), I went out to water ahead of the excessive heat that is coming today. I usually pick out yellow leaves off the soil whenever I water. I picked up what I thought was a yellow leaf under the eggplants. I saw that it was not a leaf, but a poor collapsed greenish, gooey eggplant!!!! It was all inside out and the seeds were showing. One of my precious eggplants had fallen and turned into structure-less green mush.

This must be more than just simple over-ripeness... it had totally disintegrated.
Can anyone diagnose this and what can I do?? I should mention that these all occurred within 1 square foot of each other, they were not spread throughout the garden.
Thanks sooo much! First time gardener here in 4a, Minneapolis.



Posts

: 12


Join date

: 2010-03-31


Location

: Minneapolis, MN, Zone 4a



Do you have any photos of the plant and any remaining fruit?

Forum Moderator Certified SFG Teacher




Posts

: 14165


Join date

: 2010-03-06


Age

: 55


Location

: Keene, NH, USA ~ Zone 5a



Here is a shot of the eggplant from this morning. I placed it in the path between the boxes.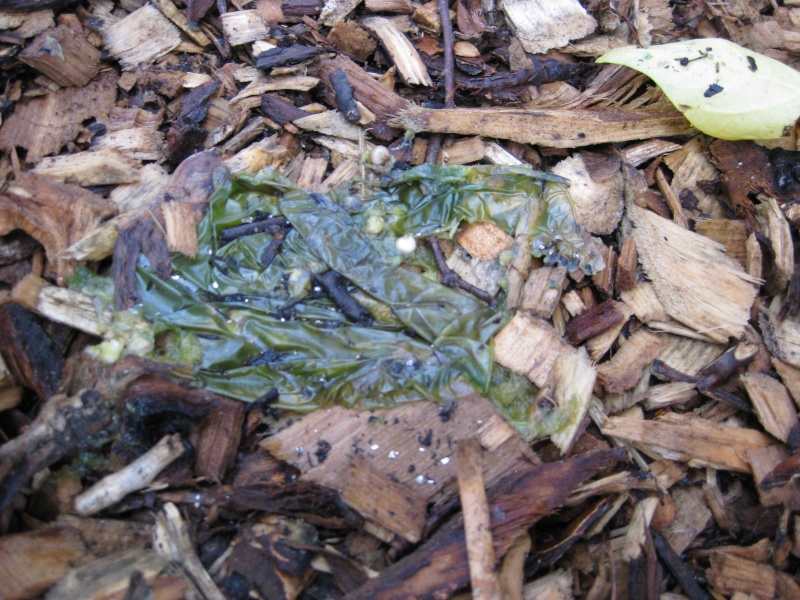 Here is one of where the green peppers had been.



Posts

: 12


Join date

: 2010-03-31


Location

: Minneapolis, MN, Zone 4a



Whoa-I'm sorry for your loss. I don't know what happened to your eggplant or pepper-hopefully someone else does.
all seriousness aside:

Whatever happened to your eggplant is cool! It looks like the mother ship sucked him up over night, leaving behind his earthly skin as a reminder to behave ourselves!



Posts

: 7392


Join date

: 2010-02-26


Age

: 64


Location

: yelm, wa, usa



ALL SERIOUSNESS ASIDE.
Yeah, I am really quite impressed with the rate of rot... hmm... I am sorry to say Late blight is what is coming to my mind. Can you post a photo a bit wider shot of the plants? I would like to see some foliage. Are you seeing any darkness in stems, like where the pepper fell from? I'm thinking and researching but would like a bit more info if you can. I know you are sad, hang in there! Late Blight has been found in
Portage Cty WI.
Pepper fruit with Late Blight
Eggplant fruit w/ Late Blight

Forum Moderator Certified SFG Teacher




Posts

: 14165


Join date

: 2010-03-06


Age

: 55


Location

: Keene, NH, USA ~ Zone 5a



---
Permissions in this forum:
You
cannot
reply to topics in this forum