I'd never done it before, canned or froze produce.
I froze my first tomatoes this week.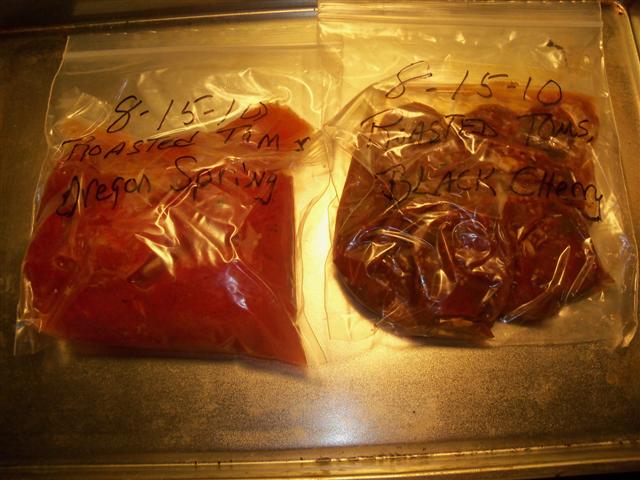 On the left is a freezer bag of Oregon Spring and on the right, Black Cherry tomatoes.
The recipe is as follows:
Roasted Tomatoes
Cut fresh tomatoes in half. Place in large bowl.
Add olive oil, chopped garlic, salt, pepper and dried thyme.
Toss gently.
Place skin-side down on baking sheet.
Bake at 275* for 2 hours.
After one hour, turn the tomatoes over.
After the 2 hours, allow to cool about 20 mins.
Place tomatoes into zippered freezer bag.
Remove air by sucking on a straw at a corner of the bag.
Write the date and description of contents on a 2nd freezer bag.
Place the 1st bag into the 2nd. Place in freezer for use later.
The best thing about this method is you can do small portions as they are harvested. In canning, you have to have a several dozens toms before you can begin.
Today I picked San Marzano Gigante 3s, Rose, Oregon Springs, Matt's Wild Cherry, Bellstar and Moskvich. I'll be roasting more toms tomorrow. Its so easy.
By the way, Moskvich are excellent eating with great flavor and a nice smooth medium size. They are my favorites so far with White Cherry, Black Cherry and Matt's Wild Cherry close behind in flavor. I'm still waiting for several varieties to still ripen to pass judgment.



Posts

: 4682


Join date

: 2010-03-21


Age

: 75


Location

: Southwestern Maine Zone 5A



Congratulations. I am absolutely in love with freezing tomatoes. Fun, isn't it?



Posts

: 2467


Join date

: 2010-05-05


Age

: 62


Location

: Warner Springs, CA USDA Zone 8a, Sunset Zone 7 (I think)



Freezing tomatoes is definitely the easiest way!! I love it! My husband and I sat down together and in less than an hour had diced up enough tomatoes to get us thru until may. . .

We are thankful for our large chest freezer. Makes these kinds of things so much easier to do.
We have done similarly wiht green peppers, too.
oh and we didn't cook our tomatoes first. we plan on using them in soups and chili-s.




Posts

: 625


Join date

: 2010-03-04


Location

: USA



I used some of my roasted frozen toms in my tomato sauce yesterday for linguine and meatballs. MMmmmm they sure gave it a great added flavor.
I'm going to freeze much more next year.



Posts

: 4682


Join date

: 2010-03-21


Age

: 75


Location

: Southwestern Maine Zone 5A



---
Permissions in this forum:
You
cannot
reply to topics in this forum