I made up a batch of Mel's Mix yesterday for my three 4x4 gardens based on the instructions in the book.

However, I only got about 4.5"-5" of depth in each box, I'm not sure what happened to give me a short amount.

Can I just add some compost in to the beds and mix it all up to get me to 6"? I don't particularly want to do an entire mix of Mel's Mix again just for another inch or so.

Thanks!
Last edited by chocolatepop on 3/15/2010, 5:23 pm; edited 1 time in total



Posts

: 768


Join date

: 2010-03-11


Age

: 37


Location

: Flint Area, Michigan (zone 5a-5b)



I added a mix of compost and peat moss. I didn't want to purchase more vermiculite either.



Posts

: 768


Join date

: 2010-03-11


Age

: 37


Location

: Flint Area, Michigan (zone 5a-5b)



More compost can't hurt, and I think Mel says in the new book that when in doubt, just add more compost lol. That's all I do, even to my other bed that isn't of the Mel's Mix variety.




Posts

: 66


Join date

: 2010-03-13


Age

: 28


Location

: Springbrook, Ont. (Zone 5b)



Thanks for the replies. Guess I missed that part in the book. That's the problem with this book, I get so excited about it that I'll read a chapter at a time, then go do that chapter. I haven't read the book cover to cover yet because I want to get moving after each page!

You're eventually going to want to mix up another batch anyhow because you, like most of the rest of us, are probably going to realize you want/need "just one more box!"

I use the mix in my other containers for flowers, too. So I always like to have a supply on hand.

Certified SFG Instructor




Posts

: 765


Join date

: 2010-03-05


Age

: 77


Location

: Cleveland Heights, Ohio (5b)



Yes, I am sure that will be true!
Hi,
I'm curious if you know, by volume, how much you put into your box? A 4x4 box, mathematically will hold 8cf. This is what a 4x4 box looks like with 10 cf in it. Once it's wetted down and settles, it still doesn't come to the top of the box.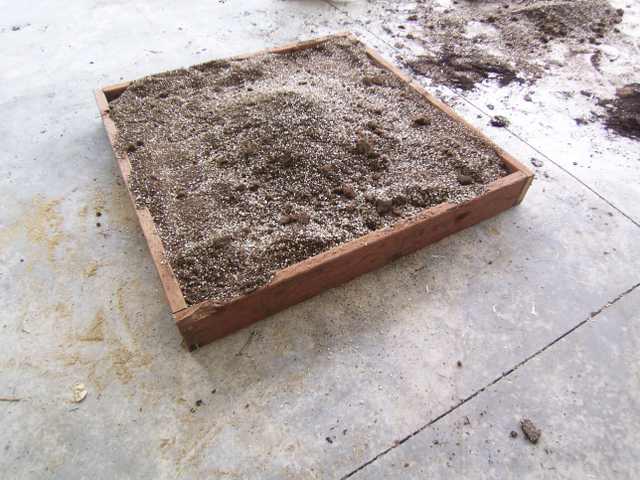 I agree with the others. Compost is always a safe bet to add. But, chances are you'll be making more boxes so why not get a head start making up more mix now.
I always suggest first-timers should follow the recipe exactly, on their first boxes. It will give you a baseline to work from if you make changes in the mix down the road.



Posts

: 7392


Join date

: 2010-02-26


Age

: 64


Location

: yelm, wa, usa



I have no idea. But I did just as the instructions said, tried to fill each box evenly and was about 1"-1.5" short in each one.

I was *super* careful mixing this stuff too. I probably only lost about a cup during the entire process.
I'm sure you did it exactly right. Mel will be the first to say 'closies' are good enough for sfg.

Final volume will vary by type of peat and compost used-depending on the amount of water they absorb and then compact. The height of mix you have now will work, but it will continue to settle a bit throughout the season. I would add some more.



Posts

: 7392


Join date

: 2010-02-26


Age

: 64


Location

: yelm, wa, usa



---
Permissions in this forum:
You
cannot
reply to topics in this forum