Here is a pic of my first sprouts...swiss chard! I have been a little bummed that something is messing in my seeds...the sugar snap peas were still in the garden, just not poked down in the holes like I left them. Maybe I need to cover the ones that little creatures are trying to get to?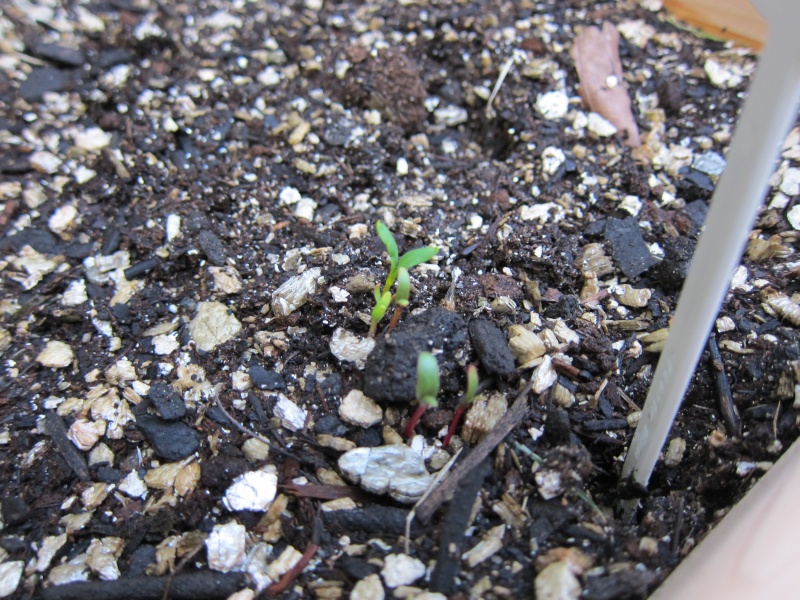 Posts

: 63


Join date

: 2010-08-09


Location

: zone 7-8



Yeah ! good for you ! happy dance ! it looks so pretty !
I don't know how the weather is where you are but when we were at the community garden I used to cover my seeds with row cover just until they sprouted so nothing would mess with them and the nice thing is you can water right through it too.



Posts

: 247


Join date

: 2010-05-17


Location

: zone 8b, SoCal



Peas will push themselves up when they sprout, and since they aren't very far down in the dirt, they'll often pop right up and if you turn them over, you'll find little sprouts

I just put a little bit of dirt over them.



Posts

: 778


Join date

: 2010-04-29


Age

: 48


Location

: Central Virginia, 7A as far as I can tell



Thanks for the tip garden angel. Where would I find a row cover?
Kristan



Posts

: 63


Join date

: 2010-08-09


Location

: zone 7-8



First sprouts awesome !!!! I love first sprouts, going out to water every morning and then one morning.. blam!! there they are!! I jump up and down !! Yell for others to come see

llolol
Im so glad you have ideas from the others about what to do, I wouldnt know what to do:) Just so glad you have sprouts

Ha-v-v



Posts

: 1123


Join date

: 2010-03-12


Age

: 57


Location

: Southwest Ms. Zone 8A (I like to think I get a little bit of Zone 9 too )



Kristan I got mine from Johnny's seeds , they seemed to have a good price for the quantity I wanted. I think most of the mail order seed places sell it, it is very light , and you can almost see through it. I think there are different kinds , according to what to do with it.



Posts

: 247


Join date

: 2010-05-17


Location

: zone 8b, SoCal



---
Permissions in this forum:
You
cannot
reply to topics in this forum